'Blue Bloods' Producer Defends Keeping the Dinner Scenes During a Pandemic
Season 11 of Blue Bloods is taking place during a COVID-19 pandemic to reflect what's currently going on in the world. But it's also staying the same by having the Reagans have their weekly dinner. The producer talked about the decision to keep those scenes even if having dinner would be risky in real life.
'Blue Bloods' Season 11 premiere had a family dinner scene
RELATED: The 'Blue Bloods' Cast Has a Family Dinner Tradition That Isn't Normally Filmed
This new season of Blue Bloods is acknowledging the pandemic. The premiere, "Triumph Over Trauma" showed Eddie (Vanessa Ray) helping a distressed woman look for the body of her father who died from coronavirus.
But the show felt the same in multiple ways. The characters weren't seen wearing masks. They were also having dinner together even though they don't live together, and are leaving their home regularly to work.
The new episode even included a guest that doesn't normally go to dinner. Baez (Marisa Ramirez) joined the family for the first time after she was hurt on the job. It was a sweet moment, but in real life that would be a health risk.
The producer didn't want to 'mess' with the family dinner scenes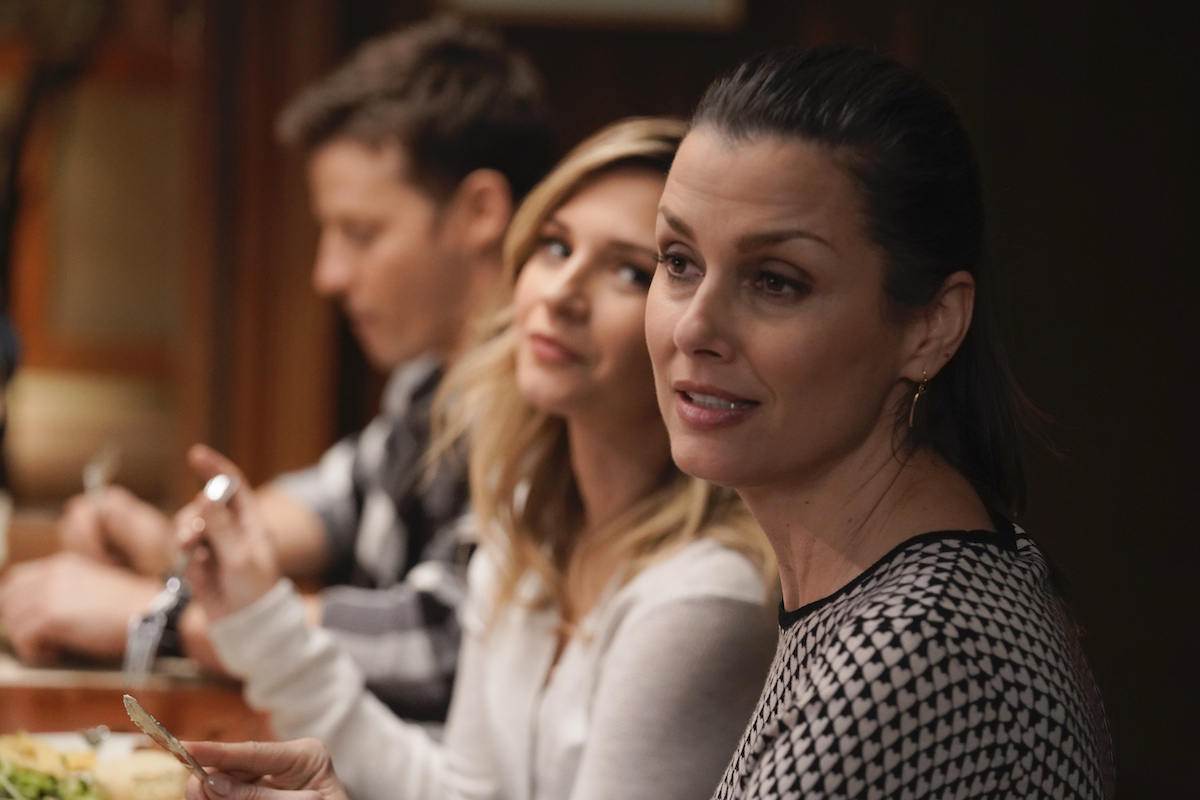 RELATED: 'Blue Bloods': Donnie Wahlberg Sneakily Puts 1 Thing on His Food During Family Dinner Scenes
Executive producer, Kevin Wade talked about the making of the new season. He talked to Deadline about the characters still meeting together in such a close space during a pandemic.
"Now you put it like that, the fact that they're sitting where they used to sit before the pandemic and not wearing masks I guess is going to be taken as a statement in itself," he said.
"And I want to stress that all the actors, the safety protocols that are in place before they sit down that way, that they're in that close proximity without any PPE is stringent," he continued. "They've been tested, everyone around them has been tested. Every corridor they have to that set is monitored and cleared."
The producer seems to be more focused on the fact that fans look forward to the dinner scenes. "That being said, I just thought people seem to have hung their hats on that family dinner scene for a long time," he said. "It wasn't something I wanted to mess with."
He later added, "Even in the fictional world, I assume without scripting it that those Reagans are tested regularly and they wouldn't be showing up at that dinner without a negative test. That's just the world we live in now."
There is one person who didn't come to dinner
RELATED: 'Blue Bloods' Season 11 Premiere Brings Back a Tradition at Dinner That Fans Missed
There is one person who turned down dinner although there was a new face at the table to start this season. That would be Joe Hill (Will Hochman), who is Joe Reagan's son. He was revealed at the end of season 10.
Joe reappeared to help Jamie (Will Estes) look for Danny (Donnie Wahlberg) and Baez in the premiere. But when Jamie asked if he was coming to dinner he said he had plans.
This can be a sign that Joe is pulling away from the Reagans. Fans will have to keep watching to see the reason why. But it looks like the Reagans will continue to have family dinner like normal this season.