'Blue Bloods': The Reagan's Dinner Rule About Business at the Table
Dinner is very serious business on Blue Bloods. There are rules to it so it'll go smoothly for the Reagans. A recent episode revealed one of their rules when it comes to doing business at the table.
The Reagans eat together every Sunday on 'Blue Bloods'
Sometimes the Reagans work together given their work. But they also see each other every Sunday at dinner.
This is because Henry's (Len Cariou) wife was from Ireland. She came from a big family, and they struggled to get food on the table. It was her goal once she moved to the United States that she would be able to feed her own family and this tradition helped her achieve her goal. It's a sweet tradition. But it also comes with rules.
They have rules when it comes to dinner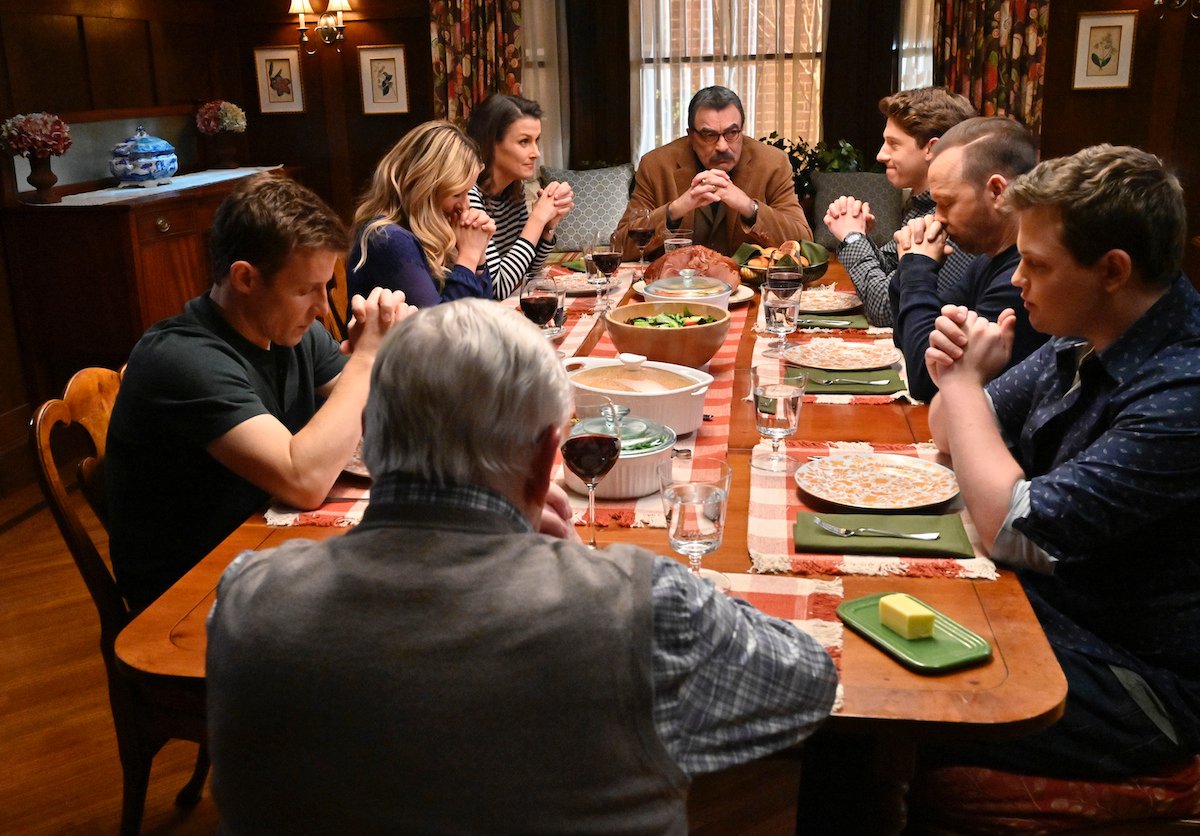 The family might be close, but they don't always get along. The first episode actually showed Erin (Bridget Moynahan) and Danny (Donnie Wahlberg) clashing over a case.
In another episode, "My Brother's Keeper," Danny doesn't follow Jamie's (Will Estes) order at work so things are tense at dinner. They get so heated they talk about going outside to fight, and Frank puts a stop to it. 
The police commissioner mentioned this goes against the rule of no fighting at the table. "If you can't abide by the rules of this table. Get out," he tells them. They then leave. 
There are more rules to the family tradition. Phones aren't allowed but there have been rare moments when it has been broken. 
The Reagan's dinner rule about business at the table 
"More Than Meets the Eye" showed a very tense dinner. Jamie started it by telling Erin he didn't know why he couldn't get a subpoena for a case. She said he doesn't have proof for a subpoena then called him out for breaking a dinner rule.
"Since when do we do official police business at the family dinner?" she asked. Sean (Andrew Terraciano) claimed this happens every week, but Frank (Tom Selleck) corrected him.
"We discuss police business, we do not conduct it. There's a difference, wise guy," he told his grandson. All of the men sided against Erin in this case. Jamie and Danny end dinner saying they'll no longer come to her for help.
It was a tough ending to dinner. But the episode ended on a sweeter note. Erin goes to Frank's home to find Jamie and Danny. Frank had them apologize for barging into her office and they all had drinks together.
Erin knew the brothers would continue intruding at her job. But they all seem to be comfortable with how they handle business. They just don't want to do it while eating together.