'Blue Bloods' Star Tom Selleck Got His Indiana Jones Movie With 'Quigley Down Under'
Tom Selleck has been on 'Blue Bloods' for 10 years. His movie 'Quigley Down Under' turns 30 and here's why his fans should discover it.
It's become a famous Hollywood legend that Tom Selleck was up for the role of Indiana Jones in Raiders of the Lost Ark. Magnum P.I. claimed Selleck and another iconic Harrison Ford character was born. Who knows, Blue Bloods might not have happened had he not been Magnum first: However, Selleck's 1990 western Quigley Down Under gives him a very Indy adventure of his own.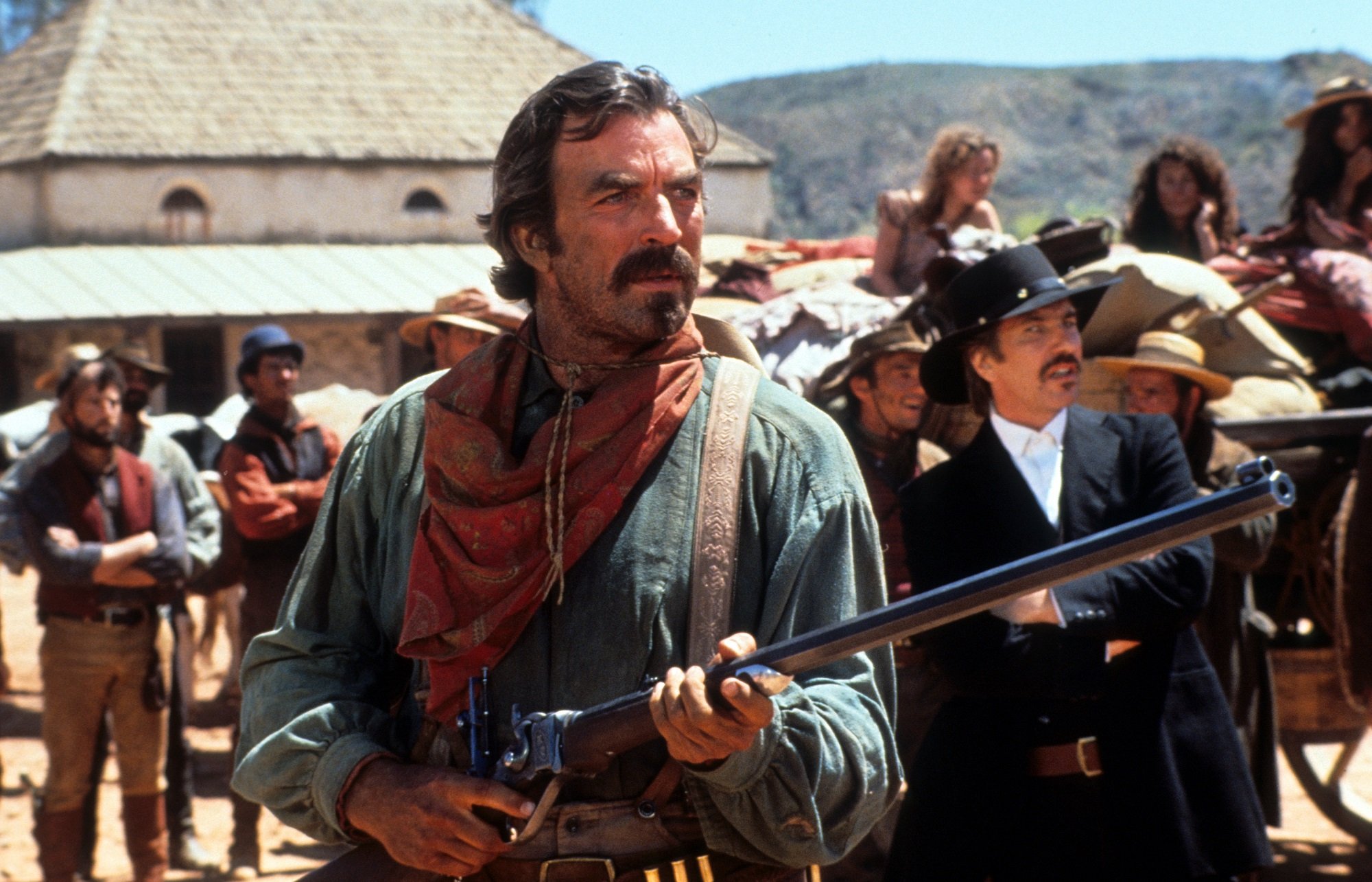 Even Selleck is sick of that story. At a 2010 Television Critics Association panel for the premiere of Blue Bloods, Selleck said, "Harrison gets sick of this because he's indelible and he's Indiana Jones. It's an interesting story and I'm proud that I didn't drive my car into a wall. Things didn't work out."
Before 'Blue Bloods,' Tom Selleck IS Quigley
From Wyoming, Matthew Quigley (Selleck) arrives in Australia. The first thing he does is stands up for an elderly couple exiting the boat. Then he defends Cora (Laura San Giacomo) against some men trying to take somewhere against his will. So he's already a hero who stands up to bullies. 
Quigley is also the best sharpshooter in the west so Marston (Alan Rickman) hires him to get the Aborigines off his property. Well, a guy like Quigley won't take that job so Marston's men leave him and Cora for dead in the middle of the Outback.
Quigley's a survivor though and he adventures back to Marston's ranch to set things right. It's a timeless hero story that still lives in movies like John Wick. When the bad guys can't force the hero to do what they want, they could've left him alone but now he's coming for you.
Before 'Blue Bloods' Tom Selleck was on a western kick
Selleck had done The Shadow Riders in 1982 but Quigley Down Under seemed to pave the way for Selleck to do more westerns on TV with Last Stand at Saber River and Crossfire Trail. Quigley Down Under did it on the big screen with big action. The western period is a little earlier than Indiana Jones, but it's still a period piece full of old fashioned adventure.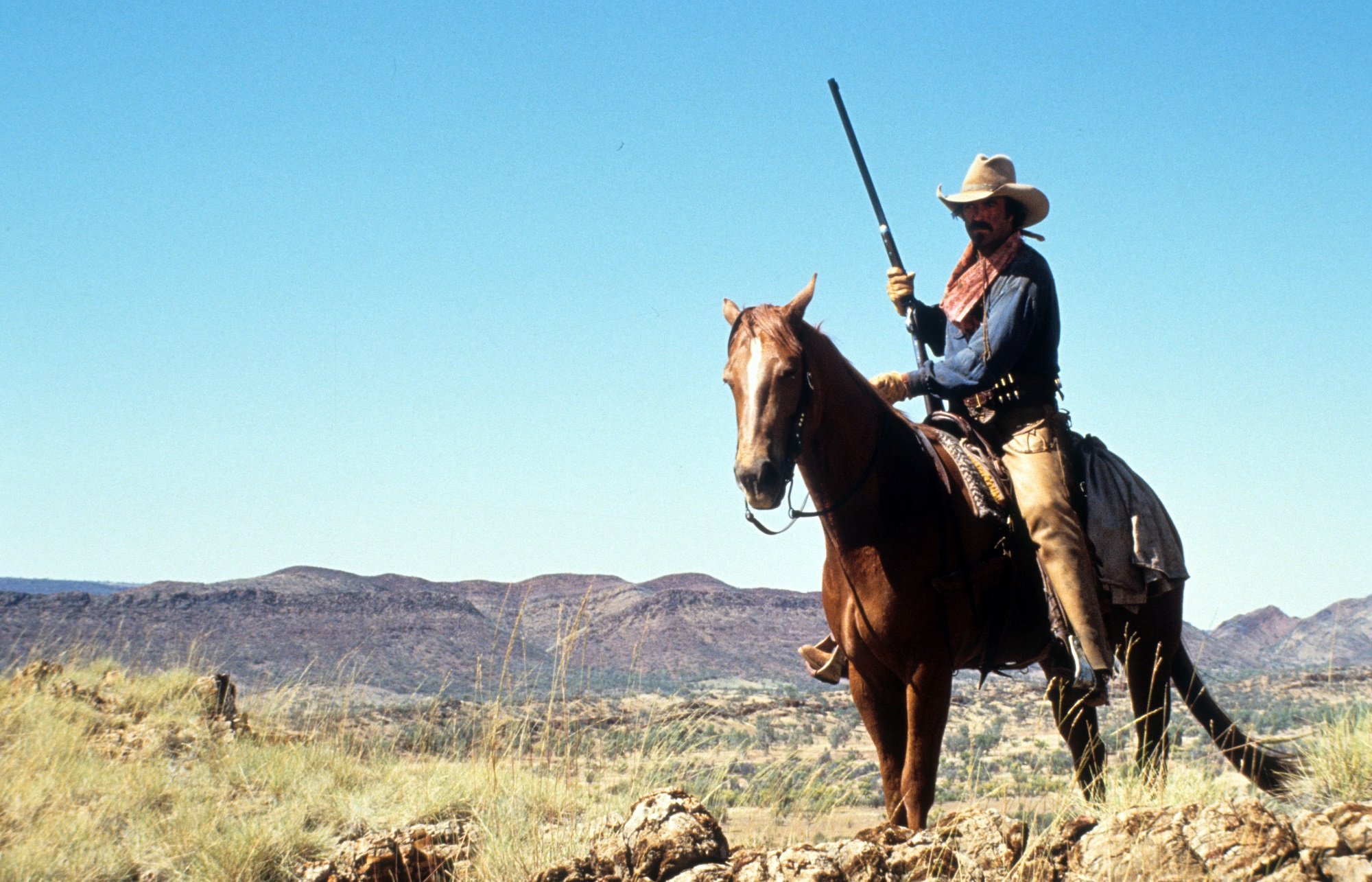 In this genre, writer John Hill and director Simon Wincer set up fun scenarios for sharp shooting like Quigley's initial demo for Marston. He lets a rider go miles away to set up a target, thus establishing his ability to hit an escaping henchman later. A lot of stuntmen take hard falls in shadow, so you can't tell it's not really the actor. They even drag Quigley behind a horse like Indiana Jones and the truck.
The Quigley theme should be as famous as Indiana Jones
The Indiana Jones theme is one of the most famous pieces of music in cinema history. It's probably only second to a few other John Williams scores. Yet Basil Poledouris did something extraordinary with Quigley Down Under.
The music has a classic western sound like Elmer Bernstein's Magnificent Seven theme. It's catchy and hummable, rousing the spirits during intense action scenes. The other alternative would have been modeling after Ennio Morricone's spaghetti Western themes. The '90s western The Quick and the Dead had that approach covered.
The second greatest movie villain ever 
No movie is ever going to top Hans Gruber for a villain. Hans is the most magnificent foil any actor will ever play. Quigley Down Under made a good move casting Rickman though. This would be second in Rickman's villain trilogy that would conclude with Robin Hood: Prince of Thieves.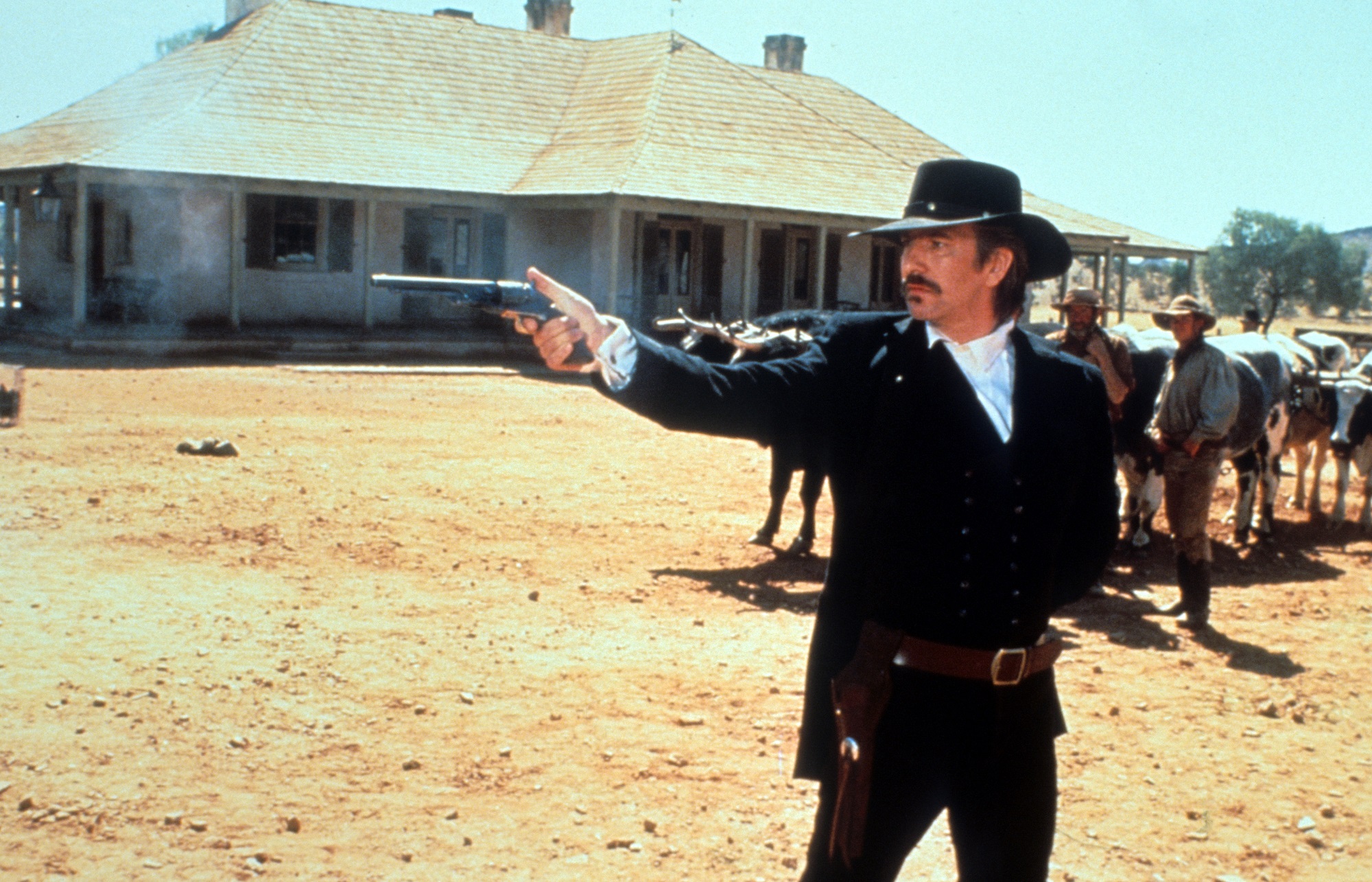 Marston wears all black including his hat like a traditional western villain. He's smarmy and fun like he was in Die Hard, but Quigley Down Under gets serious too. Marston and his men kill aboriginal children in their mass slaughters. They must be stopped.  
Quigley Down Under was already 20 years old when Blue Bloods began and it's 30 as the show enters its 11th. Fans of the show and Selleck should definitely check out this movie. Quigley should have been a franchise. You could've sent him anywhere for more adventures.