Blue Bloods': The 1 Moment on the Show That Drives Fans Crazy
For 10 years viewers have been watching various Reagan family traditions on Blue Bloods. The family, all involved in law enforcement, is one with good values and strong faith in Catholicism.
The show takes place and is filmed in New York.  Frank Reagan (Tom Selleck), a widower, has followed in his father's, Henry (Len Cariou), footsteps working in the New York Police Department becoming the city's top cop, the police commissioner.
Frank's three sons, Danny (Donnie Wahlberg), Joe (who had died in the line of duty prior to the series premiere) and Jamie (Will Estes) all became police officers. Frank's daughter, Erin, opted for law school and working in the DA's office.
Growth of the Reagan family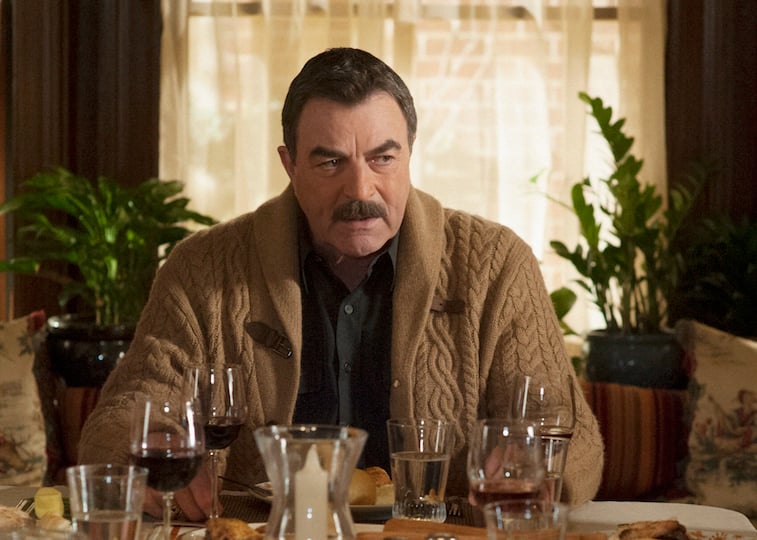 Through the years, we have watched the Reagan family progress. Danny is an NYPD detective dedicated to his family. Between Seasons 7 and 8, Danny's wife Linda, an RN, was killed in a Medevac helicopter crash. We have watched Danny's sons, Jack (Tony Terraciano) and Sean (Andrew Terraciano) grow up on screen. Yes, they are truly brothers in real life.
A divorcee, Erin has moved her way up in the DA's office, while daughter, Nicky Reagan-Boyle (Sami Gayle), has also been growing up. Nicky has been attending college, although she thought she might become the first female cop in the family and went so far as to take the police exam, but decided to finish school.
In the meantime, Jamie, who had attended law school, decided he, too, wanted to join the force becoming a beat cop at the onset of the series. In Season 4, he received a new partner, Officer Edit "Eddie" Janko (Vanessa Ray). The two tried to avoid feelings for each other through the years, but by Season 8 they became a couple. Jamie was promoted to sergeant, and the two tied the knot at the end of Season 9.
Reagan family traditions
The one tradition fans never seem to tire of the weekly family dinner. Everyone, if in town, meets at the family home, where Frank and Henry continue to live. Often, the dinner comes in toward the end of the episode, but occasionally it may be shown earlier.
At times, we see food preparation by various family members prior to sitting down to dinner. Other times, we may have seen a couple of Reagans doing the dishes.
The storyline tells us this tradition is in honor of Grandma Betty, Henry's wife, whose family emigrated from Ireland while she was a child. She swore when she started her own family that they would never go hungry, and hence prepared a large family dinner every Sunday to prove her point.
While not often shown, it is implied that the majority of the family, if not working, also traditionally attends church.
Then there is one place family members sometimes go on their own to find peace and time to reflect, while another Reagan often figures out where they are and follows to have a heart-to-heart talk, so to speak.
The 65th Street Pier
Often it is Erin or Jamie who drops a fishing line into the harbor. Sometimes it is Frank. These fishing scenes are set on New York's 65th Street Pier, where, according to the story background, a Reagan may seek out some alone time, but end up getting into a fatherly, daughterly, or sibling-related conversation.
Back in 2015, fans were praising the fishing scenes of Frank and Erin, or Jamie on the Blue Bloods' Facebook page.
But, recently some fans are asking why no one ever catches a fish. One Reddit poster commented, "I desperately need somebody to catch at least one fish in the pier scenes. Frank and Jamie keep putting lines out but they never catch anything."
One responder, felt, "It is best left implied that they're going to catch a fish without having to show it."
Another, " .. the point of fishing in this show isn't to catch fish but to experience a brief moment of time in shared activity with someone. To quietly discuss and share wisdom … it's a bit like a 'Sunday Dinner' but one on one."
That pretty much hits the nail on the head. Fishing allows time to think things through and get some one-on-one advice. We really don't expect to see anyone ever catch a fish, although there may be a brief discussion about whether anything is biting.
Blue Bloods saw its 200th episode, and 200th family dinner scene, toward the end of September. The show airs on CBS, Friday nights at 10 pm (EST).