'Blue Bloods': What Liquor Do the Reagans Drink?
The Reagans have elaborate meals every week together on Blue Bloods. But one thing that might still be a mystery to fans is what kind of liquor they drink. This is everything Showbiz Cheat Sheet knows about Frank (Tom Selleck)'s favorite drink.
The Reagans eat dinner weekly as a tradition
Every episode has a scene where the family gathers on Sunday to have dinner. Sometimes they vent about work, and other times they joke around with each other like a normal family.
Jamie Reagan (Will Estes) once revealed to his wife, Eddie (Vanessa Ray) how the tradition started. He told her his grandmother grew up in Ireland and she was the oldest of 12 kids. Her family struggled financially to feed them.
"She moved to New York to make money," he said. "She met my grandpa and when they got married she promised herself that they would always have more than enough to eat."
He then added, "Family dinner was just her way of proudly proving that every week." Fans love this tradition and we've seen family members take turns making the meal.
They also usually have wine to wash down their food. But some characters have enjoyed brown liquor in other scenes.
Frank and Henry have serious talks over drinks on 'Blue Bloods'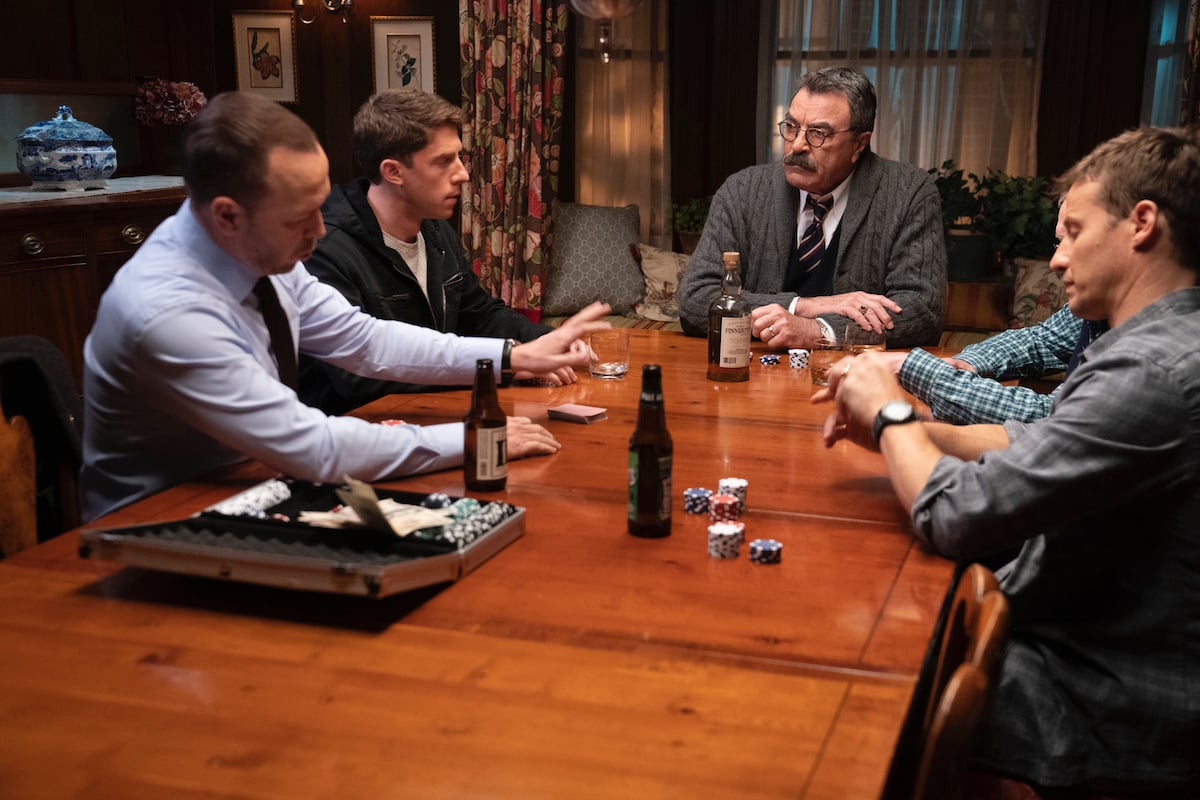 Frank and Henry (Len Cariou) have a special bond for multiple reasons. Henry was the NYPD police commissioner and is now retired. Frank currently has the important position, and when he's in a hard spot, he sometimes sits down with his father to get his advice.
Sometimes this happens over drinks, which looks like whiskey or scotch. It fits the characters given their age and background that this would be their drink of choice. But what is the brand they're drinking?
What liquor do they drink?
The brand seen on the show is Finnerty's 18 scotch, according to Whiskey Wire. Unfortunately, fans won't be able to try it themselves because it's fake. The website did suggest fans try Lagavulin 16 year old single malt instead.
That leaves the question of what are the actors drinking? Donnie Wahlberg answered this in an interview with People.
"Someone asked me if we get drunk because we have a lot of wine during the dinner scene, but, sadly, it's just grape juice," he revealed. "Sorry, guys. And 'Scotch' is iced tea. I think they give us decaffeinated or we'd be bouncing off the walls."
Fans still picked up on this fake brand and have fun with it. There's an Instagram account called Finnerty's 18, which focuses on liquor. There are a few pictures from Blue Bloods showing Frank and Henry enjoying it throughout the profile.
One of the pictures shows Frank at a table with a bottle of Finnerty's and it's captioned with, "I spy my favorite bottle on my favorite show. Some more quality time with Frank. #BlueBloods #Finnertys."