'Blue Bloods': Who Is the Highest-Paid Actor on the Show?
CBS' infamous Blue Bloods has garnered millions of fans since its debut in 2010. The show keeps viewers on the edge of their seats watching crimes unfold with a crazy level of realism. The show shines thanks to the family-oriented spin the producers added which definitely gives it an edge over cookie-cutter crime dramas.
Considering the show's boosted viewership for CBS, what do the paychecks look like for the cast members? While the details for most are under wraps, they haven't been able to keep everything a secret.
Will Estes
On this week's #BlueBloods, Jamie strives to rely less on Frank's input to makes decisions. Stream the latest episode here: https://t.co/nFN0Shz7SG pic.twitter.com/o6sGhh6YpY

— Blue Bloods (@BlueBloods_CBS) January 5, 2019
Will Estes has a diverse body of work and boasts over four decades in the industry. He's best known for his work on The Cleaner, In Plain Sight, and Eleventh Hour. The Celebrity Jeopardy winner's net worth varies depending on the source, Celebrity Net Worth has him coming in at $5 million but other sources say $12 million.
Estes plays Jameson 'Jamie' Reagan, the youngest of Frank's kids. He's basically the golden boy who went to law school but couldn't keep himself from following in his dad's footsteps. Estes' even went the extra mile to prepare for the role. So, how much it "little boy blue" being paid? Considering his secretive nature, it's hard to say but he's definitely making more than the "base salary" of $60,000 an episode.
Len Cariou
Len Cariou is a Canadian actor and producer best known for his work on Spotlight, Death Wish, Thirteen Days, and of course Blue Bloods. The Golden Derby Award winner plays the role of the Reagan family patriarch and former NYPD police commissioner, Henry Reagan.
Cariou's estimated net worth varies depending on where you look, but Celebrity Net Worth has the long-standing actor clocked in at only $6 million. Considering Cariou's on-screen time he most likely doesn't pull in as much as some of the other actors. Like Estes he's pulling in at least $60,000 an episode, the standard for ensemble stars.
Donnie Wahlberg
Can't sneak anything past Danny… #BlueBloods pic.twitter.com/Z5WDwOUAeL

— Blue Bloods (@BlueBloods_CBS) January 5, 2019
Donnie Wahlberg plays Danny Reagan, Frank's oldest son. The show follows Danny as he investigates major crimes around New York City. The investigator isn't afraid to get his hands dirty to solve a case. Before serving justice on Blue Bloods, Wahlberg appeared in iconic films like The Sixth Sense, Saw II, and Dreamcatcher. 
Wahlberg's four decades in the industry has boosted his net worth to $20 million. Considering he's a central cast member he has to be making a pretty penny, most likely somewhere between $60,000 and $150,000 per episode.
Bridget Moynahan
Bridget Moynahan first popped up on the radar for her role as Natasha in Sex and the City. She's best known for her parts in I Robot, where she worked alongside beloved star Will Smith and Lord of War where she rubbed shoulders with Nicholas Cage and Jared Leto. Now she's been reborn as Erin Reagan, the daughter of Frank and the Bureau Chief at the Manhattan District Attorney's Office.
Moynahan's net worth is surprisingly more than that of the second richest Wahlberg. She comes in at $25 million. Considering Moynahan's impressive net worth she's making at least the average ensemble salary, $60,000 an episode.
Tom Selleck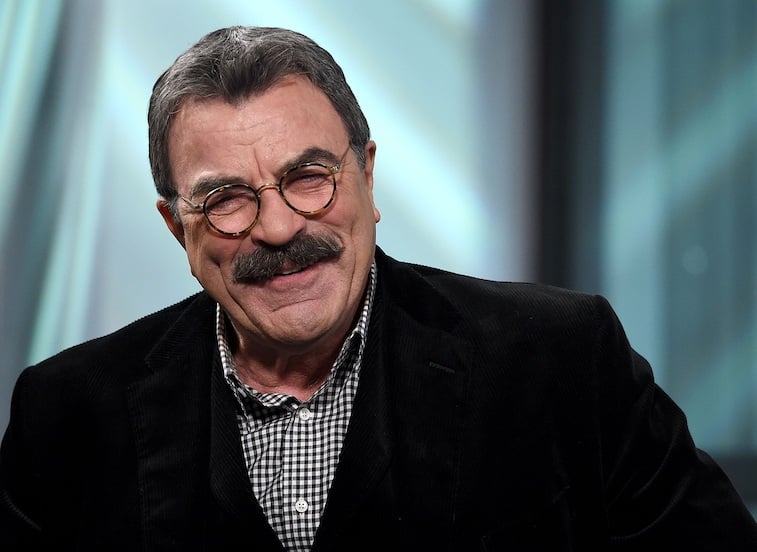 Hollywood introduced America to Tom Selleck four decades ago when he starred as Thomas Magnum in the iconic crime drama Magnum P.I. Although he had numerous roles before the show, it was the part that really made Selleck shine. After all, he was nominated seven times for a Golden Globe and managed to even snag one for bringing Magnum to life in 1985. His long run in the entertainment industry as not just an actor, but a writer and producer, has landed Selleck a net worth of $45 million.
In Blue Bloods, he channels his crime experience as NYPD Commissioner Frank Reagan. The CBS show pays out $200,000 to Selleck per episode, a $50,000 increase from his starting salary nearly a decade ago. Despite the raise, his salary is nothing compared to what he used to make for Magnum P.I.
With Selleck having the highest net worth of his comrades, it's safe to say he just might be the highest-paid actor on the popular crime series.