'Blue Bloods': Why Anthony Would Stand out in a Dinner Scene if He Ever Gets Invited
Anthony hasn't made it to the Reagan family dinner table yet on 'Blue Bloods'. Steve Schirripa teased how he would do it differently.
Anthony Abetemarco (Steve Schirripa) hasn't had dinner with the Reagans yet. But Schirripa has teased how Anthony would probably stand out at the dinner table if that Blue Bloods episode ever happens.
Only Reagans eat dinner together on 'Blue Bloods'
Every episode has a scene where the Reagans come together to have dinner. Sometimes they talk about work, and other times they talk about whatever is on their mind.
This tradition was started by Henry's (Len Cariou) wife, and only family members are typically allowed at dinner. But the first time this tradition was broken for a friend was in the show's 200th episode. Treat Williams, who plays Lenny Ross, was the first family friend to visit.
Blue Bloods broke this tradition again in season 11. The first episode showed Maria Baez (Marisa Ramirez) getting hurt after being pushed down a flight of stairs. Danny (Donnie Wahlberg) then invited her over for dinner, and the Reagans welcomed her with open arms.
Why Anthony would stand out in a dinner scene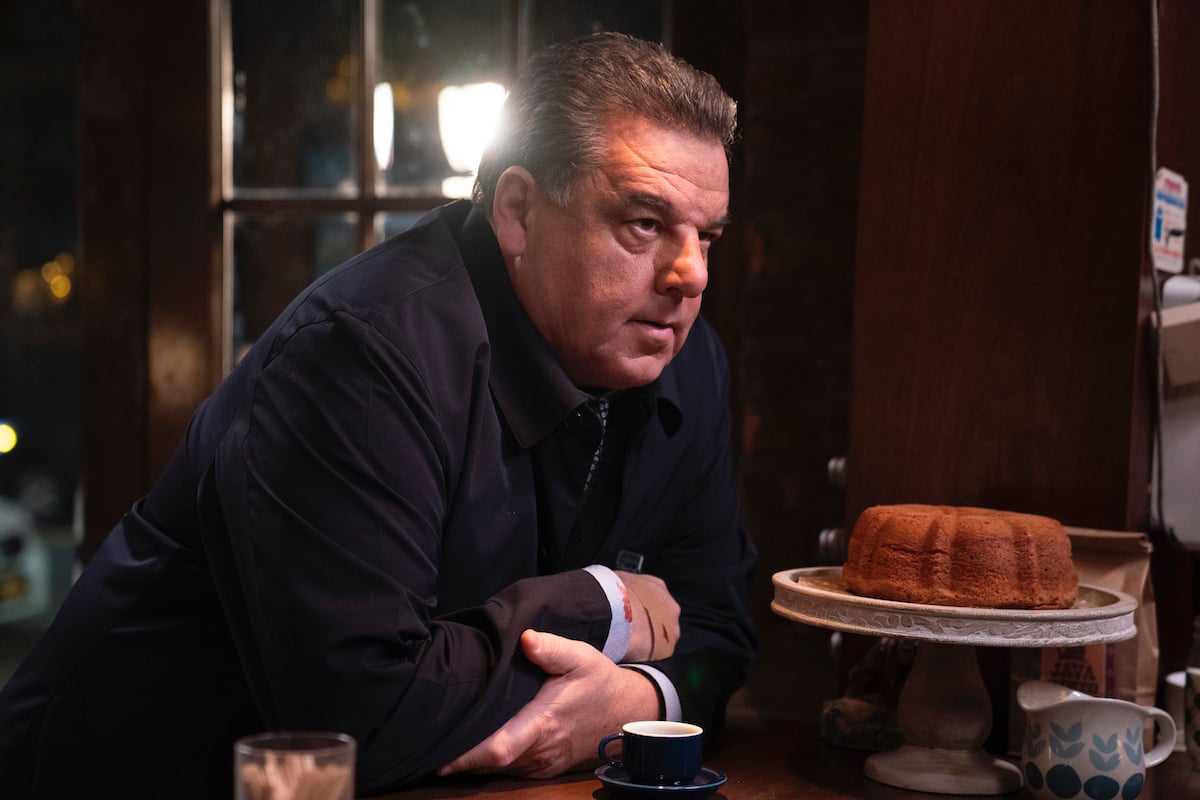 The DA Investigator is usually seen behind a desk or in Erin's (Bridget Moynahan) office. This sadly means he hasn't made his first appearance at the Reagan dinner table yet.
Schirripa was asked if the Reagans should invite Anthony in an interview with Lena Lamoray. "I think the dinner is only for family," he answered. "I think it's closed off to only family members, as it should be."
But the actor did reveal how he'd approach a dinner scene differently. "If you've noticed, they don't eat that much," he said. "In my scenes, I really eat. They all watch their weight and obviously, Anthony doesn't care. [Laughs]"
That might make for a funny scene. The Reagans are usually more focused on the conversation than the food on their plate. Sadly, fans will only be able to imagine it until Anthony does get an official invite. 
What will it take for Anthony to get invited?
There is a slight chance Anthony could get invited one day. So far, the only people who have been invited either got into a relationship with a Reagan like Eddie (Vanessa Ray).
But also good friends they have made through work also have been invited. Baez and Lenny were both partners to Reagans for years as a detective and a police officer. 
Erin is a little different, given she works as an assistant to the District Attorney. But there shouldn't be any reason why she wouldn't be able to have Anthony over if she asked. 
One good sign is that Anthony was invited to Jamie and Eddie's wedding in season 9, so he's not a total stranger to the family. Fans will have to wait to see if it'll ever happen.