'Blue Bloods': Why Fans Aren't Happy with the Jamko Wedding Episode
It seemed like Blue Bloods fans were finally going to get what they wanted in the Season 9 finale. Jamie (Will Estes) and Eddie (Vanessa Ray) tied the knot, which fans have been waiting for.
However, fans left unsatisfied with how things played out for a specific reason. What went wrong? Here is why fans aren't happy with the Jamko wedding episode.
"Something Blue" had a lot more than just the Jamko wedding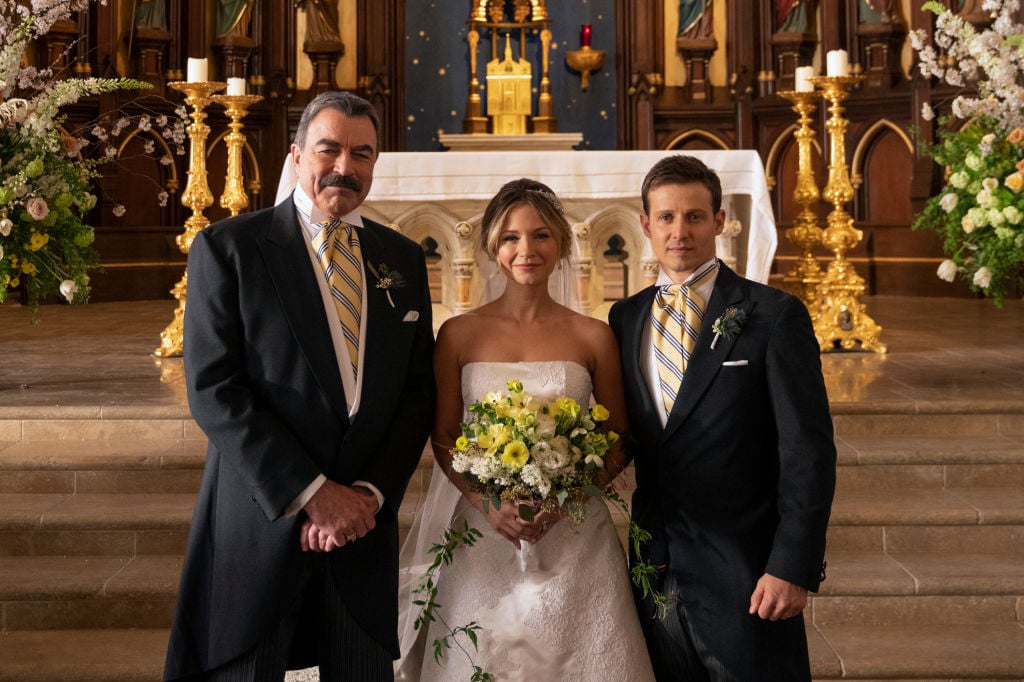 The Season 9 finale titled "Something Blue" might refer to the wedding in the title, but it included a lot more than that.
Eddie and Erin (Bridget Moynahan) were at odds because of a case. A witness claimed he didn't give a statement describing a possible suspect. That statement was given to Eddie so Erin confronts her about it, which leads to them not trusting the other.
Danny (Donnie Wahlberg) and Maria (Marisa Ramirez) are on yet another murder case together. Then there is drama in Frank (Tom Selleck)'s office between Abigail (Abigail Hawk), Garrett (Gregory Jbara), and Sid (Robert Clohessy.) A lot of time is used to wrap everything up and at the end, we get the rehearsal dinner and beginning of the wedding ceremony for the Janko wedding.
Frank gave a touching speech about Eddie at the rehearsal dinner
One of the biggest moments of the episode came from the father of the groom. Frank was nervous about coming up with a speech about the couple. He used it to point out one of Eddie's biggest qualities, her independence.
"You see before I the dos she is walking down the aisle by herself," said Frank. "She is bucking a nod to an antiquated tradition. A tradition of the father of the bride giving away his daughter. But you see Eddie isn't anyone's to give away. She is her own woman and her own life force. And I've seen it in action on the job and we have all seen it in action at our dinner table. And I so look forward to seeing her in action as Jamie's life partner."
Although the touching speech might be true it was a bit of a red herring. In the end, Eddie did ask Frank to walk her down the aisle because she was nervous about falling.
Fans are angry they didn't get to see the ceremony
The episode showed Eddie asking Frank to walk her down the aisle. The doors open and they do start walking but we don't get to see Eddie reach Jamie or them exchanging vows.
Fans have been waiting since Season 4 for the couple to get together. They have been waiting all Season 9 to finally watch their wedding. So many of them weren't happy that they didn't get to see the rest of the Jamko ceremony.
Their complaints also include not getting a kiss between the newlyweds. That falls in line with a complaint many fans have had of not seeing Eddie and Jamie really be physically romantic in their scenes together.
It's already been announced that Blue Bloods will be returning for Season 10. Hopefully, fans will get more of what they want for the couple next season. But for now, it looks like the Season 9 left many fans disappointed.
Read more: 'Blue Bloods': Was It Actually Love at First Sight for Eddie and Jamie?
Check out The Cheat Sheet on Facebook!