'Blue Bloods': Will Frank Reagan's Staff Continue to Have Problems in Season 10?
Frank Reagan (Tom Selleck) is often seen consulting his team on Blue Bloods as the police commissioner. Season 9 ended with things getting heated between the team members.
Will his staff continue to have problems in season 10? Here is everything we know so far.
Frank's team was at odds in the season 9 finale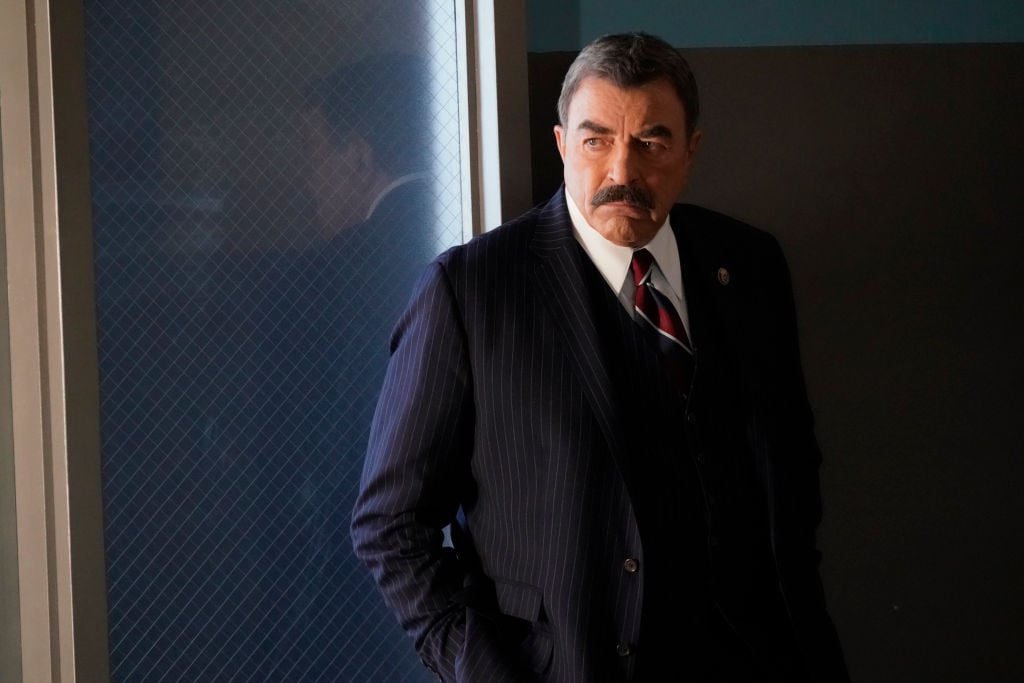 The episode, "Something Blue" showed Jamie (Will Estes) and Eddie (Vanessa Ray)'s wedding. But it also showed what was going on in Frank's office.
Abigail Hawk (Abigail Baker), Sidney Gormley (Robert Clohessy) and Garrett Moore (Gregory Jbara) were at odds. The three switched jobs to make a point.
Selleck talked about this storyline with Deadline. "His inner circle have a genuine disagreement and they keep it from Frank," he said. "First, they get hurt that they weren't included with Baker's plan. Then they get angry, and then they get petty, and the humor comes down to that pettiness."
He continued, "But what we find out, what I hope we find is there's a change in the middle of the show. Because this is Frank's inner circle, and he really lays down the law, and I hope it comes off in a very real way."
Abigail Hawk says they will continue to work together
Are things truly resolved after the finale? Hawk talked about the message Frank had to give to them in the episode.
"I think every time they interact with one another it's always something new," Hawk told TV Insider. "I think there was a lovely appreciation. This is Frank's inner circle. We all have a reason for being there. We all have a distinctive voice that we share with him, which is why he keeps us around."
She continued, "If we are in competition with each other and cancelling out other voices, that doesn't do anybody any good. That was obviously Frank's point."
So will their issues bubble up in the next season? Hawk had an answer for that.
"I think we'll see us continue working together, but it's what you want to have in congress," she said. "You want to see different voices, but you also want to see everyone come together to get the work done. Let's make progress for the public we serve. You'll see some fun things from the 'dream team' as I call them."
A season 10 promo was released
The promo for the upcoming season was released. A lot of details are kept hidden, but there are a few things teased.
Jamie is seen picking up Eddie to carry her over the threshold of their place. He asks her, "Ready, Mrs. Reagan?" We also see Frank, but he isn't with his team. He's talking to Erin (Bridget Moynahan) and they look serious.
"You are tough," he tells her. Erin says back, "I was raised in this cop land." It looks like fans will have to wait to see what will happen with Frank's inner circle next season.
Blue Bloods will premiere on Sept. 27 on CBS at 10/9 CDT.