'Blue Bloods': Will Tom Selleck's Frank Reagan Ever Get a Serious Love Interest?
Since the start of Blue Bloods in 2010, we have known that New York City Police Commissioner Frank Reagan, played by Tom Selleck, was a widower.
His wife was Mary Reagan, and together they had four children: Danny, Erin, Joe, and Jamie. After what seems to have been a long and happy marriage, she passed away from cancer in 2005 at age 50.
This backstory set the stage for Frank Reagan to be a solo character at the head of his close-knit family. Will he remain alone in season 10, which recently began?
Frank Reagan's past girlfriends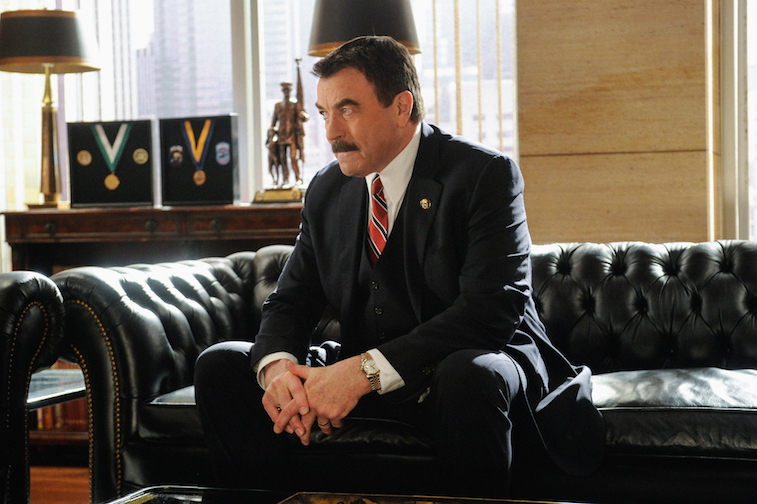 In the many years the show has been on the air, Frank Reagan has had the occasional date, but he never did form serious relationships with any of the women.
Kelly Davidson, played by Andrea Roth, was a reporter who appeared in several episodes in season one. Melanie Maines, a TV journalist played by Margaret Colin, was in one episode in season 2.
He had a contentious and flirtatious relationship with Kelly Peterson, played by Bebe Neuwirth, who was initially the Inspector General and later the Corporation Counsel of New York City. Her character had storylines in seasons four, eight, and nine.
The artist Trudy Slaughter, played by Mimi Rogers, appeared in one episode in season eight.
Upcoming love interest?
Some fans would love to see Frank have a serious love interest. The Globe tabloid claimed that Courteney Cox is to play a love interest for Tom Selleck's Frank Reagan.
While the tabloid believes the new secret girlfriend will be introduced during an upcoming Sunday family dinner scene, this rumor appears to be just speculation.
Fans of Monica and Richard on Friends, where Cox and Selleck did play a serious couple, may be disappointed that this isn't likely to happen. The Globe based their claim on executive producer Kevin Wade's comment that the 200th episode at the start of the tenth season would be "the first time that a non-Reagan will be welcomed to the family dinner scene."
This episode has already passed, though, with Reagan's old partner, played by Treat Williams, appearing as the guest.
A more likely person to play a love interest for Frank is Bebe Neuwirth, who could return as Kelly Peterson. Her character had already admitted an interest in Frank in a past season.
However, Selleck has admitted that he doesn't see a future for these two, telling TV Insider, "I love working with Bebe, but I don't see their characters getting married."
Frank Reagan might remain 'alone'
While a serious relationship for Frank Reagan would provide a shake-up for a show that's been on the air for 10 seasons, it's most likely that Reagan will stay unattached.
Wade previously said, "He's sort of destined to be alone…. His work sort of gets in the way of him being able to have a personal life."
Selleck himself told TV Insider in January that "It's important he remains a man alone in overall concept because that's part of the sacrifice he's made." He also mentioned, "And how do you meet, fall in love and then have the relationship end in one episode?"
Selleck placed some of the blame for Frank's remaining solo on the network, saying: "So far, CBS doesn't seem to have the willingness to hire somebody for an arc like I did on Friends."
In addition, Blue Bloods is not a show that emphasizes romantic relationships. Instead, the focus is on family relationships and the development of characters.
While some romantic relationships have been featured (Danny and Linda, and Jamie and Eddie), Frank stands alone as a leader for the NYPD and the Reagan family.