How Blue Ivy, Beyoncé, and Jay-Z Stole the Show at The 2020 Super Bowl
There might've been two teams on the field, but at the 2020 Super Bowl, there was one family in our heart — the Carters. Decked out in their football-game best, Blue Ivy, Jay-Z, and Beyoncé made an appearance at the Hard Rock Stadium in Miami. Of course, fans on the internet went crazy, sharing their love for these chart-topping artists. Here are some fan reactions to Blue Ivy's best moments.
Beyoncé, Jay-Z, and Blue Ivy attended the 2020 Super Bowl in Miami
Beyoncé and Jay-Z seem to steal the show wherever they go. (The couple made an appearance at the Golden Globes, even bringing their own champagne.) Throw Blue Ivy in the mix, and you have a recipe for internet success.
On Feb. 2, 2020, Beyoncé shared some pictures of the family at the Super Bowl, The Lion King voice actress decked out in a green suit, Jay-Z dressed in black and gold, and their daughter, Blue Ivy in a red top and black skirt. The twins, Rumi and Sir Carter, presumably stayed at home, as there were no pictures of these kids at the Super Bowl.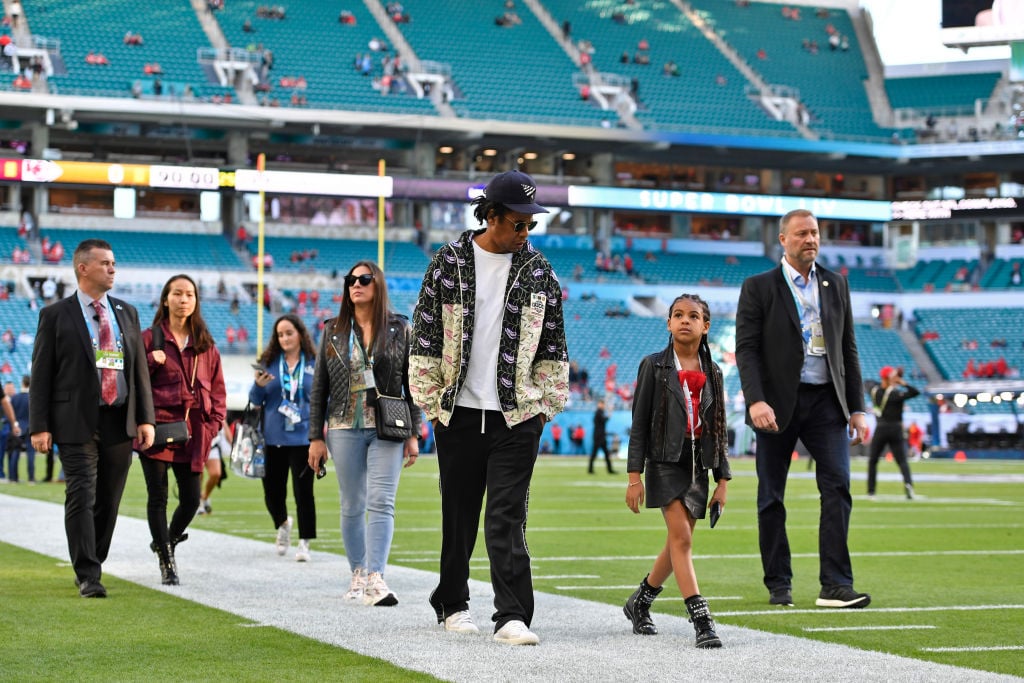 Some fans took to social media, sharing their love for Blue Ivy Carter
Before the game started, Blue Ivy and Jay-Z headed down to the turf, taking pictures and throwing a football around. Later, when Demi Lovato sang the national anthem, someone snapped a video of Blue Ivy, who was recording the moment.
Once the NFL shared a video clip of Blue Ivy at the Super Bowl, she became one of the top trending topics on Twitter. Most of the reactions were from Beyoncé and Jay-Z fans, sharing their love for the Carters' oldest daughter.
"Okay but Blue Ivy is getting so big and I'm not ready. Time is really just flying," one Twitter user said.
"Can't wait to tell my kids about when Blue Ivy won the SuperBowl all by herself," another Twitter user joked.
"JAY-Z did that. This pic is fire, but let's give credit to the mastermind behind this iconic photo. Blue Ivy," wrote another Twitter user, sharing the picture of Blue Ivy jumping. However, some football fans were less than enthusiastic when Beyoncé and Jay-Z remained seated during the national anthem.
Beyoncé and Jay-Z raised a few eyebrows when they didn't stand for the national anthem
When Demi Lovato sang the national anthem, this family chose the stay seated. This is similar to the political statement popularized by football player, Colin Kaepernick, who frequently took a knee during the anthem.
This instance also became a trending topic on Twitter. Some supported Beyoncé and Jay-Z's choice, while others called it disrespectful. One Twitter user said, "There was backlash when Kaepernick kneeled during the Anthem, and now Beyonce and Jay-Z. Thing is, there's too much information on this matter for people not to understand why African Americans are disinterested in standing during the Anthem."
"Beyonce and Jay-Z remain seated during National Anthem… That disrespect aside – she has sung the national anthem and performed two halftime shows, yet she couldn't find it in her to support Lovato who suffered through many struggles," another Twitter user wrote. The Carters have yet to comment on the criticism.
One of the first songs featuring Blue Ivy, "Brown Skin Girl," is available on Spotify, Tidal, Apple Music, and most major streaming platforms.