Does Blue Ivy Follow a Plant-Based Diet Like Her Parents, Beyoncé and Jay-Z?
Jay-Z and Beyoncé aren't afraid to share their search for healthy and sustainable lifestyle choices. Does their eldest daughter follow the same diets? Here's what we know about Blue Ivy Carter. 
Beyoncé and Jay-Z mostly follow a plant-based diet
They're the king and queen of the music industry. As a result, these two often advocate for a plant-based, more sustainable lifestyle. In 2018, the pair challenged fans to go vegan in an effort to be more healthy.
"We used to think of health as a diet—some worked for us, some didn't. Once we looked at health as the truth, instead of a diet, it became a mission for us to share that truth and lifestyle with as many people as possible," they wrote, according to People mag. Especially while rehearsing for her "Homecoming" Coachella performance, Beyoncé shared that she limited herself to no meat, fish, diary, carbs, alcohol, and sugar. 
What are some of Blue Ivy's favorite snacks?
The eldest of Beyoncé and Jay-Z's children, Blue Ivy Carter, often makes public appearances, sharing a bit of her personality along the way. Sometimes, that includes showing fans her favorite foods. 
In 2014, the Huffington Post reported that "processed foods, ready meals, and white sugar are a big no-no in the Carter household." However, Blue Ivy was allowed some treats on special occasions like her birthday. Since then, the diva has grown up quite a lot.
In 2018, fans caught a glimpse of Beyoncé being very mom-like, as Blue Ivy munched on snacks at the Grammy Awards while Beyoncé held her juice box. (This was the same night that Blue Ivy told her parents to stop clapping and the internet went crazy.) 
Based on a zoomed-in version of the picture from Fashion, fans learned that Blue Ivy's snacks were mostly, if not all, organic. (Of course.) The purple pouch that Beyoncé was holding was a Annie's Homegrown snack pack of "Cheddar Bunnies." The juice box is, apparently, from the brand Apple & Eve.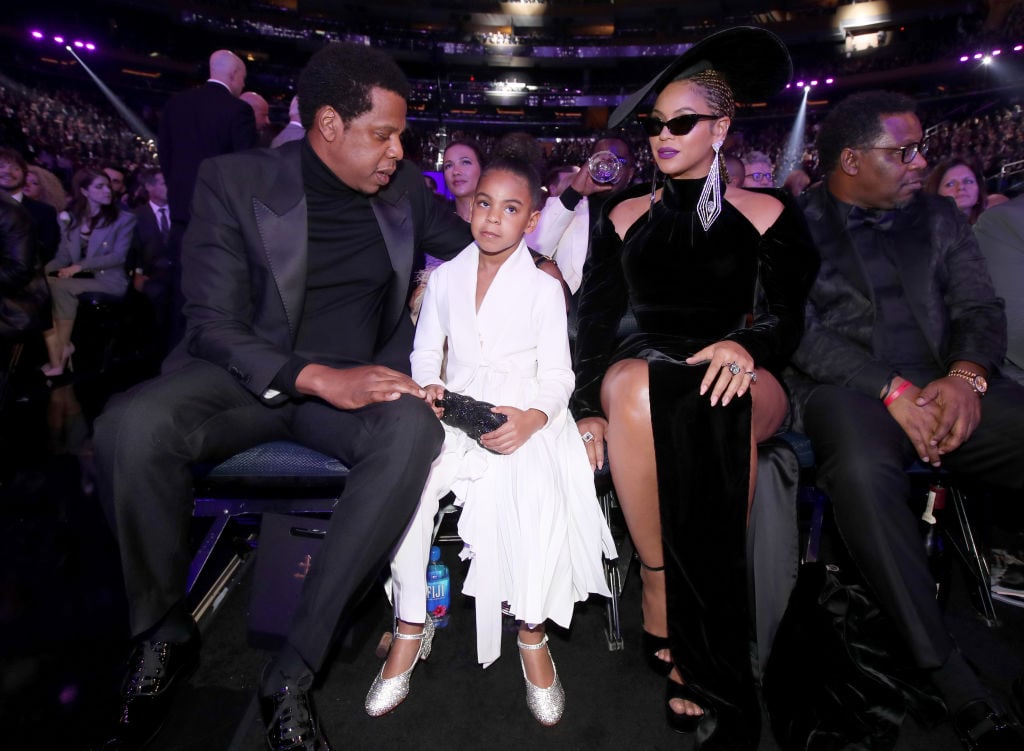 Is Blue Ivy vegan like Jay-Z and Beyoncé?
Because Blue Ivy was enjoying some Cheddar Bunnies at the award show, it's pretty safe to assume she doesn't sustain a plant-based lifestyle or the strict diets that her parents have gone on. In fact, one Refinery29 article noted a picture of young Blue Ivy outside of an ice cream truck, pointing to the Spongebob-shaped popsicle.
Although she doesn't often show her favorite foods, Blue Ivy has been appearing alongside her mother for a number of projects. That includes performing on the album The Lion King: The Gift, as well as the visual album Black is King.
Fans can watch (and listen) to Beyoncé with a number of Disney-owned productions, including Black is King, The Lion King (2019), and ABC's Disney Family Singalong. To learn more about Disney+ and to subscribe, visit their website.