'BMF': Does the Real Demetrius 'Big Meech' Flenory Narrate the Show?
BMF is Starz's newest drama series. Set in Detroit in the 1980s, the series follows the real-life Flenory brothers who were two of the biggest drug traffickers in the United States until the early 2000s. The series chronicles the rise and fall of Demetrius "Big Meech" Flenory (Demetrius "Lil Meech" Flenory Jr.) and Terry "Southwest T" Flenory (Da'Vinchi).
Big Meech has been in prison since 2005, but does he narrate BMF?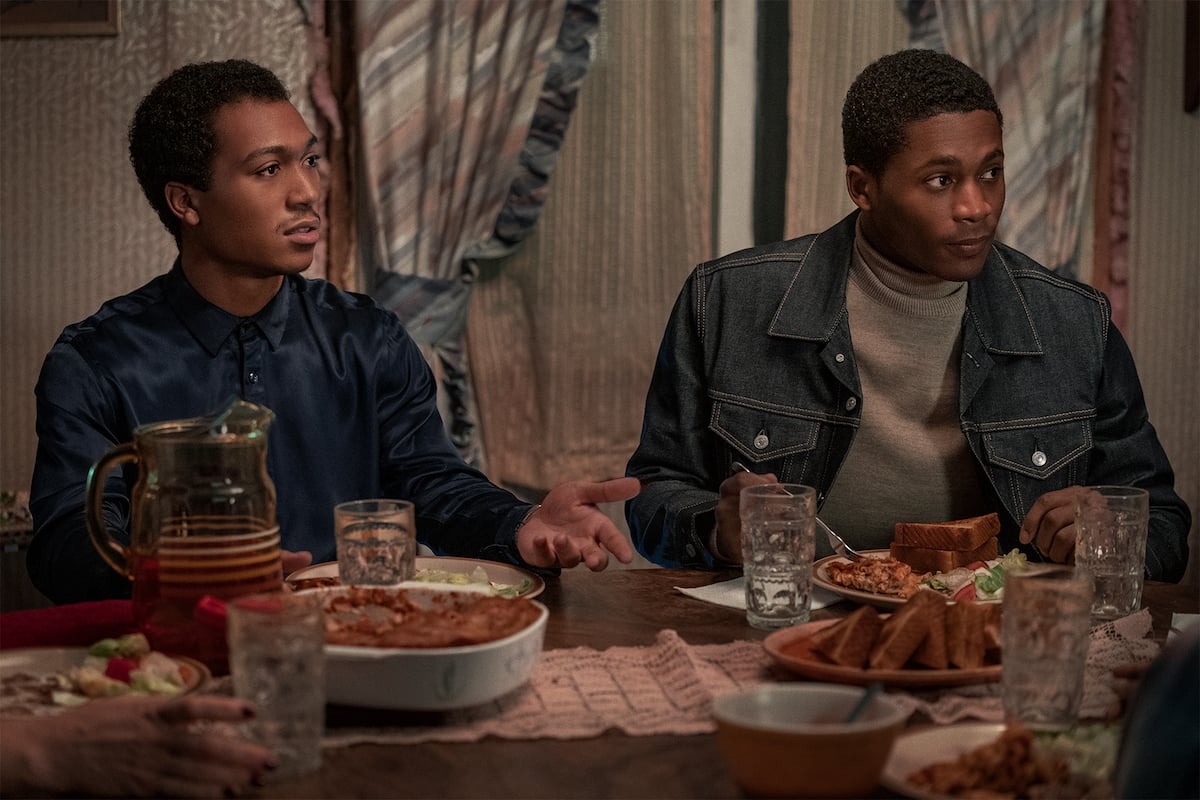 Demetrius "Lil Meech" Flenory Jr. portrays his father on 'BMF'
The Flenory family is very involved with BMF. In fact, Demetrius "Lil Meech" Flenory Jr., the son "Big Meech" portrays his father in the show. "It also helped me learn more about my dad," the younger Flenory told The Detroit News. "Being his child, being able to live through his childhood, at 15-, 16-years-old, he lived a totally different life than me. I went to private school, and he had to drop out of high school because he was too embarrassed to go to school with holes in his shoes because he grew up so poor. So it was crazy putting myself in his shoes and living through him for that period in time, and actually being able to walk the same footsteps he walked."  
Though the events of the series are set 20 years before the actor was born. However, he saw his role as the opportunity to show the world who his father really is. "I really just wanted to do it right, you know?" he said. "He wanted to show the world the real him. People don't understand the real Big Meech, they don't know who he really is."
Does Demetrius 'Big Meech' Flenory narrate 'BMF'?
When the series opens, a man portraying Big Meech in 2005 appears on the screen. Then, the series cycles back in time into the 1980s. A narrator acting as Big Meech begins to tell the origin story of the Black Mafia Family. However, this isn't the real-life Big Meech.
The former drug trafficker is currently in prison. At present Big Meech is slated to be released in 2028.
Demetrius 'Big Meech' Flenory is involved in the show
Big Meech was unable to narrate the show since he is currently still in prison. However, he is still very much involved with the show. Showrunner, executive producer, writer and Detroit native Randy Huggins thought it was incredibly important to have the Flenorys involved. Not only is Lil Meech portraying his father, but Huggins has also formed a friendship with Big Meech.
"We talked as much as we could, and those phone calls are only like 10 minutes at a time," Huggins told The Detroit News. "And then I went to see him like three or four times, and we built up a trust between us." Getting the music right was extremely important to Meech — 'If there's lyrics in the music it's not real, because the music we were listening to was all beat-driven,' he told Huggins.
Moreover, Lil Meech turned to his father to get his portrayal of him nailed down. He spoke to his father every day during filming. He wants to make sure that Big Meech is portrayed accurately and with dimension.
"We filmed at my grandmother's house that my dad and uncle grew up in, and I got to walk the same steps that my father and uncle got to walk," the younger Flenory said. "My grandmother was actually on set watching us, and everything hit so close to home for her that she couldn't stop crying."