'BMF': Is 50 Cent's New Starz Show Based on a True Story?
Starz's BMF proves that Curtis "50 Cent" Jackson is just getting started. 50 Cent has been a major power player at the Starz network since the debut of Power back in 2014. He along with Power creator Courtney A. Kemp presented a mega-popular show about a man wanting to walk away from the drug game. Starring Omari Hardwick as James "Ghost" St. Patrick, Power became one of the biggest series on cable TV, trailing only after HBO's Game of Thrones.
Since then, the Power Universe has expanded several times over with impactful spinoffs including, Power Book II: Ghost,  Power Book III: Raising Kanan based on the teen years of 50 Cent's Power character Kanan Stark as well as the forthcoming shows, Power Book IV: Force, and Power Book V: Influence.
Still, as much as the Queens-born rapper/producer has made his mark with the Power Universe, he's nowhere near done. Up next, 50 Cent is debuting his new drama series BMF or Black Mafia Family, and he's already saying it's going to give Power a run for its money.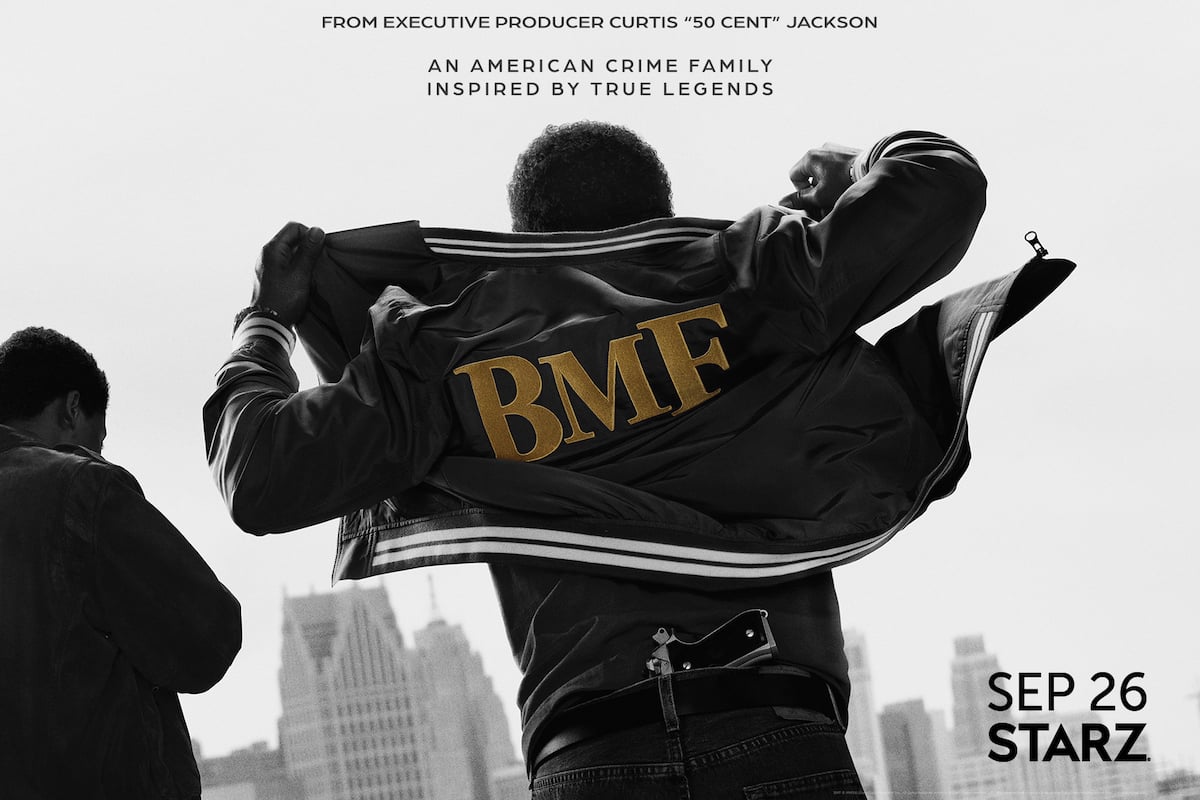 What is 50 Cent's new crime drama 'BMF' about?
BMF has nothing to do with Power. Instead, this drama series is set in Detroit in the 1980s. The narrative follows the Flenory brothers, Demetrius "Big Meech" Flenory and Terry "Southwest T" Flenory who began building their fortune in the drug trade on the streets of Detroit amid the crack cocaine epidemic. However, Big Meech's leadership and Southwest's business savvy helped the brothers expand their business into hip-hop. They launched BMF Entertainment, working as promoters for multiple several major hip-hop artists. However, it was soon discovered that it was a money-laundering scheme for their drug money
For months, 50 Cent has been sharing behind-the-scenes footage from the forthcoming show. In a recent Instagram clip he captioned the video, "Yeah this one a little different behind the scene's BMF 🔥Coming soon! @lilmeechbmf."
BMF is a part of 50 Cent's $150 million four-year overall deal with Starz network and if it gains the traction that we saw with Power, we'd say that the executive producer will be with the network for years to come.
Is 50 Cent's 'BMF' based on a true story?
BMF is based on the real-life Flenory brothers who founded the Black Mafia Family in the '80s. Demetrius "Big Meech" Flenory and Terry "Southwest T" Flenory drug trade first exploded and then shattered around them. From what we're seeing, we're going to get the real-life tea when BMF premieres.
Demetrius "Lil Meech" Flenory Jr., the son of Demetrius "Big Meech" Flenory will star in the series as his father. Fans are hoping that he can do what O'Shea Jackson did with the portrayal of his father Ice Cube in Straight Outta Compton.
The cast also includes Da'Vinchi, Russell Hornsby, Michole Briana White, Ajiona Alexus, Wood Harris, Steve Harris, Snoop Dogg, Serayah, and Power alum, La La Anthony.
When will 'BMF' premiere on Starz?
Those who are well versed in the Flenory brothers' story or who are looking to discover it for the first time won't have to wait long. BMF will debut Sunday, September 26 at 9 PM ET/PT then move to its regular timeslot at 8 PM ET/PT starting on Sunday, October 3.
RELATED: 50 Cent Says the Success of 'Power' Made Starz Official