'BMF': Is Big Meech's Brother Terry Still Living?
Starz's BMF is one of the biggest shows on the network. The drama series chronicles the rise and fall of Demetrius "Big Meech" Flenory (Demetrius "Lil Meech" Flenory Jr.) and Terry "Southwest Tee" Flenory (Da'Vinchi). The brothers would go on to build one of the biggest drug enterprises in the country before they were eventually arrested in 2005. Meech and Terry began their business as teens in Southwest Detroit. However, they would eventually expand their business. By the time they were arrested, they were both worth $100 million each.
BMF creator and showrunner Randy Huggins spoke with Meech while researching for the series, but is Terry still alive?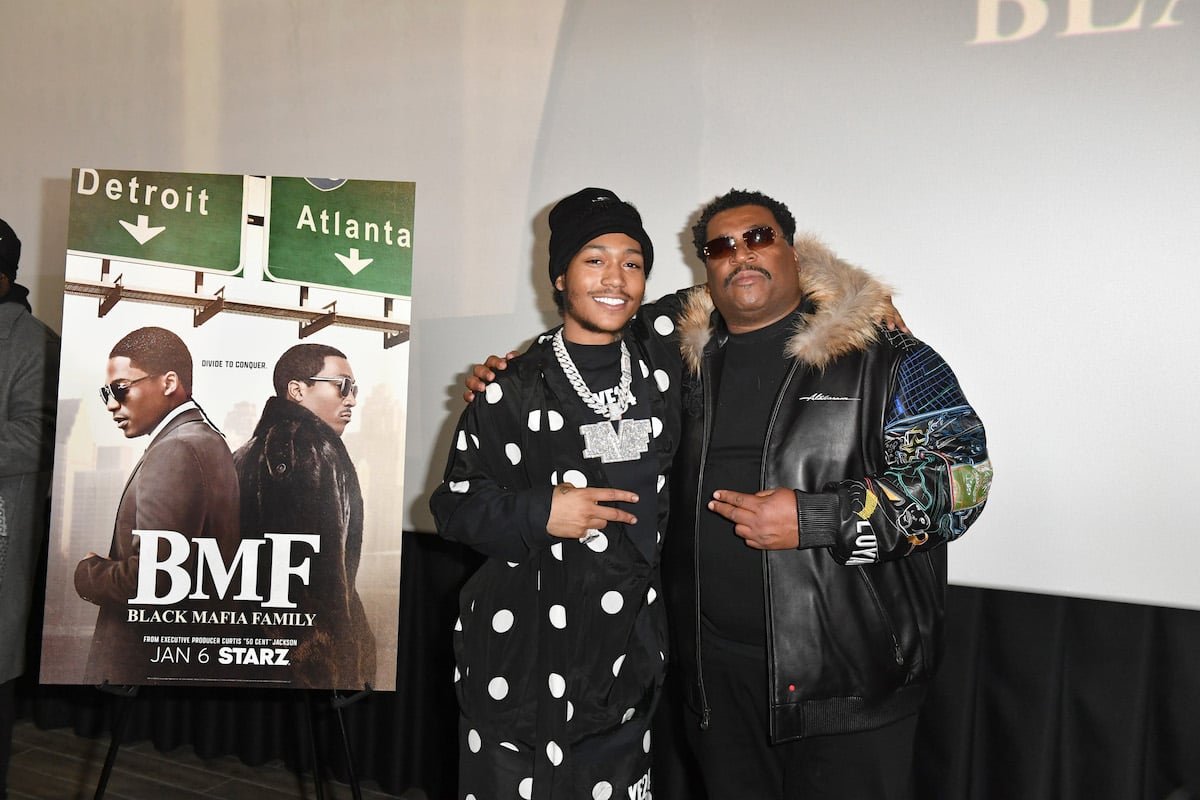 'BMF' is based on the real-life story of the Flenory Brothers
Though a fictionalized account of Meech and Terry's story, BMF is very close to real life. "I took some liberties, but everything there is based on a story," showrunner/creator Randy Huggins told Urban Hollywood 411. "Obviously, you can't have people's names in there. Obviously, some of the places may have changed." He added,
I don't think there's a character in there that I hadn't heard of. I may have to take a creative liberty to make art pop a little bit more. I may have to take a creative license to make a scene funnier than it may have been, but that's just part of telling a story. This is not a documentary.
Terry Flenory is still alive and well
Terry Flenory is still alive and well. He just celebrated his 53rd birthday. Terry and Meech were sentenced to 30 years in prison in 2005 for money laundering and drug trafficking. However, the former gangster was released from prison in 2020 due to ongoing health concerns and COVID-19.
When it came to portraying Terry, Da'Vinchi reflected on his own childhood growing up in Brooklyn. "I didn't really switch," he told XXL Magazine. "I tapped back into my childhood, I had a rough beginning, poverty, a drug-infested environment, so I really just channeled all that. I watched movies like Goodfellas, Paid in Full, all different types of movies."
'BMF' Season 2 will showcase a new side of Terry
So far, fans have seen a calm and collected Terry who chooses his family and his own well-being over the drug game, even if that means putting him at odds with Meech. Though he's currently focused on the car service he started with his father, as BMF Season 2 continues, fans will see a new side of Terry.
"You're going to see Terry Flenory just boss up," Da'Vinchi told POPSUGAR. "He's just like, 'Yo, I'm not this little kid no more. I got this grown-ass lady, and I'm the man now. And she's helping me become a man.' He got a little different pep in his step, and it's going to be interesting to watch."
He added, "She puts him on the path to becoming independent and gaining that autonomy that he always wanted," he explains. "A lot of people could be hurt in the decisions that these two people make."