'BMF': Season 2 Will Showcase a 'Family War' Meech Says
Starz's drama series, BMF has just launched its second season. The series follows the real-life story of the Flenory brothers. Demetrius "Big Meech" Flenory (Demetrius "Lil Meech" Flenory Jr.) and Terry "Southwest Tee" Flenory (Da'Vinchi) began selling drugs as teens on the streets of Detroit before forming their own national drug enterprise.
This season will see their organization expand, and it will also showcase a family war.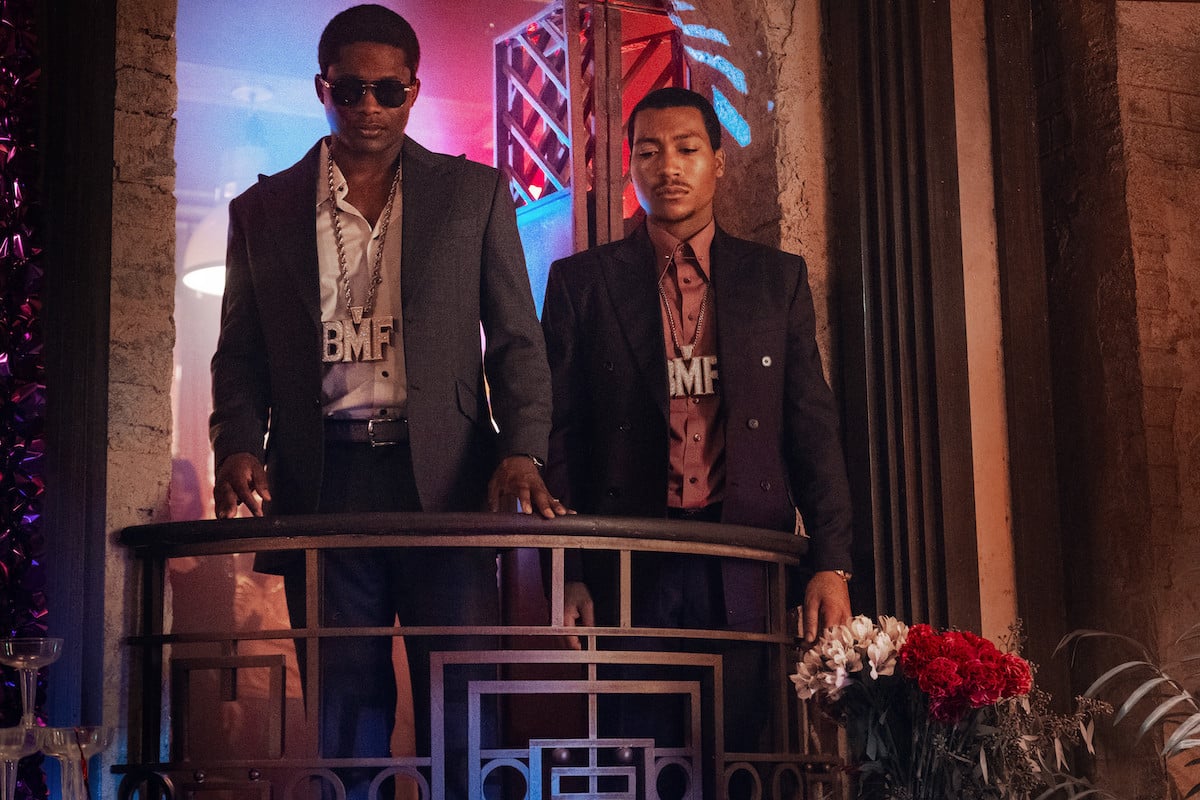 'BMF' is much more than a drug show
While BMF obviously tells the story of the rise and fall of the Flenory brothers. It's much more complex than a "drug show." The series talks in-depth about family, poverty, and the Black American experience in the inner city.
BMF creator Randy Huggins wanted to ensure that he hit on all topics. "It's not just a drug show," Huggins told TVLine. "We delve into mental illness with Lamar. Back in the 1980s, when [President] Reagan closed all those state-run mental health facilities, people like Lamar were released with nowhere else to go. He may have gone in the asylum thinking it was easier than prison, but he was probably already mentally ill and got worse."
Season 2 will showcase a family war
At present, Meech and Terry are still at odds after Terry decided to walk away from the drug game at the end of season 1. Season 2 also showcases a divide in the Flenory household, with the brothers' parents Charles (Russell Hornsby) and Lucille (Michole Briana White) marriage coming apart at the seams. 
More than that, Meech's second in command, B-Mickie (Myles Truitt), has been entrapped by the police.
"Our focus is on our business 100% trying to expand, trying to leave Detroit, trying to go further.," Meech told Express U.K. "Trying to recruit as many crews as we can on our team, so we can work together and become even bigger. But I feel like the season is definitely all about the family war between B-Mickie, Meech, and Terry, and they're finding there's no trusting each other." It's a lot of different things that everybody's juggling with this season."
Markisha and Terry's relationship play a major role in the war in 'BMF" Season 2
Not only is Meech apprehensive about Markisha, but she is also married. More than that, Terry's girlfriend LaWakanda (Sydney Mitchell), who is also the mother of his son, won't take kindly to Markisha coming in to seemingly take her place. With Markisha's guidance, Terry will learn to assert himself with Meech and his father in a way that he hasn't been able to previously, which will undoubtedly ruffle feathers.
In fact, the bond between Markisha and Terry is bound to play a major role in the family war. "The fans are going to be in for a treat," Da'Vinchi told POPSUGAR. "You're going to see Terry Flenory just boss up. He's just like, 'Yo, I'm not this little kid no more. I got this grown-ass lady, and I'm the man now. And she's helping me become a man.' He got a little different pep in his step, and it's going to be interesting to watch." He added
"She puts him on the path to becoming independent and gaining that autonomy that he always wanted," he explains. "A lot of people could be hurt in the decisions that these two people make."