'BMF': When Will Episode 7 Air?
Starz's new drama series BMF has only two episodes left until season 1 comes to an end. The series follows the real-life story of Demetrius "Big Meech" Flenory (Demetrius "Lil Meech" Flenory Jr.) and Terry "Southwest T" Flenory (Da'Vinchi). As teens, the brothers built one of the biggest drug enterprises in the country. The Flenorys began their business in Southwest Detroit before expanding into other cities and into different ventures.
In the first season of BMF, the Flenorys have been trying to strike out on their own. However, their main rival, the chaotic and monstrous Lamar (Eric Kofi Abrefa) has made things very challenging for them. In episode 6, fans watched Lamar go rouge, but when will episode 7 air?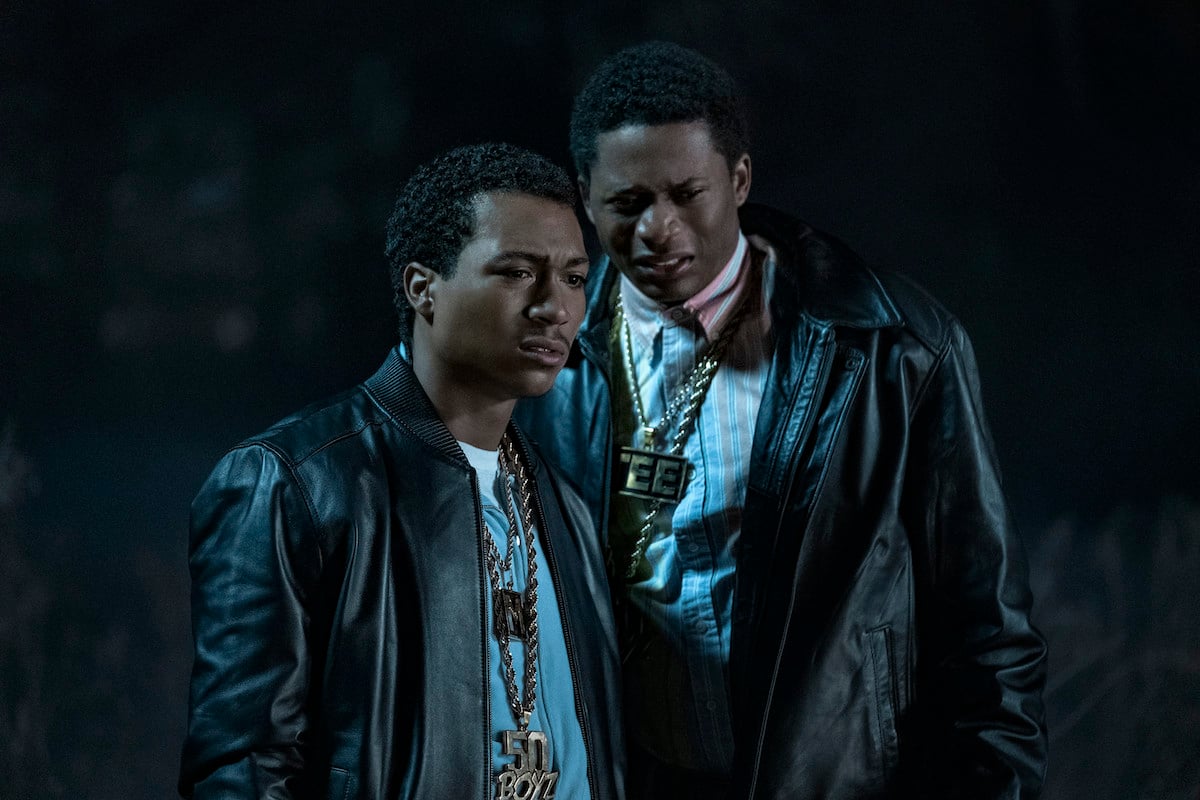 'BMF' is almost entirely true
When creator Randy Huggins and Curtis "50 Cent" Jackson teamed up to bring the Flenory brothers' story to life, they wanted it to be as accurate as possible. "I took some liberties, but everything there is based on a story," Huggins told Urban Hollywood 411. "Obviously, you can't have people's names in there. Obviously, some of the places may have changed."
Still, Huggins didn't stray too far from the facts. "I don't think there's a character in there, that I hadn't heard of," he said. "I may have to take a creative liberty to make an art pop a little bit more. I may have to take a creative license to make a scene funnier than it may have been, but that's just part of telling a story. This is not a documentary."
'BMF' Episode 7 will air on Nov. 14
In episode 7 "All In the Family" Big Meech and Southwest T will be dealing with the fallout of Lamar's murderous rage. The official description for the episode reads, "Blood spills into the streets when Meech devises a plan for revenge, forcing Lamar to seek shelter with someone close."
As we know, Lamar murdered his old friend, who was a member of the 12th Street gang as well as Nicole Flenory's boyfriend, Darius. Executive producer 50 Cent directed episode 7 and he has warned fans that they are in for a wild ride.
"This next episode of BMF I went to work," he tweeted. "I'm the director, I got my boy Em out to do a little something. This episode is amazing can't wait till you can see it." Eminem is slated to appear on the episode as White Boy Rick.
Will Lamar appear in 'BMF' Season 2?
Though it's been amazing to see Lil Meech transform into his father and All-American's Da'Vinchi transform into Southwest T, Abrefa has stolen the show as the unhinged Lamar.
Now fans are wondering if we can expect to see more of the villainous gangster when BMF returns for season 2. "You have to wait and see," Abrefa said to Digital Spy. "Again like (laughs) all of these things are not in my control. You never know. Like, it's been, it's been awesome working with STARZ, it's been awesome working in the kind of the Power Universe that 50 Cent's created. And there's gonna be a lot more, I feel coming through. Because like there's a lot of, it's got a massive audience for it. You never know it could end up being like a Marvel thing well Marvel for, you know."