'BMF': Who Is Eminem's Character White Boy Rick?
Curtis "50 Cent" Jackson is not done telling stories. The Power Universe executive producer has his hands in Power and its various spinoffs, Power Book II: Ghost, Power Book III: Raising Kanan, Power Book IV: Force, and Power Book V: Influence. Now, amid his partnership with Starz network, he's set to launch his new 1980's set series, BMF.
In addition to gearing up for the release of the new show on Sept. 26, 50 Cent has also announced that iconic rapper Eminem will be guest-starring in the series.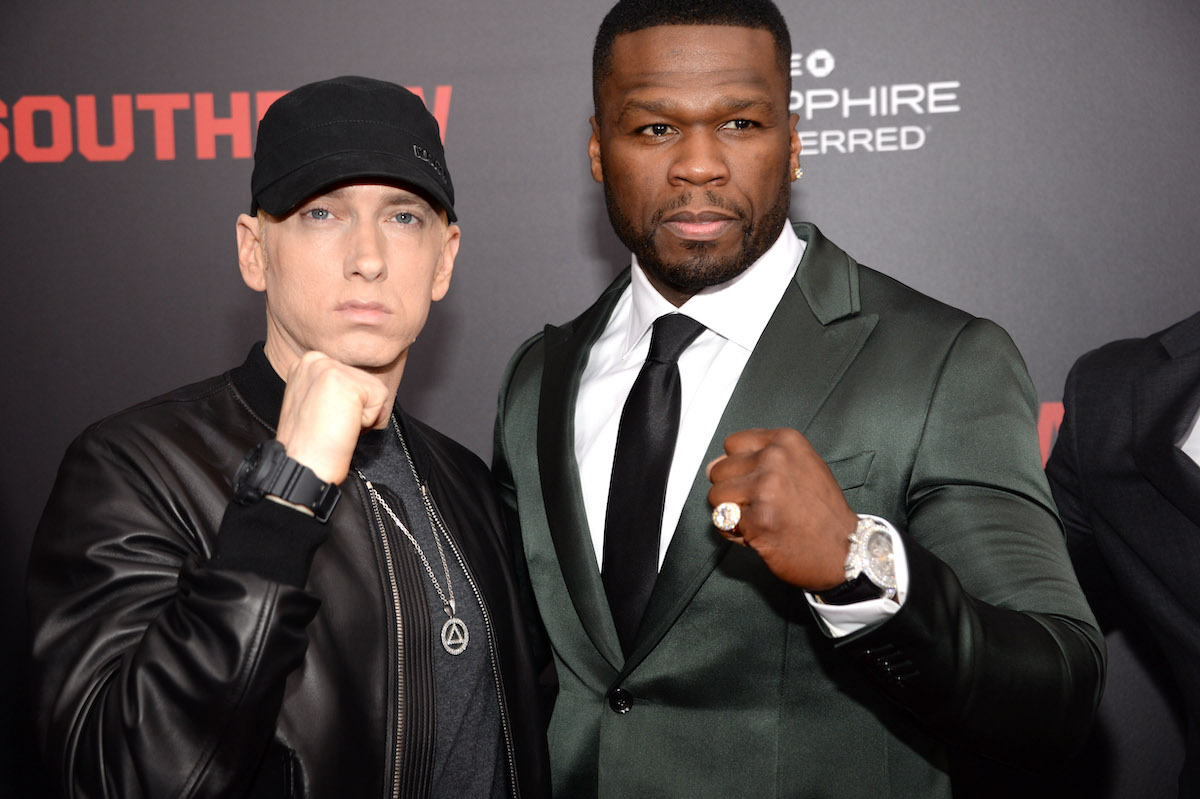 50 Cent's new Starz show 'BMF' is based on a true story
Set in the 1980s in Detroit at the height of the crack cocaine epidemic, BMF follows the rise of the real-life Flenory brothers, Demetrius "Big Meech" Flenory and Terry "Southwest T" Flenory. The Flenory brothers built their BMF (Black Mafia Family) empire, eventually launching BMF Entertainment as a money-laundering scheme amid the rise of hip-hop. They worked as promoters for several major hip-hop artists.
Starz has called the crime drama "a story about love, kinship, and capitalism in the pursuit of the American dream."Demetrius "Lil Meech" Flenory Jr., the son of Demetrius "Big Meech" Flenory, will star in the series as his father. The series also includes Da'Vinchi, Russell Hornsby, Michole Briana White, Ajiona Alexus, Wood Harris, Steve Harris, Snoop Dogg, and Serayah.
Who is Eminem's 'BMF' character White Boy Rick?
Eminem has not done any acting since his 2002 debut, 8 Mile, which was closely based on his personal life. In BMF, he will be making a cameo as real-life FBI informant, White Boy Rick. Rick Wershe Jr., aka White Boy Rick, sold drugs and guns as a part of a gang in his late teens in Detriot.
However, when he was 17, he was duped by the feds and arrested for cocaine possession. He was given a sentence of life in prison. However, he was paroled in June 2020 at age 50. Wershe was the subject of the 2017 documentary film White Boy and the 2018 scripted film White Boy Rick.
50 Cent is thrilled that his mentor Eminem is starring in BMF as the iconic figure. "I'm honored and appreciative of my good friend Em for supporting my new show BMF," 50 Cent said in a statement via The Wrap. "We couldn't do a show based in Detroit without incorporating the legend that is Eminem."
Is 'BMF' connected to the 'Power' Universe?
With the expansive Power Universe, and Power creator Courtney Kemp leaving Starz for Netflix, fans are desperate to know if this Detroit-set series is connected to Power in any way. It turns out that Kemp nor Power are affiliated with BMF in any way.
The series is a passion project for 50 Cent and came out of his $150 million four-year deal with Starz. Though BMF doesn't cross over with Power or any of its spinoff shows, Power Universe alum La La Anthony will be starring in the new show as Markaisha Taylor.
Deadline is reporting that Markaisha is the wife of a drug dealer that Meech and Terry befriend. However, her intense chemistry with Terry soon puts everything he and Big Meech worked so hard to build at risk.