'Bob Hearts Abishola' Actor Folake Olowofoyeku Thought David Bowie Smelled Amazing for the Sweetest Reason
The CBS sitcom Bob Hearts Abishola actor Folake Olowofoyeku played with David Bowie years before starring in the comedy show. During an interview with fellow actor Billy Gardell, she recalled the first time that she met him. She confessed that her first thought about the singer was how fantastic he smelled.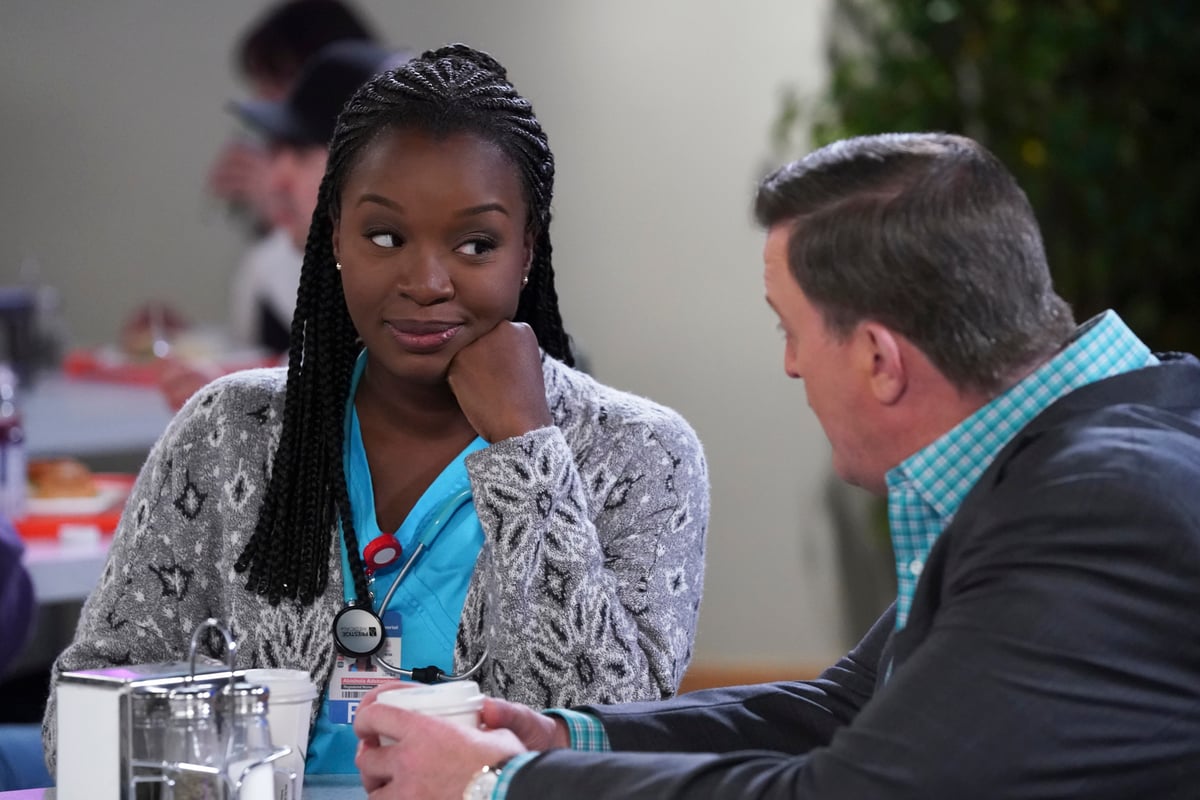 The 'Bob Hearts Abishola' actor starred in two music videos for Bowie
In 2013, Olowofoyeku worked with Bowie on the music video for The Stars (Are Out Tonight).
"I believe Mr. Bowie was trying to recreate the look of his original band," Olowofoyeku told Afterbuzz TV. "I guess I fit that look. My hair was blonde then and short, and I got the part. He wanted us to learn the song, even though we were just playing it for the music video."
The Abishola actor made a huge connection working with Bowie. And he wanted her back for another music video.
"I worked on two of his music videos, it was The Stars (Are Out Tonight) and The Next Day," she said. "I was just happy to work with him again. Everyone involved with that production was awesome, and he had all of us back."
However, by that point, Bob Hearts Abishola already built some familiarity with Bowie. When they first met, the biggest thing that stood out to her was how Ziggy Stardust smelled.
Folake Olowofoyeku said David Bowie smelled 'great' during their first meeting
During a different interview, Olowofoyeku appeared with her co-star Gardell. The Real co-host Jeannie Mai questioned the Bob Hearts Abishola actor about her involvement with David Bowie.
"It was a regular audition process," Olowofoyeku said. "I didn't know who the artist was going to be."
However, as she said in the Afterbuzz TV interview, she fit the look and talent that Bowie needed for his music video.
"He would visit us in the studio while we were rehearsing," she said. "And the first time I met him, I just remember thinking 'wow, he smells great!'"
Gardell and the other hosts of The Real laughed, but Olowofoyeku felt she should clarify why she liked the way Bowie smelled.
The 'Bob Hearts Abishola' actor said David Bowie reminded her of her father
While David Bowie likely always smelled spectacular, the Bob Hearts Abishola actor had a much more sentimental reason.
"His smell reminded me of my father," she said. "He was really sweet."
The initially funny comment drew 'aww's from Adrienne Houghton, Loni Love, and the other The Real hosts.
Olowofoyeku's role as a Nigerian nurse on Bob Hearts Abishola fits because the actor emigrated from Nigeria to America in 2001. She was only 18 at the time. Her acting journey started working jobs on off-broadway productions.
Living thousands of miles away from her childhood home could cause homesickness for anyone. A simple reminder of home could have meant a lot to her.