'Bob Hearts Abishola': Behind the Scenes, Folake Olowofoyeku Revealed She Struggled With 'Being Present' in Season 3
Behind the scenes of 'Bob Hearts Abishola' Season 3, actor Folake Olowofoyeku admitted she struggled to balance interviews, filming, and being present with the Chuck Lorre cast.
Bob Hearts Abishola actor Folake Olowofoyeku has talked about how the romantic comedy sitcom gives her a place to be creative. However, she admitted some things got in the way for her behind-the-scenes of Bob Hearts Abishola Season 3. Billy Gardell and her have a lot of extra responsibilities on top of starring as the leads in the Chuck Lorre CBS show. It turned into a lot for the Nigerian actor to handle, though.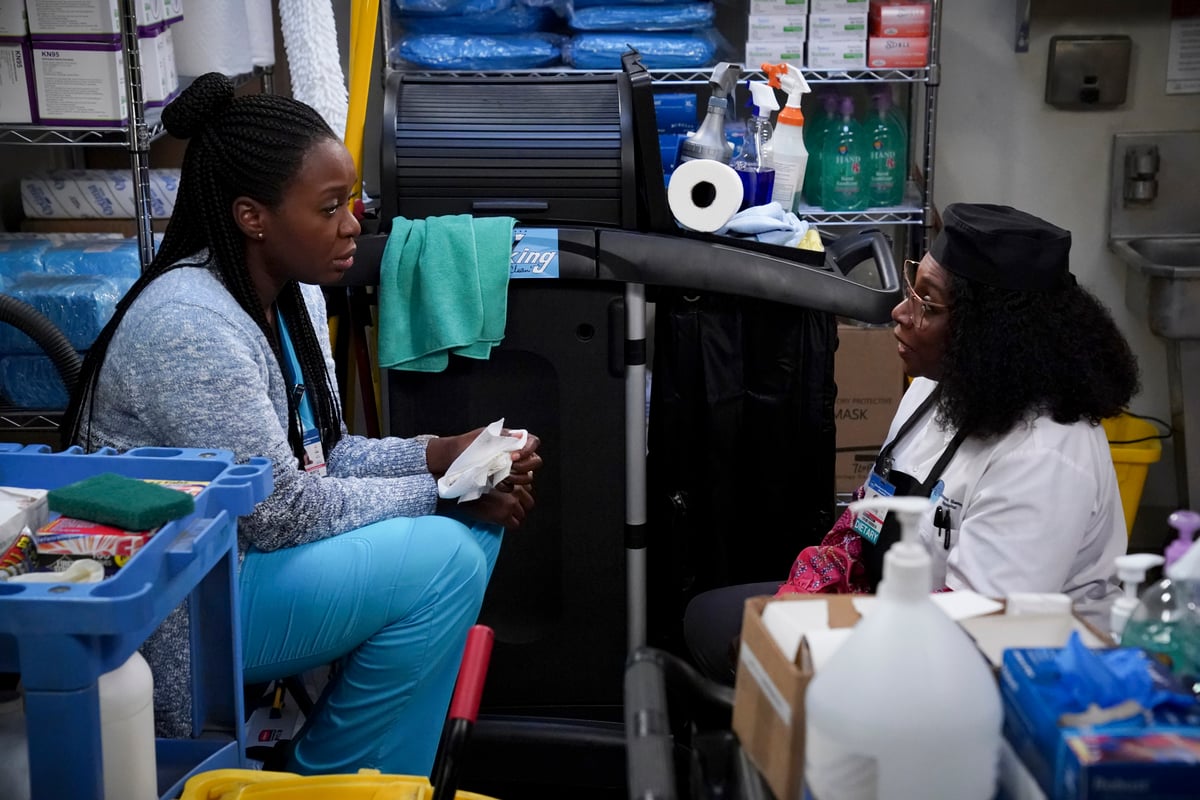 Actor Folake Olowofoyeku said 'Bob Hearts Abishola' Season 3 had 'outside things to deal with' behind the scenes
After emigrating to the US from Nigeria herself at 18, and doing everything from basketball to playing with David Bowie, Folake Olowofoyeku joined the Bob Hearts Abishola cast. Bob Hearts Abishola Season 1 saw the show off to a great start and the actors had plenty of praise for the environment behind the scenes.
However, season 3 really stepped up the CBS show's events. Bob and Abishola flew to Nigeria for Abishola's son, Dele (Travis Wolfe Jr.). Then, they married in Nigeria with an authentic wedding. Olowofoyeku and Gardell appeared in several interviews before the event.
However, juggling filming, costume fitting, interviews, and personal life, Olowofoyeku admitted to struggling during the filming of Bob Hearts Abishola episodes in season 3. While Abishola had obstacles on screen, the actor had more behind the scenes.
"I find a lot of joy in the show. I think what I'm struggling with is actually being present. There are a lot of outside things to deal with," she told the Carlos Watson Show. "The main focus is not just on the filming."
'Bob Hearts Abishola' Season 3 had actor Folake Olowofoyeku and Billy Gardell doing a lot behind the scenes
The whole cast had to prepare for the wedding episode. Dottie (Christine Ebersole), Christina (Maribeth Monroe), and Douglas (Matt Jones) all wore traditional Nigerian clothing for the Bob and Abishola wedding.
However, while the crew went to extra lengths to authentically represent Nigerian culture, Olowofoyeku had to deal with that on top of appearances off-set.
"You know, there's press to do, there are lines to learn, and fittings, and so many outside factors that interrupts the creative process," Olowofoyeku said. "So, I'm trying to just quiet everything down so I can just continue to enjoy one-on-one time with my cast and the production."
She values her time behind the scenes with the Bob Hearts Abishola cast. While the show became much busier after Bob Hearts Abishola Season 2, she tried to refocus herself.
"Being with the other actors, and being present, that is something I'm trying to focus on because when I am, it's just so beautiful," she continued. "I don't want [that] time to pass."
The actor said that Chuck Lorre shows run like 'a well-oiled machine'
While Olowofoyeku tried managing herself while filming for Season 3, it helped to have an experienced showrunner. Chuck Lorre shows include Young Sheldon, Two and a Half Men, and Mike & Molly.
With so much experience, things tend to run smoothly.
"It's lovely, it's a great set to be on. Everyone's super kind," she then said. "I mean, [with] Chuck Lorre, you're in a well-oiled machine."
And Chuck Lorre is sure to have even more surprises for fans on set and behind the scenes in Bob Hearts Abishola Season 4.