'Bob Hearts Abishola': Chuck Lorre Discovered Gina Yashere in the Weirdest Way
Chuck Lorre made some of the biggest sitcoms on TV, like The Big Bang Theory, Mike & Molly, and Two and a Half Men. When it came time to write the CBS show Bob Hearts Abishola, he knew he needed help. Lorre and writers Al Higgins and Eddie Gorodetsky added Gina Yashere to the Bob Hearts Abishola cast and crew, but they discovered her in an odd way.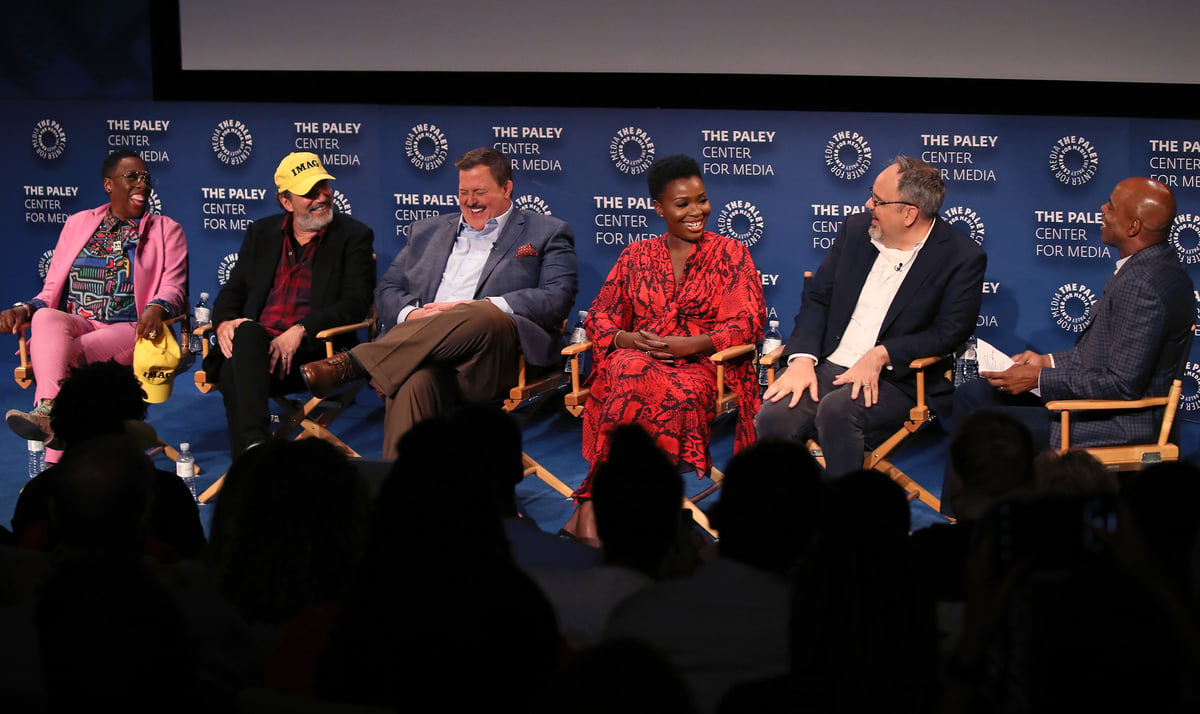 Writers Al Higgins and Eddie Gorodetsky found her on Google
Gina Yashere appeared on The Wendy Williams Show talking about Bob Hearts Abishola.
"Basically, Chuck had this idea for a show, he wanted to make another show with Billy Gardell, and he wanted to have him fall in love with a Nigerian nurse," Yashere said. "It was him, Eddie Gorodetsky, [and] Al Higgins who work on shows with him."
She said that they hesitated since they were, as she put it, "three white guys."
"They were like, 'We need a Nigerian female comedian to help us create this thing. Al and Eddie just kind of went away and just typed into Google. My stand-up came up, me talking about my mom on stage in London somewhere, and they were like 'Get her over here for a meeting!'" Yashere said.
As she went to meet with Lorre, she thought about how they discovered her.
"I'm going to this meeting and go 'Oh, so how did you find me? Was it my work on The Daily Show, was it my Netflix specials, was it my Tonight Show appearances?' And they were like 'Oh, no, we just typed African female into Google, and that's how we got ya.'"
Gina Yashere commended 'Bob Hearts Abishola' writers on consulting Nigerians in depicting Nigerian culture
Representing a culture different from your own comes with challenges. Even more issues arise if the writers do not come from the culture in question.
"What really surprised me is the fact that these guys were forward-thinking and self-aware enough to go 'You know what? We want to make this show about Nigerians, but we're white guys; we need someone to help us from the culture,'" Gina Yashere said at the Bob Hearts Abishola panel at the 2019 PaleyFest.
Bob Hearts Abishola deals with Folake Olowofoyeku's role as a Nigerian nurse that emigrated to America. Detailing a culture clash like that could have gone wrong in several ways.
"So that was a beautiful thing because Chuck didn't have to do that. He's a very powerful guy. He's made some great shows. He could've just said, 'You know what? I'm gonna give it a go. I'm a great writer. I can do this.' The fact that he just went 'No, we need to do this [right].'"
'Bob Hearts Abishola' kept Gina Yashere on as writer and actor for Folake Olowofoyeku's confidant
Both Bob Hearts Abishola and its fellow CBS sitcom The Neighborhood tackle issues that require more nuance.
The sitcoms writers knew they brought the right person for the job when Yashere joined their team. While they initially brought her in as a consultant, the dynamic evolved.
"[She] flew over from England to spend a couple of days with us and talk us through what she thought we could be doing, and after a couple of days, we went 'let's see if she'll stay with us!'"
The following conversation involved getting Yashere in front of the camera. Lorre actually considered her for the lead role before she said she wanted to play the best friend of Abishola (Folake Olowofoyeku), Kemi.
Gina Yashere still writes for Bob Hearts Abishola through season 3 and even stole the focus of episode 6, as she dealt with her own romance issues.