Bob Hope Had a Mysterious Marriage License For a Woman He Didn't Marry
Bob Hope was an iconic comedian with a scandalous romantic life that included a mysterious marriage license.
Actor, comedian, and entertainer Bob Hope was married to his wife, Dolores, for nearly 70 years. While no marriage is easy, Dolores had to contend with her husband's persistent womanizing, and infidelity throughout the years. Whether Dolores was Hope's first wife remains unclear. Hope had signed a marriage license with another woman just a year before what was deemed a small civil ceremony between him and Dolores in February 1934. If he had officially wed the woman of a previous relationship, remains a mystery.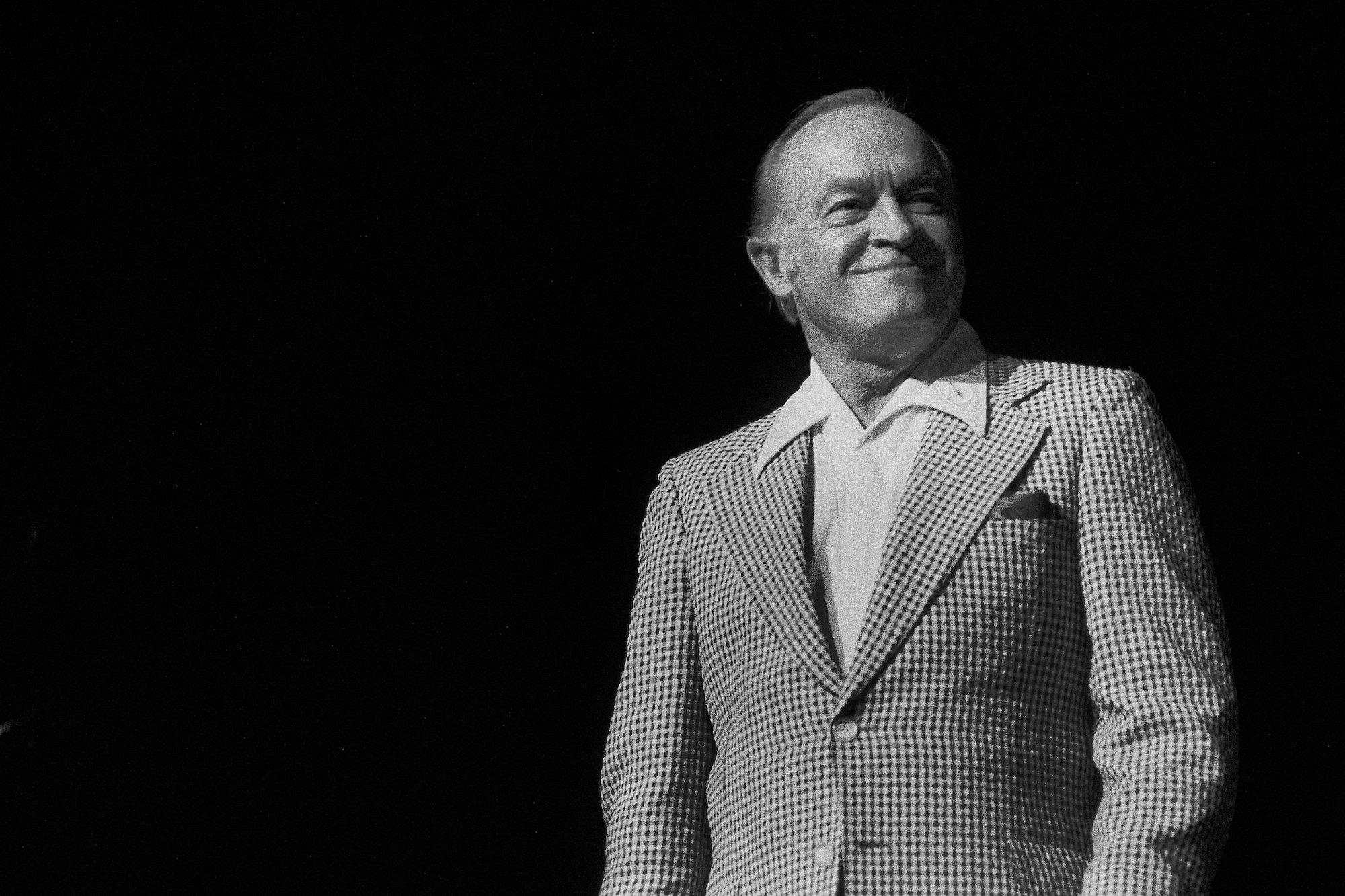 Hope's life with his wife, Dolores
Dolores DeFina, under the stage name Dolores Reade, was performing in a New York Club where Hope caught her act in 1933, according to The Guardian. Taken with her, he became a regular visitor to the club. They were allegedly married the following year and moved to Los Angeles.
Dolores took time away from her singing career to raise their four adopted children — Linda, Anthony, Kelly, and Nora. Meanwhile, Hope's career continued to rise with his own radio show, and films such as the seven-film "On the Road to" series in which he co-starred with Bing Crosby and Dorothy Lamour. During WWII, Dolores returned to her career joining her husband in entertaining the troops overseas through the USO. They continued to tour almost every year during the holiday season up through the Gulf War.
Hope's womanizing ways
Despite having one of the longest marriages in Hollywood, Hope couldn't keep his hands off other ladies. The New York Post's Lou Lumenick called Hope a "sex machine," following the 2014 release of the biography Hope: Entertainer of the Century written by Richard Zoglin. Hope had a reputation for many one-night stands in the late 1930s. The author quoted a former Hope writer, Sherwood Schwartz, referencing that time, "We'd go to a hotel, I swear to you, outside his room were three, four, five young, beautiful girls, waiting to be picked by him to come in … He was a star enjoying his stardom."
Hope did have the common sense to avoid involvement with his leading ladies such as Lamour, Lucille Ball, Jane Russell, and Joan Fontaine. But he did have some rather lengthy affairs with other Hollywood stars and beauty queens. Zoglin shared a "brief romantic fling" Hope had with Doris Day while the two toured together for the March of Dimes in 1949. The same year, he had a several months-long relationship with actor Barbara Payton, whom he later "paid off" to keep her from sharing her story. Years later, she sold her story anyway.
Other Hope "girlfriends" included actor-singer Marilyn Maxwell in the '50s; Ursula Halloran, one of publicity staff members; 1961 Miss World Rosemarie Frankland; and commercial writer Sandy Vinger during the '80s.
Were Bob and Dolores Hope really married?
According to Zoglin, Hope had signed a marriage license with his former vaudeville partner Grace Troxell in 1933. According to biographer Arthur Marx, author of The Secret Life of Bob Hope, the two wed in Erie, Pennsylvania in January of that year. Following the release of the book, Hope's publicist, Ward Grant, refuted the notion saying that Hope had indeed gotten the license, but they never wed.
Furthermore, Zoglin wrote that no marriage license for Hope and Dolores was ever found. But Zoglin was able to locate a divorce decree between Hope and Troxell dated Sept. 4, 1934, according to Medium. With that finding, Zoglin eluded that if Hope and Dolores were indeed married in February 1934, Hope was a bigamist. AP News reports that the marriage bureau clerk in Erie said the records would not exist had a ceremony not occurred, adding to the mystery maybe-marriage.
Hope fans may never know whether Hope was married to Troxell, or Dolores, or both. What we do know is that Bob and Dolores Hope lived as husband and wife for 69 years up until he died in 2003, at the age of 100. Dolores died eight years later at the age of 102. 
Dolores was Catholic and deeply religious. She once said of her marriage, "If it hadn't been a good one, I'd never have stayed." According to their daughter, Linda, her mother knew of the infidelities. "She just decided that he was worth going through whatever she had to go through, to have the life and be Mrs. Bob Hope. But I don't think any of the (other women) had the significance to him that she and the family did."