Bob Ross' Son Steve Ross Appeared in 'The Joy of Painting' — What Is He Doing Now?
Boss Ross had a son who appeared in 'The Joy of Painting': Steve Ross. What is the famed painter's son doing now?
Whenever you think of painting serene mountains or "happy little trees", Bob Ross usually comes to mind. Host of the beloved PBS television series, The Joy of Painting, the legendary artist has become a pop culture icon.
From 1983 to 1994, Bob Ross enticed viewers with his smooth calming voice and peaceful techniques that he used while teaching others how to paint.
Unbeknownst to many fans, Ross had a son, who also shared his talent and love of art. Steve Ross, who had a painting show on social media, even appeared in a few of episodes of his father's television program.
Following in his father's footsteps
Steve Ross appeared in 13 episodes of his father's infamous show, with the most memorable episode being Final Reflections that aired in the first season. Steve Ross asked his father poignant questions sent in from viewers, as his dad methodically painted and spontaneously answered.
Born in 1966, and painting since he was 12 years old, Steve Ross was introduced by Bob Ross as someone who has "traveled all over the country teaching hundreds and hundreds of people the joy of painting."
Now 55 years old, Steve Ross specializes in pop art canvas paintings. 
A very different approach
Steve Ross started his own painting show on the social media platform Tumblr. Attracting a significant audience, he unexpectedly became known as "Tumblr's Sex God." There is a YouTube video circulating that currently has more than 1.8 million views with edited clips of the young artist's painting program.
Very Celeb explains, "While his dad was cool and composed, Steve can be an amazing talker with a lot of sexual innuendos." He reportedly made frequent statements with implied double meanings, such as: "It's getting bigger all the time. Oh no, it's huge. Look at that, it's a monster!" Steve Ross is also known for saying, "Pound it into the brush real good." 
A lasting legacy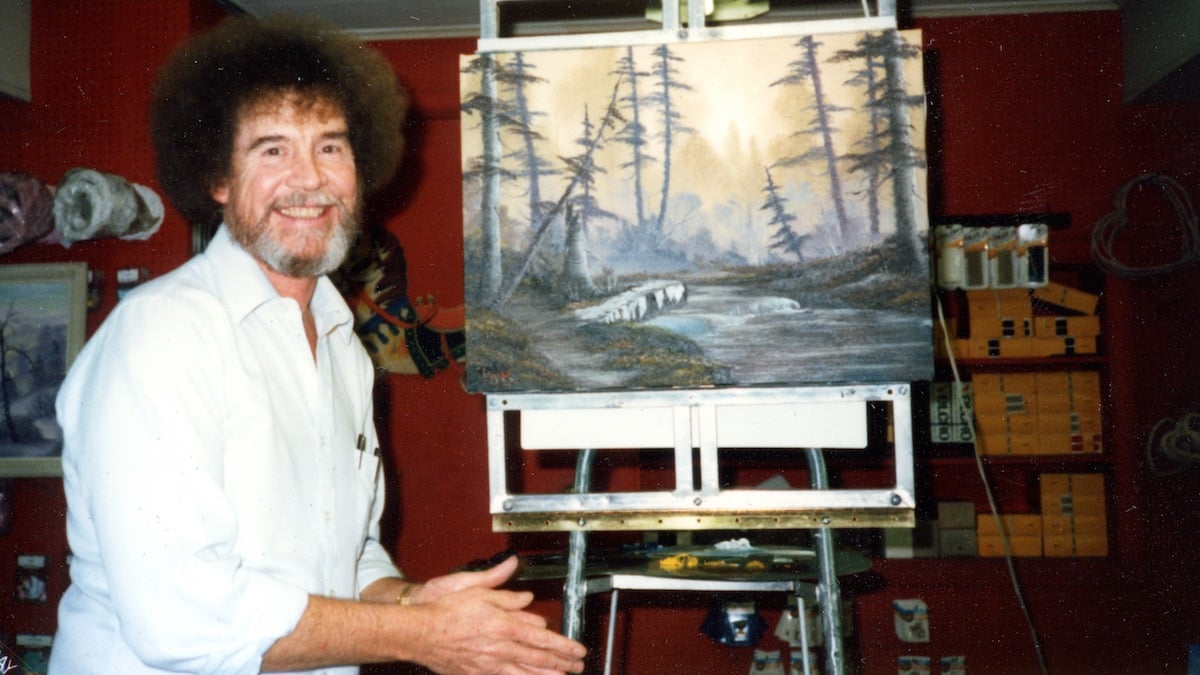 Bob Ross died in 1995, at the age of 52, after a short battle with lymphoma. His legacy continues, with The Joy of Painting receiving more than 450 million views on YouTube. There are now t-shirts, socks, watches, and coffee mugs that carry his smiling face and funky afro. Netflix even has a documentary about Ross and the impression he left on millions of aspiring artists.
The Hustle reported that Bob Ross produced approximately 30,000 paintings, but very few have actually been sold. He appeared in 381 episodes of the beloved television series, painting three versions of the same artwork each episode. There are also thousands of pieces he produced outside of the show.
When Bob Ross died, his entire collection was turned over to Annette and Walt Kowalski, the owners of Bob Ross, Inc. The company has no intention of selling artwork, saying the only mission "is to preserve the mythological wonderment that was Bob Ross."
Steve Ross took his father's death very hard. All That's Interesting reported, "Steve loved painting as much as his father but because painting was so closely connected to the memory of his father, he could not bring himself to continue." They said, "he avoided the spotlight and turned to a private life away from the media."
In 2019, more than 25 years after his father's death, Steve Ross organized a painting workshop with longtime friend Dana Jester. The event was live-streamed online and met with great success.
Steve Ross told The Daily Beast, "I didn't realize that people missed me or wanted to have me do this again." He explained, "I always knew, but what I mean is, maybe I didn't want to know. Maybe I reserved the right to remain ignorant."
When asked how it felt to teach painting again, Ross replied, "Like the first time I've had the sun on my face in a thousand years."