Bob Ross Was a Drill Sergeant for 20 Years Before He Became a Beloved Artist and TV Star
Bob Ross' claim to fame came later in life.
Bob Ross is known to many pop culture fans around the world as the subject of those viral memes featuring "happy little trees." Ross (and his impressive perm hairstyle) is one of the most visible men on the internet — however, even those who know of his time as a television star and popular painter might not be aware of his past. Long before Ross was starring in his own PBS TV series, he was serving his country as a member of the United States Air Force. 
Bob Ross began his career as a respected military man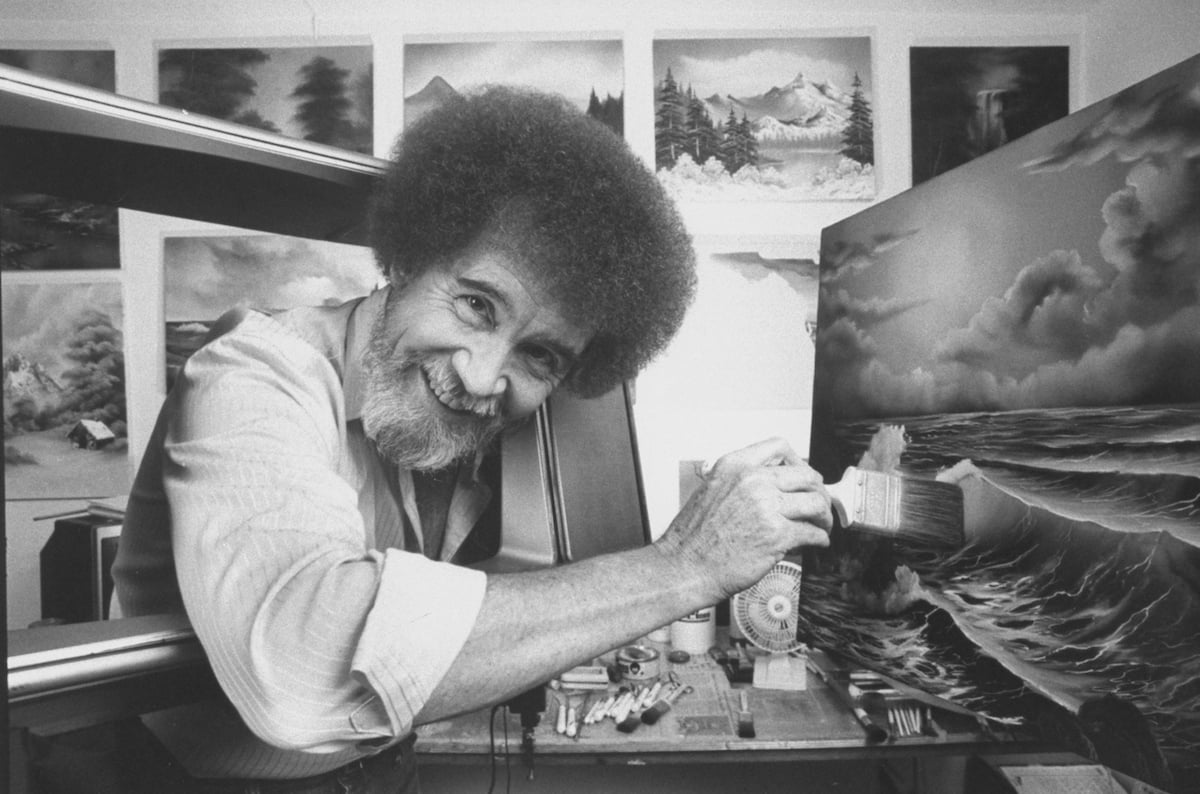 Ross was born in Florida in 1942. Ross was a sensitive child and developed attachments to a number of injured animals that he was able to nurse back to health.
Ross dropped out of high school in 9th grade and began training as a carpenter, alongside his father. When he was 18 years old, Ross decided to enlist in the United States Air Force. According to TwoInchBrush.com, Ross was initially stationed in Alaska, far away from everything that he had ever known. He worked as a medical records technician before climbing in the ranks to become a Master Sergeant.
Ross served in the military for 20 years, during which time he held a variety of positions and often was called upon to be the tough guy. Speaking later about his experience as a drill sergeant, Ross stated "I was the guy who makes you scrub the latrine, the guy who makes you make your bed, the guy who screams at you for being late to work." It was also during his time in the military when he developed his love for painting. Inspired by the beautiful landscapes that he saw in Alaska, Ross took some painting classes, finding solace and peace when he put a brush to canvas.
When did Bob Ross become a TV star?
Ross began selling his signature wet-on-wet paintings when he was still a Master Sergeant in the Air Force. Eventually, he began making serious money as a painter, and he decided to retire from service and focus on his budding painting career.
Utilizing the rapid technique that he learned while painting on his lunch breaks, Ross became very successful. As a traveling tutor, Ross was content to do business with other people — until he was convinced by a former student named Annette Kowalski that he could succeed on his own. Ross, along with his wife and Kowalski, launched Bob Ross Inc. 
In 1983, Ross launched his very own PBS show, The Joy of Painting. Filmed in a small studio in Muncie, Indiana, the show ran until 1994, earning Ross a worldwide audience of fans who appreciated his simple, laid-back style. Reruns of the series continue to this day, and The Joy of Painting is one of the contributing factors that led to the recent Bob Ross revival. 
When did Bob Ross die?
Over the course of his lifetime, Ross produced literally thousands of paintings. He is considered to be one of the most prolific artists who ever lived. However, Ross aficionados are very unlikely to locate any of those paintings, even with lots of searching.
According to TheHustle.com, Bob Ross Inc. actually has many of the paintings in storage, but prefers to keep them on hand rather than list them for sale. The paintings that have gone up for sale over the years are painting that first went on the market decades ago, and even those sell for upwards of $10k.
As for Bob Ross himself, he died in 1995, at the height of his fame. At only 52 years old, Ross had an impressive net worth of around $10 million. These days, fans love Ross for his legacy of positivity and peace.