Bobby Brown and Johnny Gill on Why Their Battle Against New Kids On the Block (NKOTB) at the AMAs is a 'Celebration'
Fans of R&B supergroup New Edition and pop sensations New Kids On the Block (NKOTB) are anxiously awaiting the two group's epic showdown to take place at this year's American Music Awards. The groups, who both hail from Boston, will perform as part of the show's new segment, "My Hometown." The segment highlights the meaningful places and mentors that shaped music artists into who they are.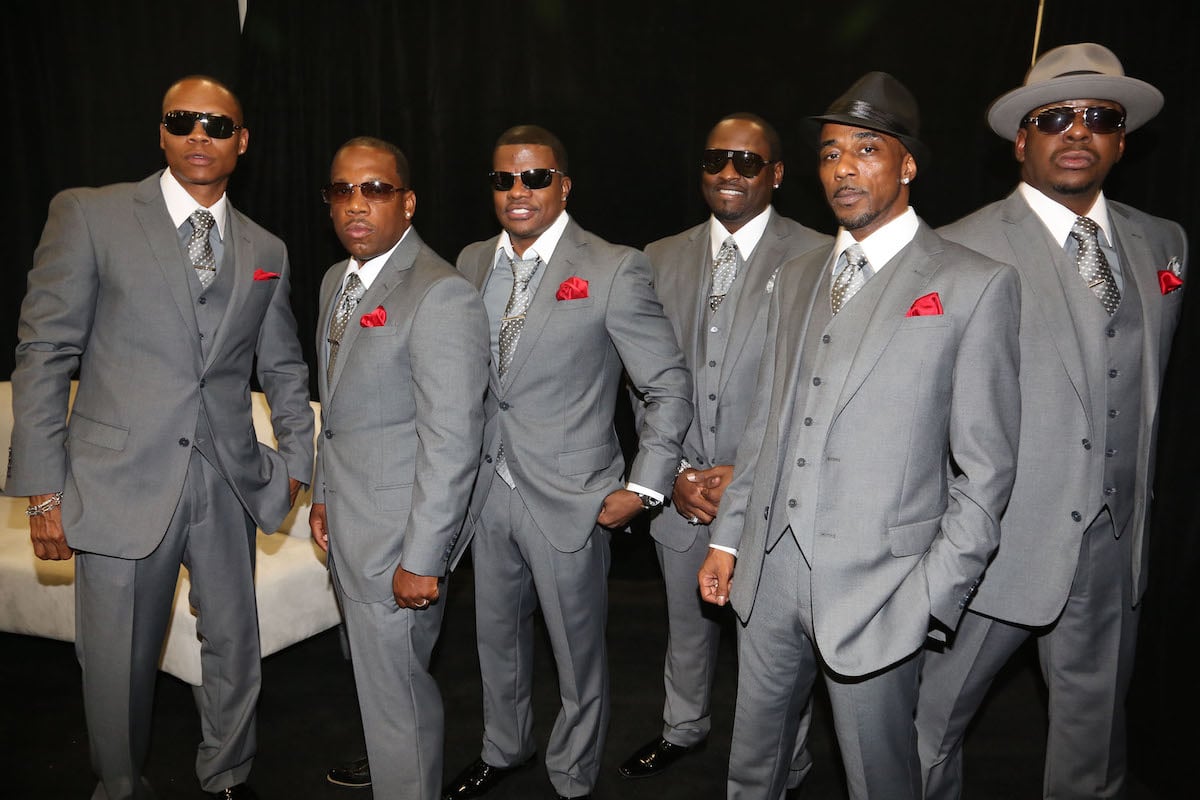 Bobby Brown and Johnny Gill say the performance is a celebration
New Edition and NKOTB will share the stage for the first time ever at this year's AMA's. Though the group's separate fan bases have already been deemed a winner, New Edition member Bobby Brown promises it's not a competition.
Related: New Edition Is 'Rekindling the Brotherhood,' Says Ralph Tresvant
"It's not a battle, it's just us giving the fans what we think they deserve," Brown told Shadow and Act in a recent interview. "This is purely just for entertainment."
Johnny Gill, who joined New Edition in 1987, says the moment is long overdue. "New Kids are great friends of ours and come from Boston as well," Gill noted. "And I just think that it was first and first and foremost, it was long overdue. Being able to collaborate and come together, and I think second, it's just that at this point in time when we look at where the music is and where the industry is, I think that we've now become the staple of what you know, what OG's are. And so we set an example and set the stage for the generation that's behind us."
Both groups were discovered by the same mentor
New Edition and NKOTB were both discovered by Maurice Starr. Starr is a former member of a music group, which he performed alongside his siblings. When he moved to the Boston area in the 70s, he set his sights on creating a boy band, modeled after The Jackson 5, that would take the world by storm.
He discovered New Edition, who had become popular performing together around town. Starr wrote and produced the group's music and orchestrated choreography to model the groups of the 60s and a Motown sound. The formula worked and New Edition broke to the top of the charts.
But within a year, the group, led by their parents who felt the boys were being taken advantage of financially, found new management. Starr was devastated and bitter.
Related: Boyz II Men's Special Connection to New Edition
"He just went home and wouldn't get out of bed," Travis Gresham, an old friend, and collaborator of Starr's told The Sun-Sentinel in 1991. "Maurice didn't come out for weeks and he was hurting, so he just stayed in bed."
As he worked through his depression, Starr, who realized New Edition's primary audience was Black, thought to work the same magic on a white group who could have more crossover success.
By 1990, Starr's new group, NKOTB which he discovered in 1984, was the biggest thing in music. Unlike New Edition, Starr was able to tap into other profitable areas, including merchandise, fan clubs, and larger concert arenas. At one point. Starr says he was earning nearly $6 million weekly. 
Bobby Brown and Johnny Gill credit their success to their fans and their creativity
New Edition has been in the industry for nearly 40 years. They attribute their success to several favors. Gill and Brown say their success is due to them constantly adapting. "Never getting too comfortable and always being open and continuing to keep dreaming and having a vision and following those things [is the secret to our success]," Gill said. "That's what keeps us in the game, keeps us relevant. That's what keeps us pushing and moving forward."
Brown especially is the proudest of the group's legacy. "We work really hard to entertain our fans, and we work really hard to be the best that we possibly can be in order for our fans to enjoy what we do," he said. "We perform for our fans. That's why we're still around. We have some NE lifers that are just incredible. The NE lifers have stuck with us through thick and thin, and we're just proud to be able to do this on a regular basis."