Bobby Brown Let Cameras Follow Him to His Emotional Visit to Whitney Houston and Bobbi Kristina's Gravesite
Bobby Brown is still grieving the death of his daughter Bobbi Kristina Brown, whom he shared with Whitney Houston. Brown recently paid a visit to both Houston and Bobbi Kristina's gravesites.
Regardless of how the public felt about the marriage between Whitney Houston and Bobby Brown, it was clear that they has something in common, just as their duet notes. The pairing seemed odd to many and lasted way longer than many expected. Together, they had one child, Bobbi Kristina Brown. Sadly, Brown lost both Houston and their daughter.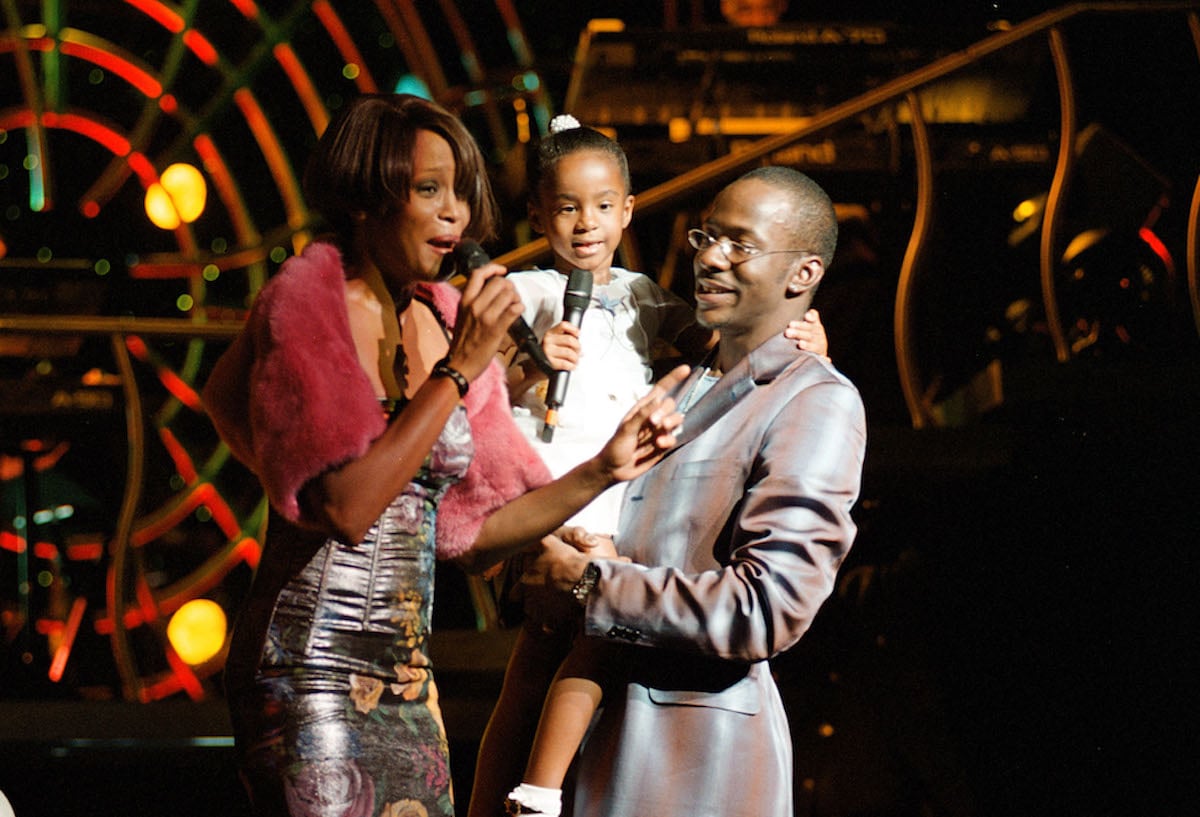 Houston and Brown had been divorced for several years before Houston's death, but the wound is still large for Brown. In his upcoming docuseries, he pays a visit to his ex's gravesite. Their daughter is also buried on the same grounds. 
Cameras capture an emotional Bobby Brown visiting Whitney Houston's and Bobbi Kristina's gravesite
Brown has a new 12-part documentary series coming to A&E Network. The first two parts are a documentary about his life and career and the other will document his life with his current wife, Alicia Etheredge-Brown, and family as he continues touring and healing from past trauma. In one episode, Brown visits the gravesites of his ex-wife, Houston, and their only child, Bobbi Kristina. Houston and Bobbi Kristina died in 2012 and 2015 respectively.
"When the cameras were following me, I didn't want to let anything get in between my life and what I was doing," Brown said in a recent interview with Entertainment Tonight. "So, I just wanted the cameras to follow me wherever I was going. That day I happened to be going to the gravesite."
Etheredge-Brown was present for the visit, explaining, "We also did our best to make that moment his moment. It was very emotional for both of us."
In a preview for the series, Brown explains that he's dealt with "so many losses in his life, but I try to remember all the good parts. Through meditation, prayer, and therapy, I've been able to push on from the past."
Per A&E, the series shines a light on Brown's life with Etheredge-Brown and their children as he dedicates himself to several business ventures, new music, as well as the 2022 reunion with New Edition on The Culture Tour." Brown also opens up about his "journey to superstardom and the fallout from his personal struggles with sobriety and the tragic deaths of his two children and first wife, Whitney Houston."
He learned of Whitney Houston's death just moments before he was scheduled to perform
Brown and Houston were married from 1992 to 2006. Their 14-year marriage was a tabloid frenzy and filled with rumors, substance abuse, and alleged infidelity. Despite the split, the two remained friendly and tried their best to co-parent Bobbi Kristina.
Brown learned of Houston's death from his New Edition bandmate before he was scheduled to hit the stage at Landers Center in Southaven, MI. He took a moment to pay tribute to Houston during the performance. 
"First and foremost, I want to tell you that I love you all for being here," he told the crowd. "Second, I would like to say, 'I love you, Whitney,'" adding, "The hardest thing for me to do is to come on this stage [but] after 25-and-some years, you're still here," noting he owed the crowd a performance. But it wasn't easy for him to get through it. He broke down several times and walked off stage at one point before the show ended.