Bobby Flay Has an Insane Net Worth — How He Makes His Millions Outside of His New Food Network Contract
During recent contract negotiations it was rumored that Bobby Flay was leaving Food Network after 27 years. At the last minute, Flay and the Food Network were able to reach a deal keeping him on around the channel for another three years. But that's not the only way Flay makes his millions.
ARTICLE HIGHLIGHTS
Bobby Flay has been a staple on the Food Network for 27 years.
During a recent contract dispute, he was reportedly ready to walk away, before inking a new deal.
His Food Network contract is not the only way Flay has amassed his insane net worth.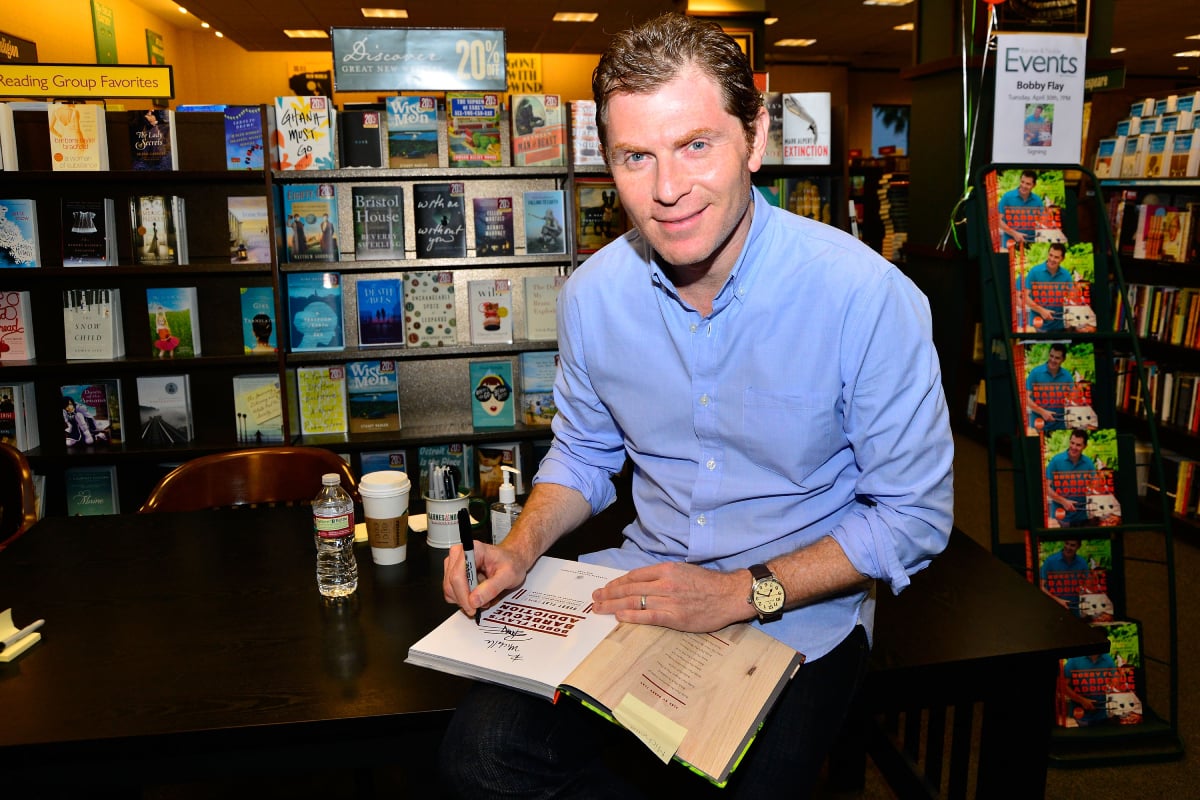 Bobby Flay was close to walking away from the Food Network after 27 years on the channel. But after settling a contract dispute, the celebrity chef signed a new deal that will keep him developing new content at the cabler for three more years. Flay's nearly three-decade relationship with the Food Network has definitely brought him fame and fortune. But, he's also made millions with other business ventures.
Bobby Flay was a top student at the French Culinary Institute
Flay's culinary talent was evident early in his career when he attended the French Culinary Institute. He was one of the school's top students when he graduated in 1984. In 1991, Flay entered the restaurant business when he opened Mesa Grill in New York City.
That was the first of many, as Flay continued to build his empire by acquiring restaurants and starting up new ones around the country. He currently owns approximately 20 restaurants. With one of his biggest earners being Bobby's Burger Palace, a multi-city chain with locations in Georgia, Maryland, and Connecticut.
The celebrity chef has led 14 different series on The Food Network
Flay started appearing on television in the 1990s, with his first hosting gig being The Main Ingredient with Bobby Flay on Lifetime. He also hosted a cooking segment on the CBS Early Show. But it wasn't until the 2000s that Flay started to make a name for himself with a TV audience when he started appearing on Iron Chef.
He starred on that popular series for 17 years before leaving in 2018. He's also hosted shows like Throwdown! with Bobby Flay and Bobby Flay's Barbecue Addiction.
Overall, Flay has led 14 different series on the Food Network and appeared in a number of other series on the channel. He's become so well known in the culinary community that he can earn at least $100,000 for a single public appearance.
Bobby Flay has an insane net worth
In addition to his restaurants, TV shows, and public appearances, Flay has another major income stream — his cookbooks. The celebrity chef has written 10 bestsellers, including Bobby Flay's Bold American Food, Bobby Flay's Bar Americain Cookbook: Celebrate America's Great Flavors, and Bobby Flay Fit: 200 Recipes for a Healthy Lifestyle.
According to Celebrity Net Worth, all of these income streams over the past 30+ years have allowed Flay to build up a $60 million fortune.
The Food Network star knows how to invest
It's obvious that Flay has a talent for making money, but he also knows how to invest it. The celebrity chef is an astute businessman who has made his money work for him with investments.
He bought into the ready meal market via the company Daily Harvest, which has been extremely successful. According to Forbes, they are "shaking up" things up in the microwave meal market and "disrupting the frozen foods industry."
Bobby Flay has become a health guru
When Flay wrote Bobby Flay Fit: 200 Recipes for a Healthy Lifestyle, it was his official entrance into the fitness industry. His brand shifted to a focus on healthy eating, fitness, and motivation, which has transformed the southwestern style chef into a bit of a health guru.
When he signed his latest contract with the Food Network, Flay said he was ready to turn the foodie TV world on its head.
"I have an amazing family at Food Network and a great foundation. And I have a sizable library of food television here," he said, per TV Line. "It's always been my determination to always evolve. It's part of why I've been able to stay relevant in this genre. I'm going to be pitching a lot of things that we haven't seen when it comes to this kind of programming. I'm ready to turn the page and create a new chapter of what [foodie TV] is going to look like."