'Bob's Burgers': Gayle Makes a Hilarious Return
Part of what makes Bob's Burgers so wonderful is the fact the show has such strong supporting characters. Linda's sister Gayle returned in "Yurty Rotten Scoundrels," a clear signal to longtime fans that the episode will be funny.
[Spoiler Alert: This article contains spoilers for the most recent episode of Bob's Burgers.]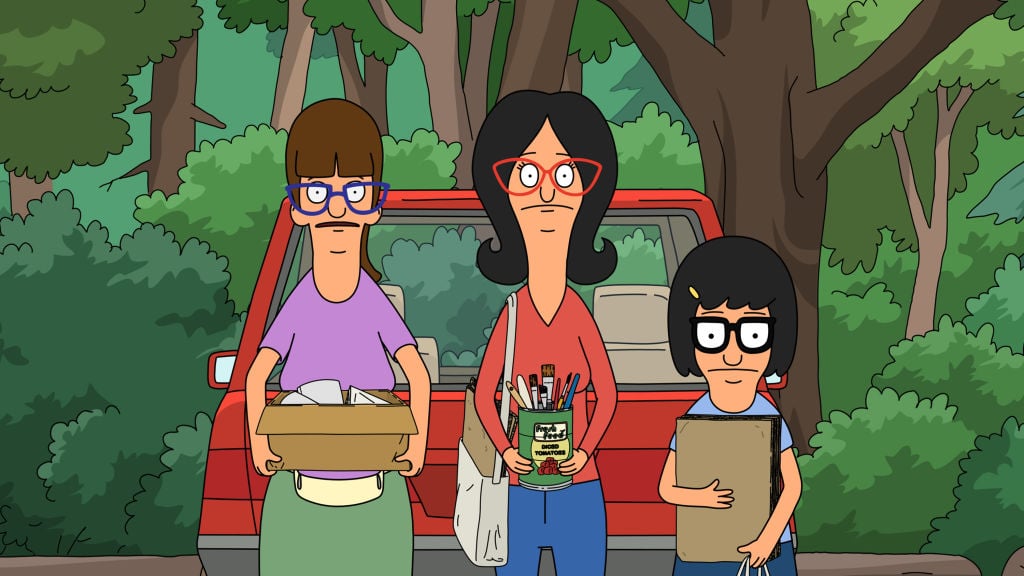 Gayle holds an art workshop in 'Bob's Burgers'
On Bob's Burgers, Gayle is voiced by Megan Mullally. As a character, she is extremely fragile while also being naive and eccentric, which causes Linda to feel like she has to parent Gayle.
In "Yurty Rotten Scoundrels," Gayle decides to hold an art workshop called Art Your Engines. She plans to hold the workshop in a yurt in the woods, which Linda rents for her to Bob's dismay. Paying for the yurt and the art supplies needed for the workshop is the extent Linda says she will support Gayle.
Gayle then admits only one person signed up for the workshop. Linda feels bad for her, and says she wants to take the workshop too. Because Tina wants to get better at drawing horses, she tags along. At the workshop, Tina and Linda pretend to be unrelated to Gayle and meet Annie, the other attendee.
Louise and Gene look for a lost cat
In the secondary plot of the episode, a man stops by Bob's Burgers and asks if he can leave a sign for his missing cat on the restaurant's front window. The sign says he is offering a cash reward for anyone who finds the cat, which Louise and Gene take great interest in.
Against Bob's wishes, Louise and Gene make a plan to try and find the cat instead of working. They enlist the help of Regular Sized Rudy, and Andy and Ollie Pesto. The group of kids find a cat in the alley behind the restaurant and bring it inside.
Bob notices that the kids are covered in scratches, and asks them to split the cash reward. When he calls the number on the sign, it turns out the man already found his cat. Because they are now left with a mean stray cat, they decide to make a "found cat" sign.
Linda tries to help Gayle in 'Bob's Burgers'
During the art workshop, Linda becomes suspicious of Annie, the woman who signed up for the class. She thinks Annie is planning to publish a terrible online review of Gayle's workshop, which would crush her already low self-esteem.
Linda tries to get Annie to stop taking pictures, and the two fight, causing the yurt to collapse. Because Linda knows that Gayle's workshop is weird, she assumes that Annie must think the same. Gayle overhears Linda tell Annie this, and Linda reads the notes off Annie's phone aloud.
It turns out that Annie is inspired by Gayle's eccentric attitude, and she was actually using the workshop to become less cynical. While she used to write really mean reviews, she wasn't planning to do that to Gayle. Linda apologizes to the both of them, and Tina is proud to show off the horse she drew during the workshop.