Body Language Expert Analyzes 'Childish' Prince Harry Photo, Calls It 'Unsettling'
A body language expert gives his analysis of Prince Harry reacting in a 'childish' way during a royal engagement.
A body language expert analyzed a photo of Prince Harry at an event where he was captured laughing energetically. Find out why the expert found it "unsettling," as he dug into Harry's childhood trauma to explain the reaction.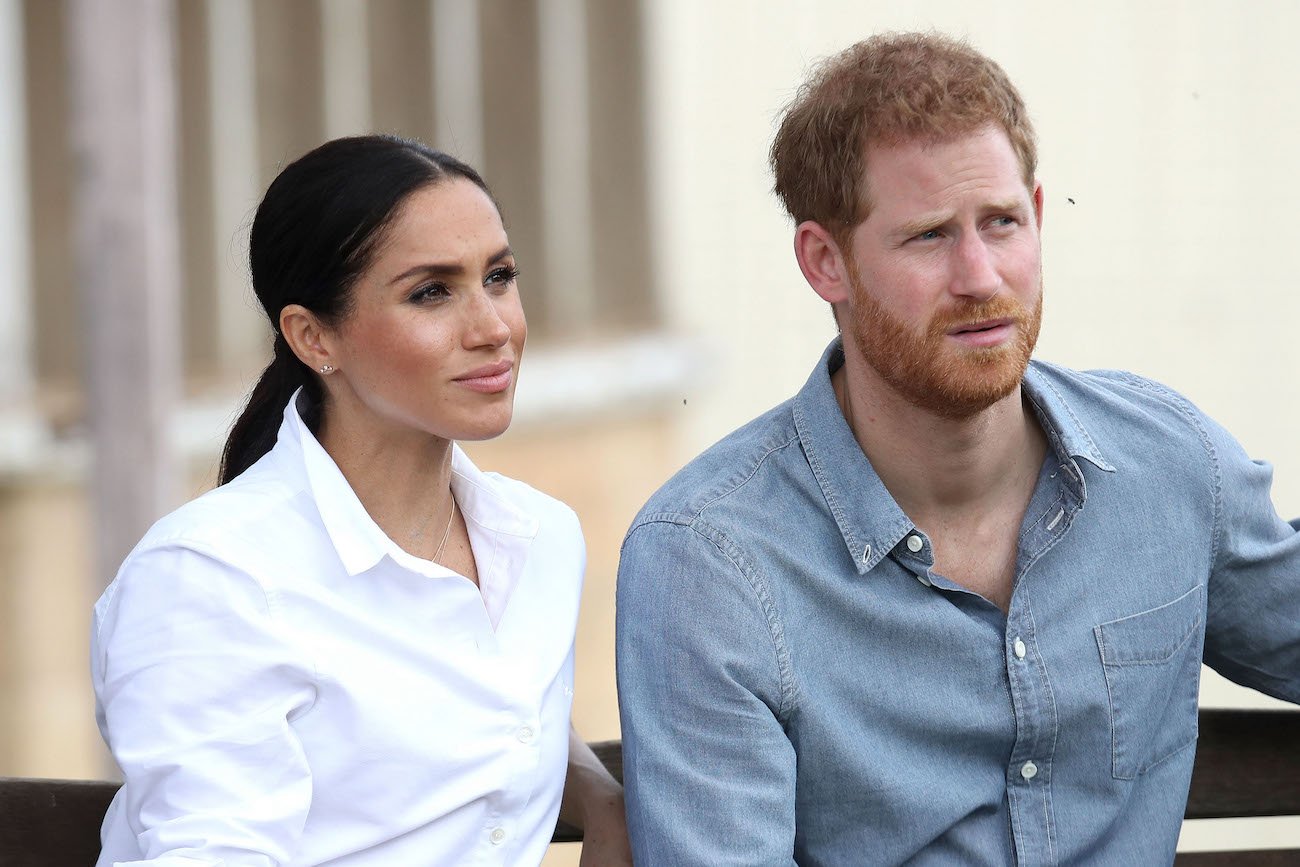 Prince Harry was captured laughing in a photo
The photo of Prince Harry sitting on a couch and laughing hysterically certainly makes you wonder what was so funny. Harry appears to be far more amused than Meghan Markle in the moment, for sure.
In a video on his YouTube channel The Body Language Guy, expert Jesús Enrique Rosas shared his thoughts on the pic. "I stumbled upon this photo on Twitter and couldn't help but notice how childish Harry looks here," Rosas said. "Let's take a closer look at the general context of this picture to spot the clues that make this image even more unsettling."
The image was taken on March 11, 2020 when Harry and Meghan met with young leaders from the Queen's Commonwealth Trust.
In the pic, Meghan sits with her hands clasped at her knees with a broad smile across her face. By contrast, Harry is captured mid-laugh, sitting back with his eyes closed, hands clapped together, and his feet pulled up off the ground.  
Body language expert called Harry's reaction 'childish laughter'
Rosas pointed out how one of the attendees, Kenny Imafidon, had more of a "normal reaction to a joke" in this setting, as he covered his face slightly and lowered his head while laughing. Meghan also appeared "really formal" with her posture. Harry, according to Rosas, had an "outburst of childish laughter."
He clarified, "Now don't get me wrong. It's great to be delighted, to laugh openly, and to embrace a good joke when the punchline hits you."
Rosas continued, "But it's extremely rare to see a grown man laughing in such a way that he literally rolls in the couch, rises his feet, and shows his sloppy socks."
The expert said this is a more appropriate response "at a pub with friends" and explored why Harry might have this reaction at a royal engagement. "He really looks like a man child," Rosas shared. He compared the outburst to Harry's mannerisms at other points during the meeting, where "he had a traditional masculine grown-up attitude."
The expert shared his thoughts on why Harry laughing in such an exaggerated way is concerning. "These kind of reactions are like sudden bursts of childish attitudes," Rosas explained. "Like a sudden display of how he really feels."
He noted, "Sudden reactions like this one are insights into any person's behavior. Because most of the time we are trying to hide our true selves from the public. But given the right stimulus — in this case, a joke — can let that true self manifest through body language."
Rosas shared how Prince Harry's traumatic childhood informs his behavior
Rosas shared how Prince Harry's "traumatic" childhood experience could be a reason for his behavior. "Many people have called Harry a man child because there are reasons to believe that part of his childhood trauma just broke him in a way very difficult to repair," the expert said.
He continued, "A troubled childhood or traumatic experiences can leave a child injured psychologically because he hasn't developed the emotional tools to deal with such extreme situations. And Harry's example is even more complicated by the fact that it's usually our mother, the one that helps us develop those emotional tools to cope with those situations."
Rosas added, "This is a phenomenon that should be considered. The problem is that these men develop a sense of insecurity which is often accompanied with an inferiority complex, so it could lead to feeling jealous of the success of others, especially of siblings."
The expert pointed out that "childhood trauma can lead to an inability to make adult decisions, not to mention dysfunctional and even toxic relationships."