Body Language Expert Analyzes Kate Middleton and Prince William's Flirty Moments on Caribbean Tour
Kate Middleton and Prince William's Caribbean tour signals an apparent shift in their team dynamic, according to body language expert Judi James. In Belize, Jamaica, and the Bahamas, Kate Middleton's been more outgoing and flirty, suggesting a more confident royal.
Prince William and Kate Middleton's Caribbean tour is well underway. The Duke and Duchess of Cambridge have visited Belize and are now in Jamaica. Already during their eight-day royal tour, they've danced, dived, and attended a state dinner. 
Thanks to their itinerary body language experts — and royal fans — get more glimpses of the couple than usual. According to one expert, who has analyzed their movements so far, Kate and William's body language, especially their flirty moments, signal what appears to be a shift in their relationship.
Kate and William's Caribbean tour body language shows an apparent shift in their team dynamic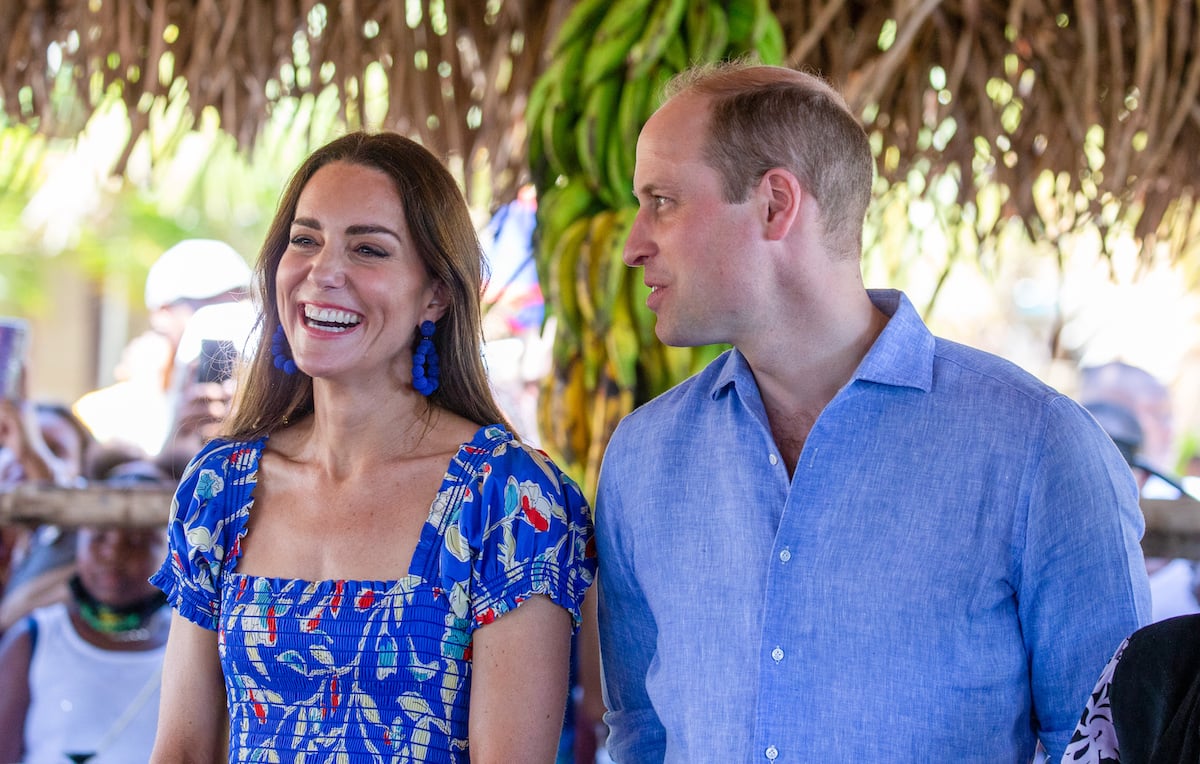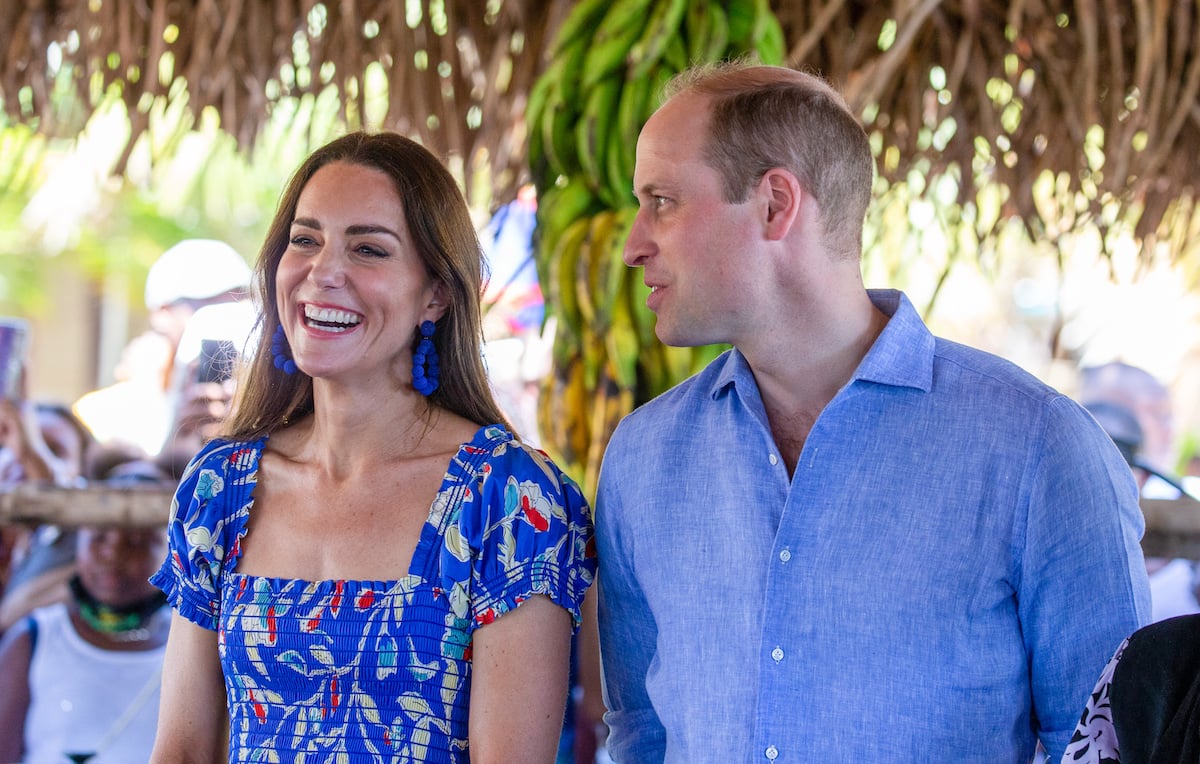 William and Kate began their royal tour of Belize, the Bahamas, and Jamaica on March 19. They're there to celebrate Queen Elizabeth II's Platinum Jubilee. 
They've offered "ongoing glimpses of the subtler and more revealing signs" of their relationship, body language expert Judi James told Express. "Now we get to see them in unusual surroundings and without their children to distract them." 
Examining their body language thus far, James noted what seems to be a shift in their dynamic. Where Kate used to be less assured she's now more confident:
"We knew they worked well as a team, but the dynamics of that team do appear to have shifted slightly and even strengthened. Thanks to Kate's increased levels of confidence as a solo royal performer. And her recently elevated status in the royal line-up now the queen is appearing in public less and Harry and Meghan have left the Firm altogether." 
James continued, saying the 40-year-old appears to want her "more reserved" husband to be more easygoing. 
"What we can see between William and Kate here is a more active and uninhibited confidence from Kate," she said. She "often seems to lead the poses or throw loving glances of humour or approval at William to encourage him to be more outgoing, too." 
James has also noticed non-verbal displays between Kate and William. Those moments where they are "checking and tuning into each other" as part of their "well-synchronized double-act." 
A body language expert says Kate got 'flirty' with William while playing the drums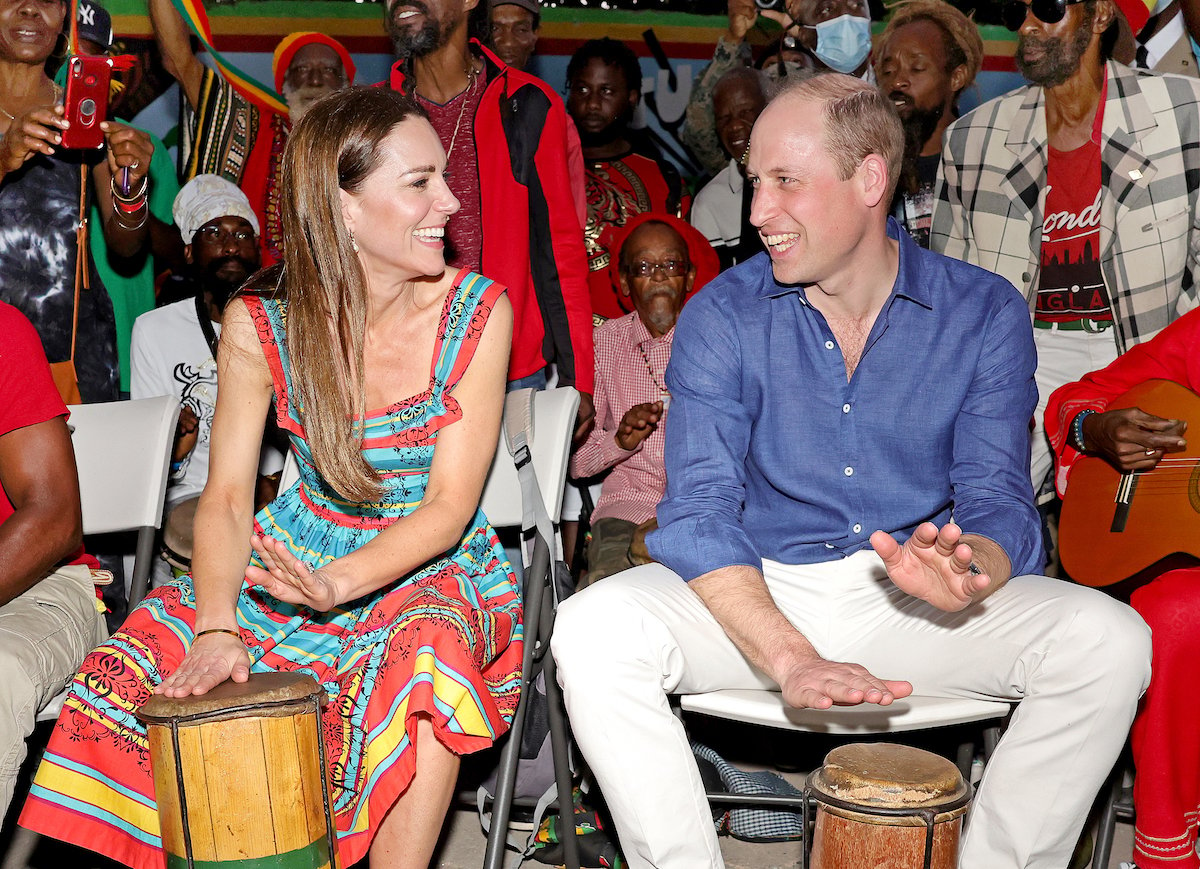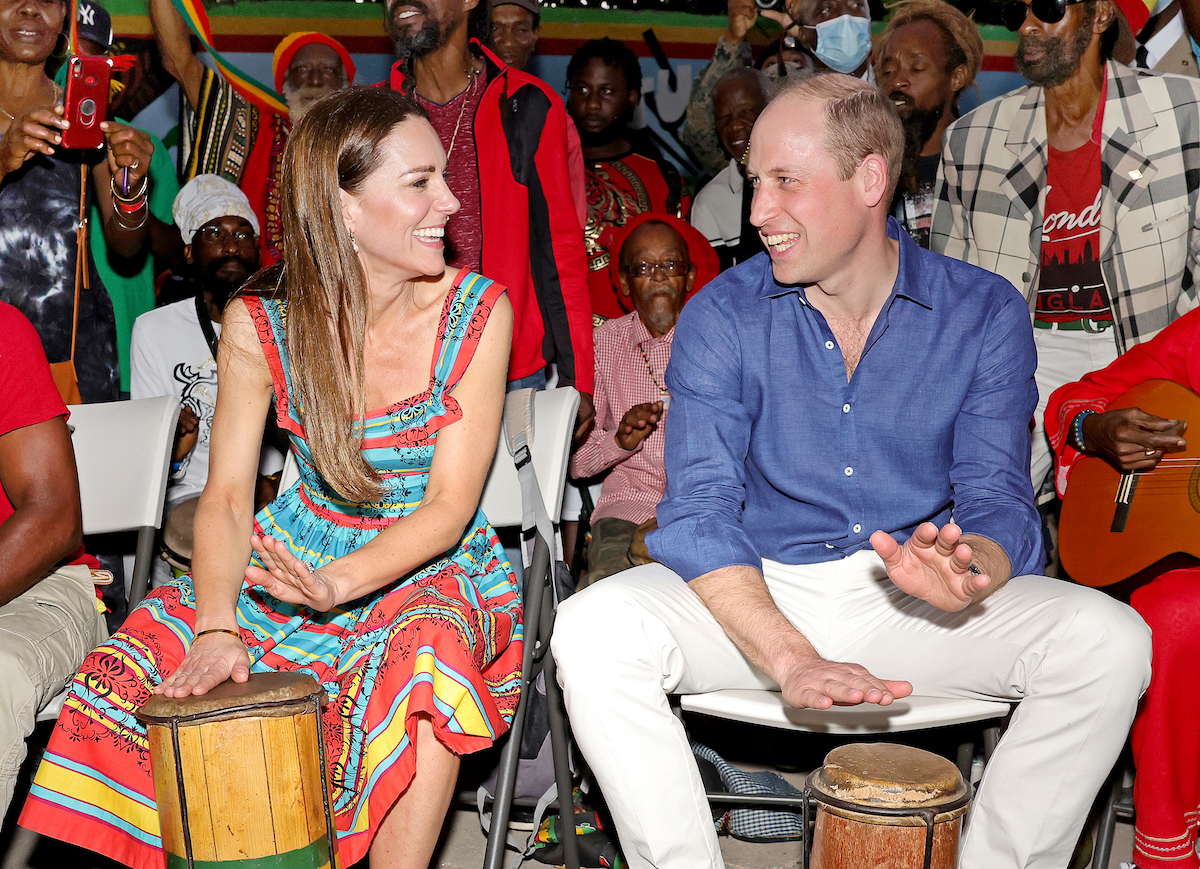 During Kate and William's Caribbean tour the two have taken part in various activities. While playing the drums on a visit to Jamaica's Trench Town, the Duchess of Cambridge appeared to flirt with William. 
Kate has fun and encourages William to do the same, James said. "Kate manages to sit at the drum looking upbeat and in the perfect party mood here, throwing her head back in an open-mouthed laugh while William looks awkward and more embarrassed," she explained.
"The couple share the joke happily," she said. "Kate even adds to the build-up by leaning across to confide in him, looking flirty as she does so, adding to his expression of bashful good-humour."
Kate and William's Caribbean tour body language gives off vacation vibes
The flirty moment between the Duke and Duchess of Cambridge isn't the only time on the royal tour they've appeared relaxed. As James noted, their interactions while moving from one location to another seem to give off vacation vibes. 
"The small chats between the couple as they walk out to a new venue – and in the glare of the cameras – also look like a rather romantic way of prompting a holiday mood between them," she said.
Kate might give William "admiring smiles," make "playful eye contact," or put a hand on his back which James says points to "intense, flattering interest."