Body Language Expert Analyzes Meghan Markle's Demeanor During Her First Time Back With the Royal Family
A leading body language expert has analyzed Meghan Markle's first public appearance in the U.K. in more than two years.
For the first time in more than two years, Meghan Markle has appeared at public events in the U.K. with her husband Prince Harry.
Ever since it was announced that the Duke and Duchess of Sussex would be attending Queen Elizabeth II's Platinum Jubilee celebrations people could not wait to see how the couple would interact with the rest of the royal family. Here's more on that, plus what a body language expert observed during Meghan's appearances and how that compares to her sister-in-law Kate Middleton's demeanor.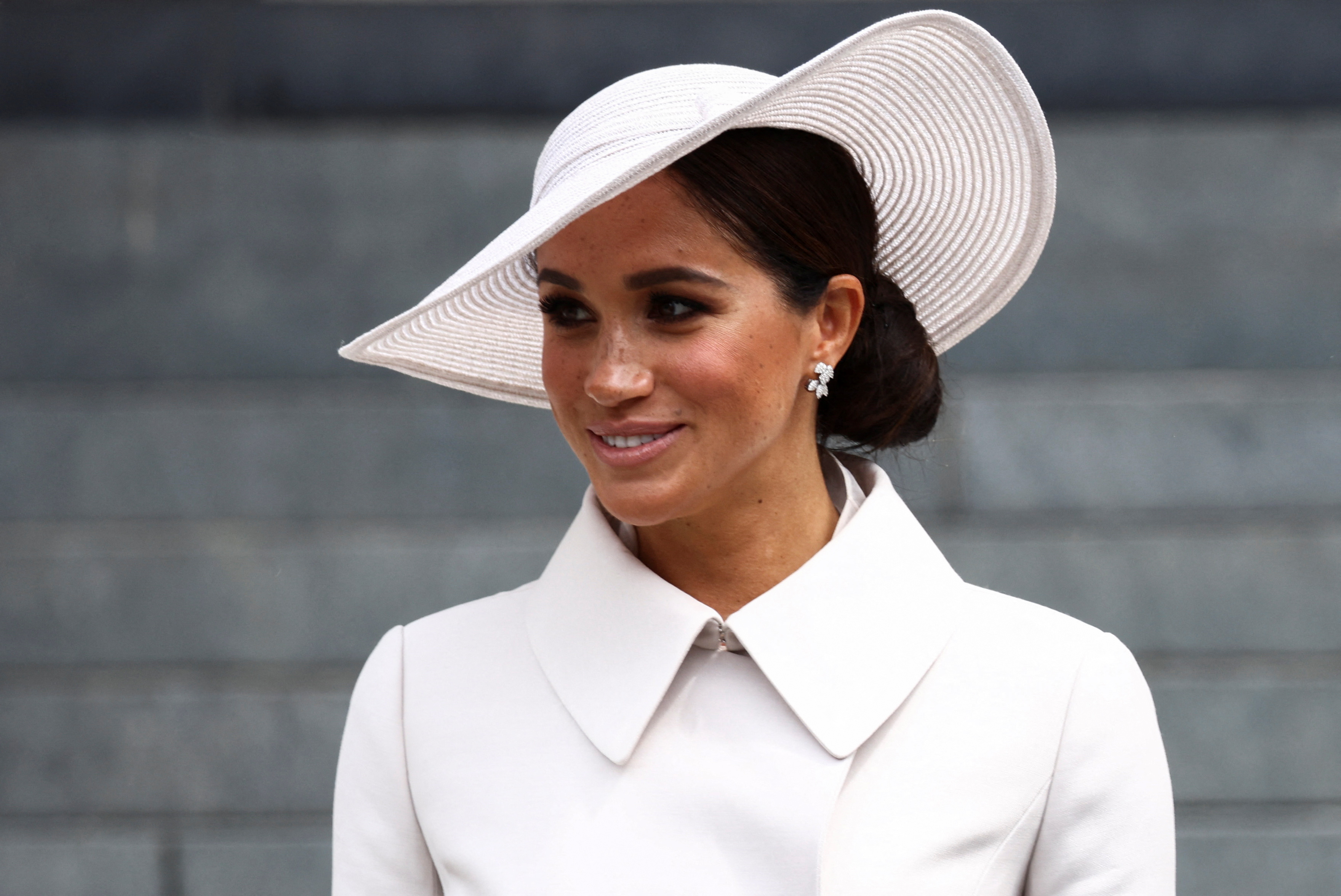 Meghan was 'in her element' the first time photographers captured her
The first time cameras captured Prince Harry and his wife back with the royal family was during Trooping the Colour. While the Sussexes were not permitted to stand on the Buckingham Palace balcony with the working royals, they were seen in the background watching the show and laughing with Princess Anne's grandchildren.
After Meghan was seen leaning down and jokingly shushing the little ones, body language expert Judi James told the Mirror: "Glimpsed from a window we could see Meghan and Harry looking unexpectedly relaxed and upbeat in a low-key appearance that seemed much more to their tastes than previous awkward, tense appearances with the rest of the Firm. Meghan was looking playful and in her element with a group of young royals who also seemed to adore her, shushing them with her eyes wide and rounded but also smiling and she shushed to suggest she wasn't being totally serious."
She added that the duchess's "loving gaze at Harry created some solid continuity with the more public PDAs the couple are famous for, and the fun they were having looked a world away from some of the more tense-looking poses from the top-level royals out on the balcony as they watched the fly-past."
Expert says the Duchess of Sussex's body language was very different from the Duchess of Cambridge's
James explained that Meghan's demeanor looked much different than Kate's. She described William's wife as looking much more serious.
"William and Kate emerged wearing their serious facial expressions, with William directing their children into position before standing apart from Kate to ensure a good spread of parental guidance," James said.
Another body expert Adrienne Carter, who is known as The Face Whisperer, studied the interactions Kate had with her three children and the queen while standing on the balcony.
Carter told the Daily Star: "These are genuine smiles from Kate, and she's ensuring everyone sees a close family body. There are genuine smiles and enjoyment from the queen as well. In fact, they are all interacting naturally and with genuine enjoyment!"
Meghan and Harry were seated 'miles apart' from William and Kate in church
And for anyone who was hoping to see Harry and Meghan seated next to and chatting with William and Kate during the service of Thanksgiving for the queen, that didn't happen. As the Daily Star noted, the brothers and sisters-in-law were instead seated "miles away from each other."
The couples were in separate aisles on opposite sides of the church. Harry was seen chatting with Princess Eugenie and Jack Brooksbank, who he was sitting next to, while William and Kate were seen talking to Prince Charles who was seated by them.