Body Language Expert Says Sophie, Countess of Wessex Just Channeled 'Powerhouse' Prince Philip
Body language expert Judi James analyzed Sophie, Countess of Wessex's movements at a March 2022 event and noticed a similarity between the 57-year-old's body language and that of the late Prince Philip.
The British royal family is attending Prince Philip's memorial nearly a year after his death. Meanwhile, an expert says Sophie, Countess of Wessex channeled the late Duke of Edinburgh at a recent event. 
Sophie, Countess of Wessex appears to be the new 'powerhouse' of the royal family, expert says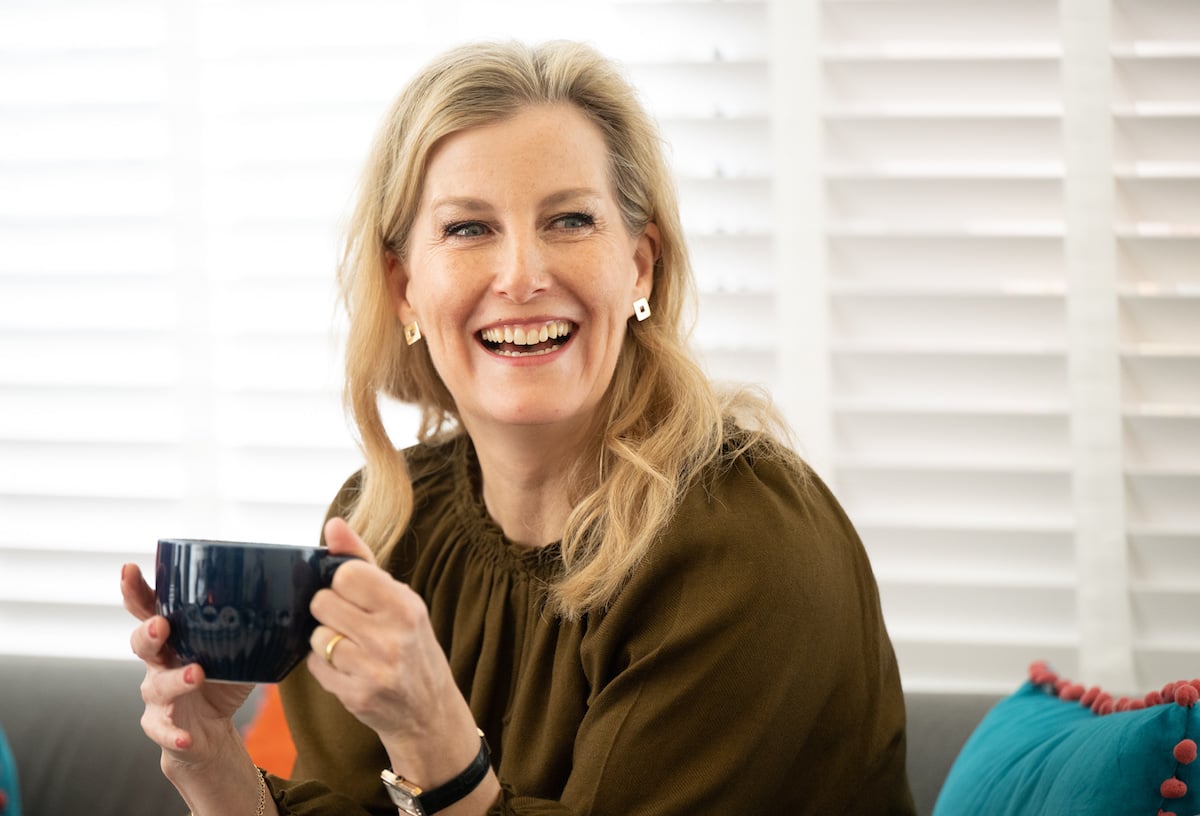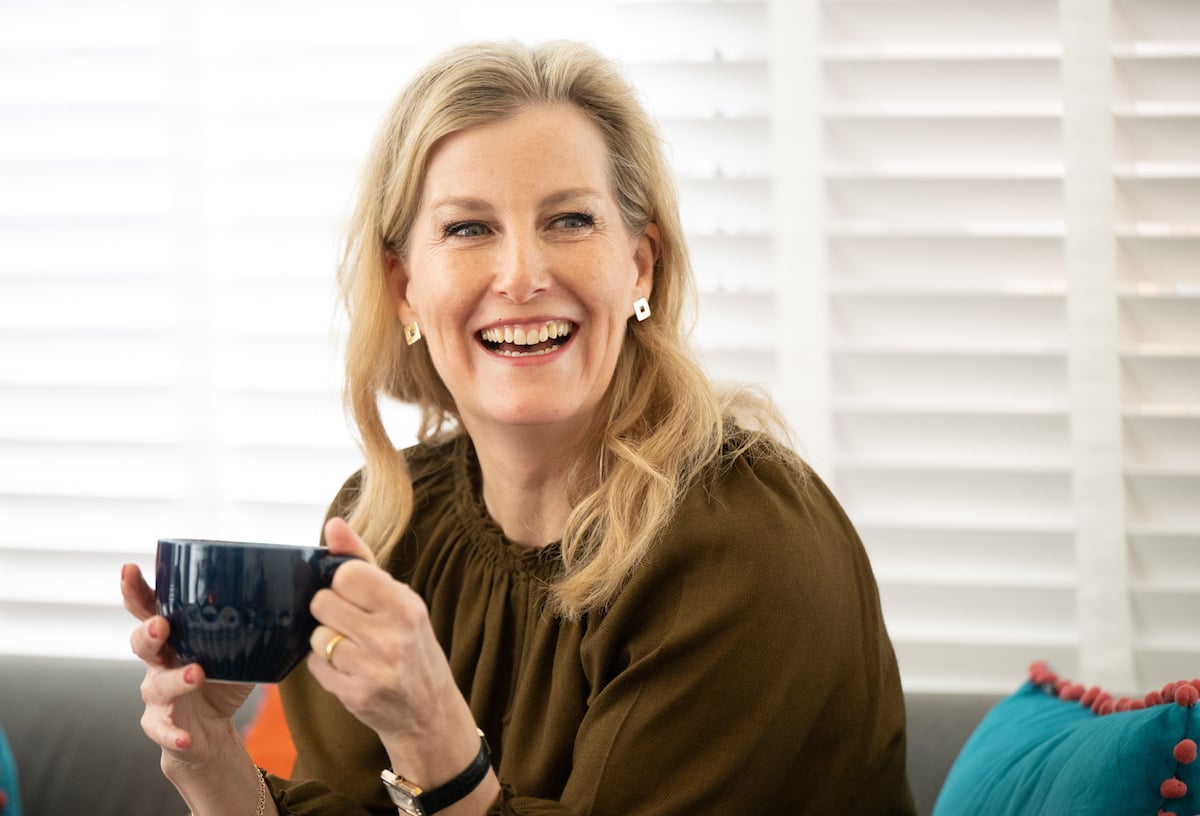 The wife of Prince Edward, the youngest of Queen Elizabeth II and Philip's four children, Sophie visited the Rifles Headquarters on March 22, 2022. And, as body language expert Judi James told Express, the way Sophie carried herself and interacted with guests appeared reminiscent of the late Duke of Edinburgh, who died on April 9, 2021, at the age of 99. 
"Her air of practical and almost business-like confidence and intelligence is making Sophie appear to be taking the role of the new powerhouse of the royal Firm, almost stepping into Philip's shoes when it comes to energetic and involved-looking body language," she said.
James continued, saying Sophie's body language was, in this instance, unlike that of Prince Harry, Meghan Markle, or Princess Anne. 
"There's none of the Harry and Meghan-style showbiz about Sophie," she said. "But she's less daunting that the hugely stoic, no-nonsense Anne."
Expert explores Sophie's body language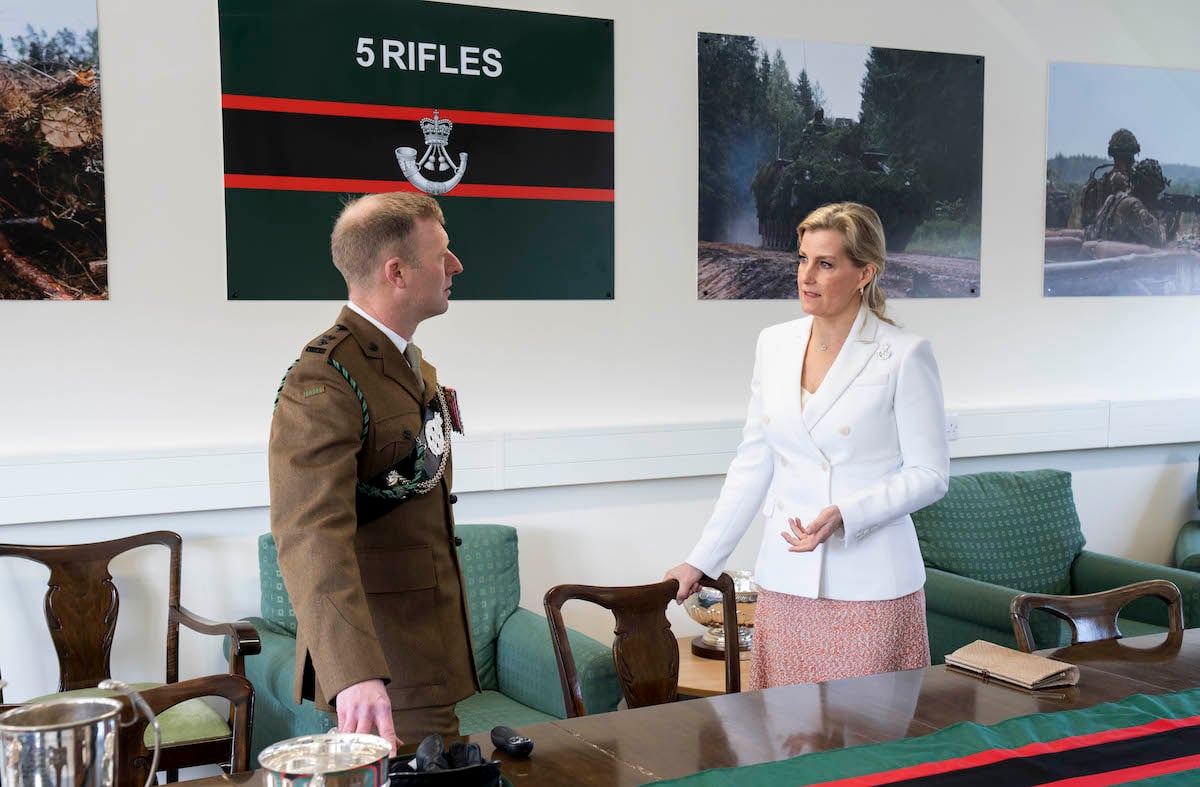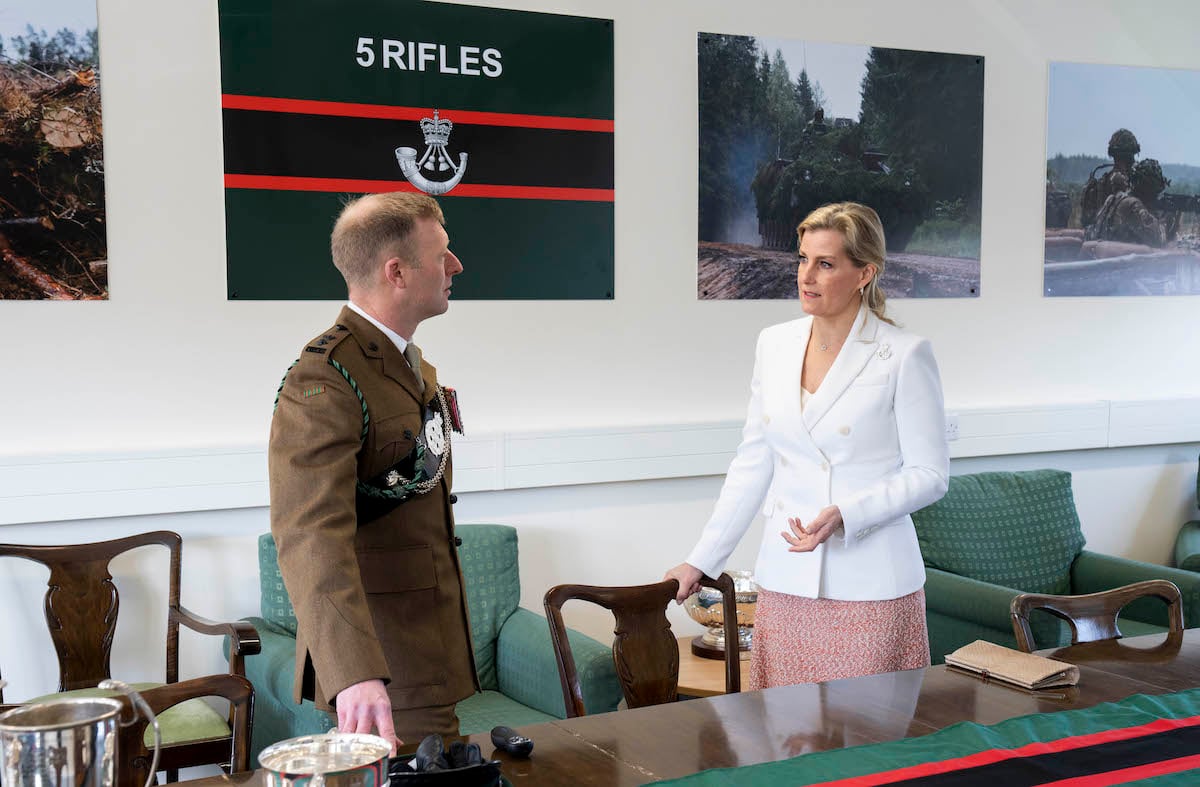 James went further, taking a closer look at Sophie's body language when she arrived for the visit. According to the expert Sophie's "arrival rituals" demonstrated "high levels of confidence and inner strength." 
James explained that different aspects of Sophie's body language suggested different things. 
"She might have both hands clamped across her bag in a barrier ritual but her suppressed and slightly down-turned smile is the type that normally signals you are meeting people you already know, rather than a room full of strangers," she explained. This particular type of smile, James noted, is one that "connects rather than the usual royal social smile."
James explores a similarity to Prince Philip's body language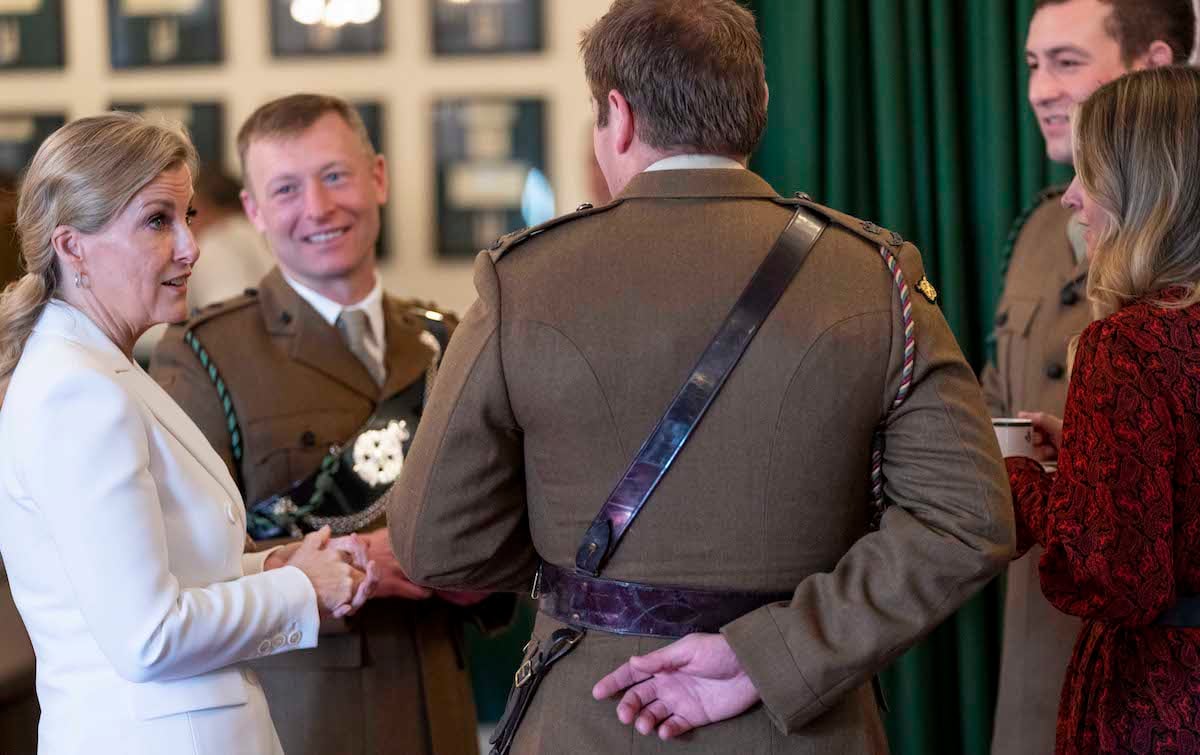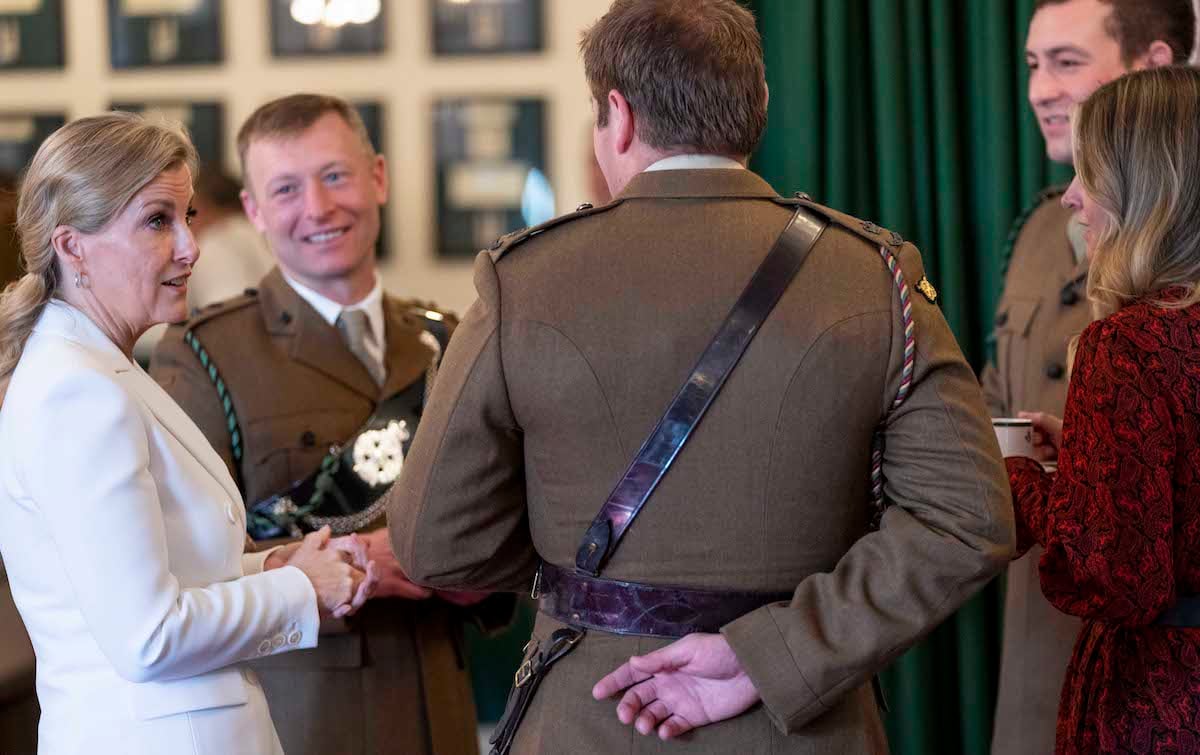 The body language expert, who has analyzed the movements and gestures of many royals, explained Sophie's talent at respecting hosts while staying confident. She also noted how one aspect, a serious facial expression, of Sophie's body language reminded her of Philip.
"Sophie is very good at showing signals of respect for her hosts. But without diminishing her own signals of assertive confidence," James said. Her white suit jacket added a "small touch of authority" to her outfit.
Meanwhile, the Countess of Wessex's listening skills, which appeared "professional" to James, suggested a "genuine empathy and understanding." As for the serious facial expression, it appeared to the expert Sophie exhibited the same body language once used by Philip. 
"Her expression is serious, the kind of frown and head-cock that Philip would use to show deep interest and involvement," James said. Additionally, "her left hand is raised to suggest some genuine questions are being asked."