'Bold and the Beautiful' Actress Rena Sofer Shares Adorable Video With Her Dogs Encouraging Fans to Stay Home
The United States and much of the rest of the world is spending time at home in quarantine due to the coronavirus. Some people are handling it better than others.
Many parents are having to work from home, homeschool their kids, or both. And some people are worried about what comes next or how they'll make ends meet – or find more toilet paper.
If you're one of the ones wondering how your favorite celebrities are handling their quarantine time, you're not alone. Some are choosing to read books online, do a little karaoke, or in the case of actress Rena Sofer, foster a dog. 
Who is Rena Sofer?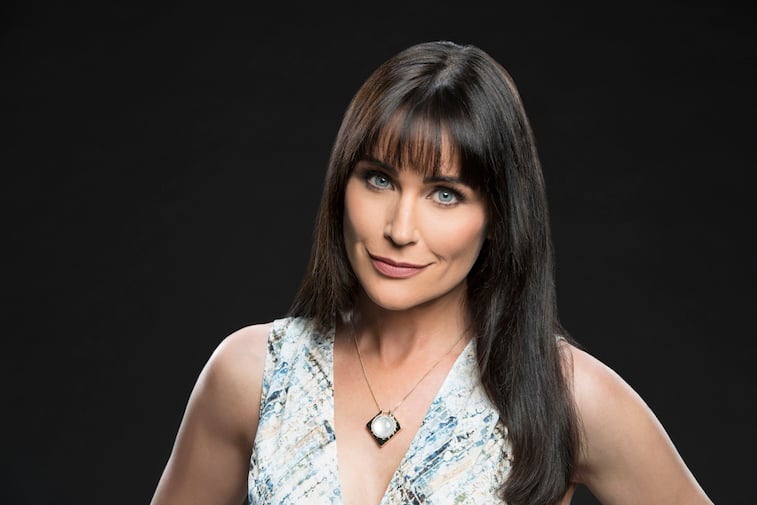 Rena Sofer is an actress, mom, and dog-rescuer. She is currently married to Sanford Bookstaver and has two daughters. Sofer, who plays Quinn Fuller on The Bold and the Beautiful, has been acting since she was discovered in NY at age 15.
She has dabbled in modeling and has acted in other roles, including other daytime dramas, television roles, and film. Her most famous roles outside of playing Quinn include Melrose Place, Once Upon a Time, and Seinfeld. 
She won a Daytime Emmy in 1995 for Outstanding Supporting Actress in a Drama Series for her role as Lois Cerullo on General Hospital. 
How Rena Sofer is spending her time while quarantined
Sofer recently posted a video on The Bold and the Beautiful's Twitter account sharing how she is spending her time in quarantine. Sitting on a couch with three super cute dogs, she explained that she was mainly hanging out with them. Marceline and Alphie are her rescue dogs, while the pup in the middle, PC (Princess Caroline), is one she chose to foster during this time so that it wouldn't be stuck at the shelter.
In addition to hanging with her dogs, she shares that she is just trying to keep busy like everyone else. Fans might wonder if she is still doing yoga or how her eating habits may have changed. She's famously shared on IMDB that "I find that when you do yoga, you don't crave unhealthy food. But I try to always let myself eat whatever I want. I have dessert or chocolate every day, but I'll only have a few bites."
At the end of her message, she encouraged fans to stay healthy, to remember that "we're all in this together," and that everyone will ultimately be OK.
She sounds pretty confident, which is refreshing for fans to see, especially during these tough times. 
Taking a break from The Bold and the Beautiful
Sofer has been a part of The Bold and the Beautiful cast since 2013. She has gotten rave reviews for her role as jewelry designer Quinn.
During her seven years on the show, Sofer's character has hidden the paternity of her son, expanded her jewelry business with a big client collaboration, controlled and sabotaged her son's life, kidnapped someone, attempted murder, wormed her way into a high-powered family, and has had an affair. You never know what you'll get with Quinn.
Right now, the entire cast is following social distancing rules, so Sofer isn't filming any new scenes. Luckily, they've got a backlog of shows to fill the gap, but like all of the show's cast and many other celebrities, she's eager to get back to work.
As one of the longest-running shows on television, fans probably don't have to worry about The Bold and the Beautiful going away any time soon.
How other celebs are handling quarantine
Other celebrities are dealing with quarantine, too, from Hannah Brown and her quarantine crew to X.
There are rumors of a baby or two that could result from the quarantine. And, many fans are here for it when celebrities tell it like it is about how they're really handling quarantine. So, how are YOU handling it?