'Bold and the Beautiful' Fans are Tired of Women Fighting Over Men
Love triangles are almost like a trigonometry equation for soap operas where they remain tried and true. However, triangles might be reaching a point of exhaustion on favorite soaps like The Bold and the Beautiful.
After 33 years on the air, this soap is known for several prominent love triangles, with one big problem. Most of these three-way love affairs have the women fighting over the men than the other way around.
In a time when seemingly sexist moves like that never go over well on other shows, somehow The Bold and the Beautiful still gets away with it. People keep watching because of the conflict and entertainment value.
However, polls from soap opera analysts show some signs viewers are getting tired of this formula.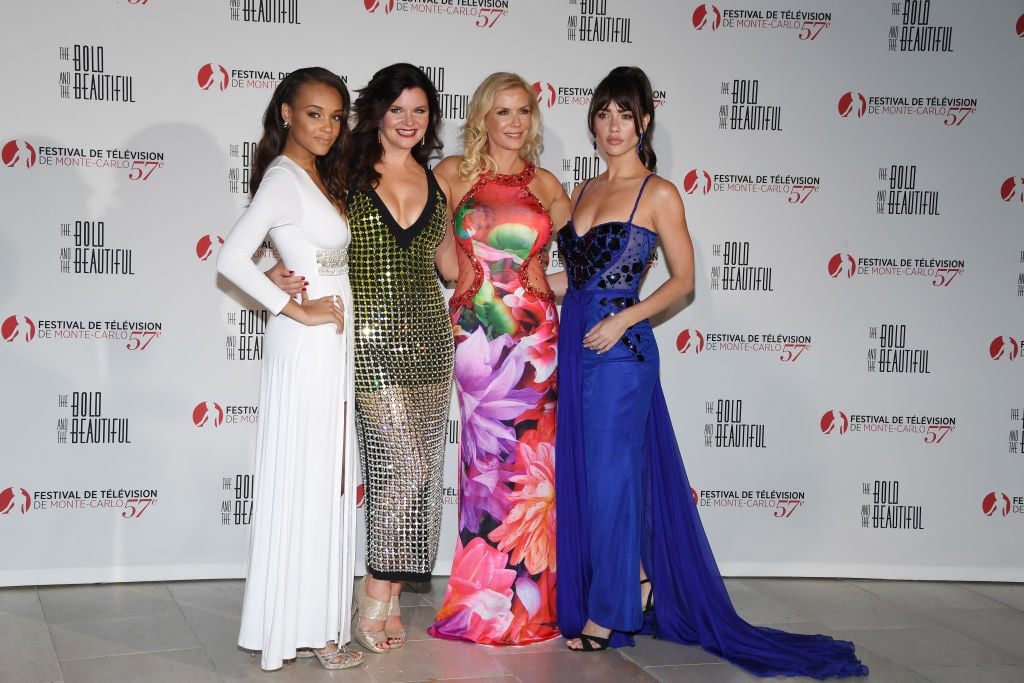 Which love triangle is the most popular of all?
It seems the Hope/Liam/Steffy love triangle is one of the all-time favorites. This one proves how problematic these triangles are, though. In this case, Liam is the one who keeps choosing the one he wants to be married to. First, he marries Hope (twice), then ends up with Steffy. They divorced several times and kept getting back together.
Yes, the soap formula of couples who can never be without one another is a perpetual trope. Although why not have Hope or Steffy make smarter decisions rather than keep going back to Liam? At present, Liam is back with Hope, even if Steffy is still involved in his life. If another marriage to Steffy happens, it might drive some viewers crazy. Not that this triangle is the only one with major issues.
Another love triangle with one woman and two men
The Brooke/Ridge/Bill love triangle is almost a classic now after being in play for several decades. Brooke Logan (Katherine Kelly Lang) is one of the longest-running characters on The Bold and the Beautiful, being a main cast member since the beginning. Along the way, Brooke kept embroiling herself in several love triangles, with the one between Ridge and Bill being the most memorable.
She had one with Ridge and Shauna first, then one with Bill and Katie. Some might even say another exists between Quinn and Eric. Making things worse with Brooke is she can never decide which guy she wants to marry. When attached to one guy, she keeps thinking the other got away. Much of this is amplified in the Ridge/Bill situation.
Even to this day, these triangles keep playing out. Another with Brooke from seasons past is the one between Ridge and his past wife, Taylor. Brooke's hatred of this woman is just as outdated in today's times as women fighting over guys.
It might be time for The Bold and the Beautiful to make some changes
A recent poll on SoapHub asked participants whether The Bold and the Beautiful should stop the love triangle plots. Results showed 84 percent said yes, and 16 percent said: "no, they loved the drama."
With such an overwhelming response for the show to put a kibosh on the love triangles (at least for a while), maybe the writers will start shifting in a new direction. New ideas might be afoot anyway due to production on The Bold and the Beautiful likely halting for the foreseeable future.
Once (or if) things ever get back to normal where the actors are back in the studio, will it feel like a different atmosphere with the women characters? Would audiences respond positively to the women no longer being so heavily dependent on guys for everything in their lives?