How Bone Thugs-N-Harmony Came to Collaborate on 'Notorious Thugs': 'When Biggie Did Our Style, That's When Bone Received Respect'
Hip-hop group Bone Thugs-n-Harmony first broke out on the scene in the early 1990s and established themselves as artists with hit songs like  "Thuggish Ruggish Bone, "1st of tha Month," and "East 1999." In the mid-'90s, the Cleveland, Ohio-bred group had the opportunity to collaborate with The Notorious B.I.G., who at the time was one of the East Coast's leading emcees.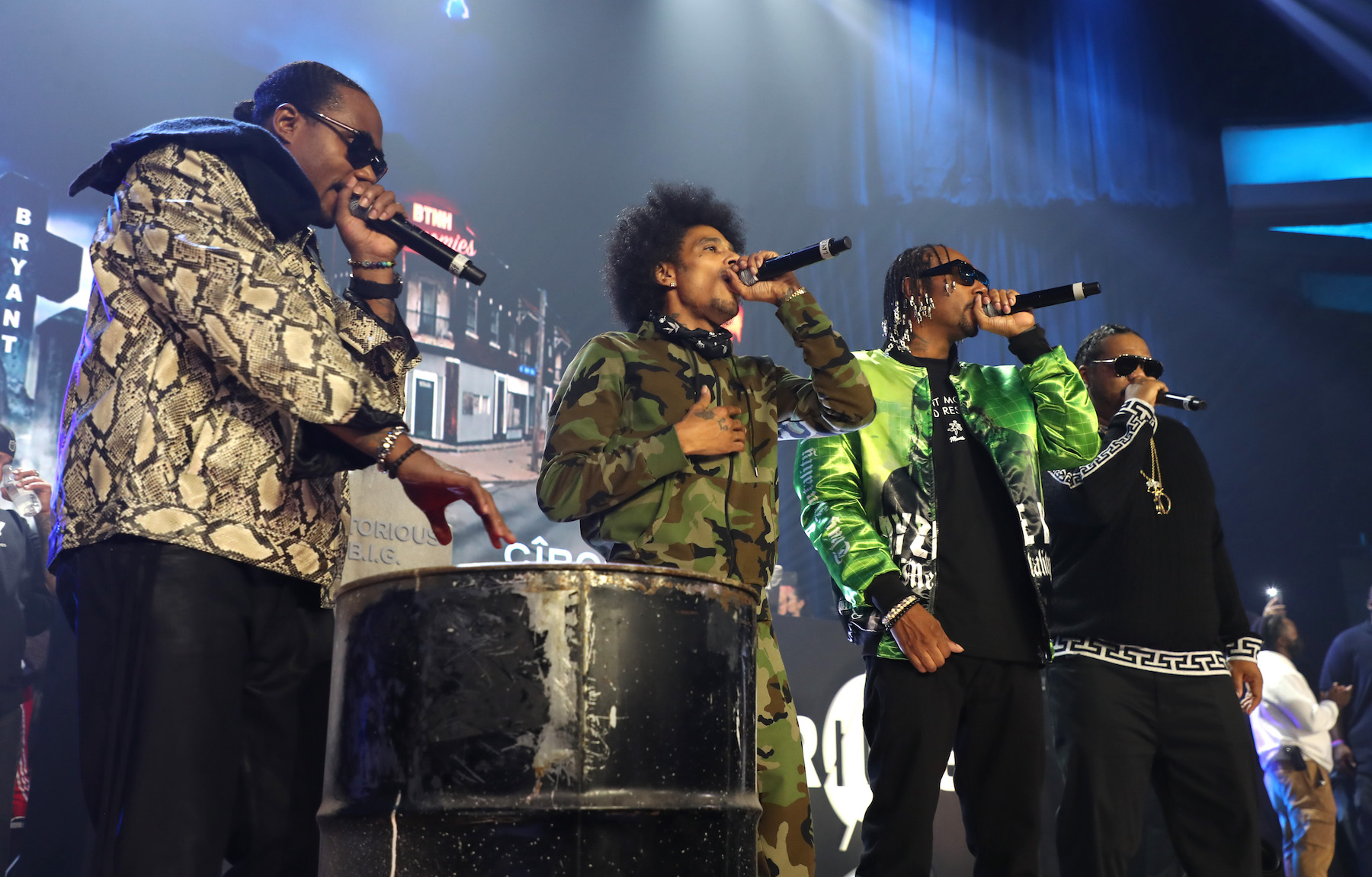 Bone Thugs-n-Harmony collaborated with The Notorious B.I.G. on 'Notorious Thugs'
Biggie teamed up with Bone Thugs-n-Harmony — which consisted of Bizzy Bone, Flesh-n-Bone, Krayzie Bone, Wish Bone, and Layzie Bone — for "Notorious Thugs" from Biggie's second studio album Life After Death. Even though the Bone Thugs weren't from a rap capital, Biggie knew that where you come from doesn't matter as much as how talented you are.
"Big understood how important the Midwest and the South were at that time," his friend and record executive Sean "Diddy" Combs said in a 2003 interview with XXL. "He loved Bone Thugs. Being that he really liked melodies, he really liked Bone Thugs."
Krayzie Bone went on to recount how the song with Biggie came about, with the help of Diddy. "Puff just called up one day while we were out in California, 'Come by the studio tonight.' So we went. As soon as we walked in, Big was like, 'What y'all eating, drinking, and smoking?'" he remembered. "It was a shock how down-to-earth he was. N**** used to floss in his raps big-time, but when you met him he was a real humble dude. There were a lot of things that he wanted to know about us and about our flows. He just wanted to know how we came about doing our style and how we did our vocals. He was watching us do our parts like, 'Godd***, y'all n****s are crazy.'
The Notorious B.I.G. was impressed with Bone Thugs-n-Harmony while recording 'Notorious Thugs'
For his part, Biggie was thrilled to be working with the Bone Thugs. "I came with a couple ounces of herb, and about 15 minutes into the session, Biggie had it in his hand. I'm like, 'This n**** just gangstered me for my weed!' But I ain't say nothing because it's cool," Layzie Bone recalled. "When Biggie did our style, that's when Bone received respect for our s***. It was like the whole industry never gave us our Ps. But Biggie was telling us that whole night in the studio like, 'Y'all just came in and laid it down so fast. Y'all n****s are amazing.' He was marveling off of us. And we telling him how much love we had for him."
Producer Stevie J. contributed to many of the tracks on Biggie's Life After Death album, including "Notorious Thugs." What he remembered from creating "Notorious Thugs" was Biggie not being ready to record that night with the Bone Thugs in the studio after being in awe of the rappers' abilities. "After Bone Thugs went in there and ripped it, Big took it home for a minute. He was like, 'I ain't laying mine. I got to wait. This style ain't what I'm used to,'" he said.
Biggie's Junior M.A.F.I.A. groupmate Lil' Cease revealed just how seriously Biggie took "Notorious Thugs." "The Bone Thugs s***, nobody could be in the room [when Big was recording his verse] for that. He really wanted to sit there and master that s***, 'cause he knew he was about to do something different, and whatever came out the studio was gonna be so, so new," Cease recounted.
Biggie died in 1997 before 'Life After Death's release
Unfortunately, Biggie never lived to see the fruits of his labor on "Notorious Thugs" and the rest of Life After Death. The rapper was killed in Los Angeles on March 9, 1997, just two weeks before Life After Death's release.
Still, Life After Death went on to become one of the most revered hip-hop albums in history. Singles "Hypnotize" and "Mo Money Mo Problems" both went No. 1 on the Billboard Hot 100 chart, while the album has since been certified diamond with over 10 million copies sold.