'Bones': David Boreanaz Accidentally Lied to Twitter About the Show Ending
Crime procedurals have been a hot commodity on TV in recent decades, and Bones was certainly a standout example of the genre.
The show was a huge success throughout its 12 seasons, and even four years after its conclusion, it still has a devoted fan following. Despite challenges from repeated time slot changes by Fox, the show dominated the crime procedural drama space for over a decade with its unique, anthropological look at criminal forensics. Though the show mostly maintained strong ratings through the end of its run, actor David Boreanaz, who played Booth in the show, put his foot in his mouth a bit on Twitter. The actor announced on his feed in 2012 that Bones would be ending after the 8th season– nearly 5 years before the show actually came to its conclusion.
David Boreanaz on 'Bones'
Though Boreanaz narratively played second fiddle to the titular character played by Emily Deschanel, his character of Special Agent Seeley Booth was key to fans' love of the show. While investigations on the show offered a unique take (and sometimes a little factually questionable) on forensic science, the show followed a similar formula to any other example of the genre. The relationship and chemistry between Dr. Brennan and Special Agent Booth, however, made the show stand out from its peers and made the show's narrative compelling, week in and week out, year after year.
Before his role on Bones, Boreanaz was mostly known for his work on Buffy the Vampire Slayer and its spinoff, as the titular character Angel. After the latter's conclusion in 2004, fans were excited to see him take on another role when Bones was announced later that year. Boreanaz immediately became a fan favorite. Deschanel's Dr. Brennan is, by design, a bit off-putting of a character, and Booth's macho "white-hat cop" archetype was the push the show needed to both feature a high-energy, charismatic lead and help push the character development of Deschanel's introverted Dr. Brennan.
Boreanaz inviting controversy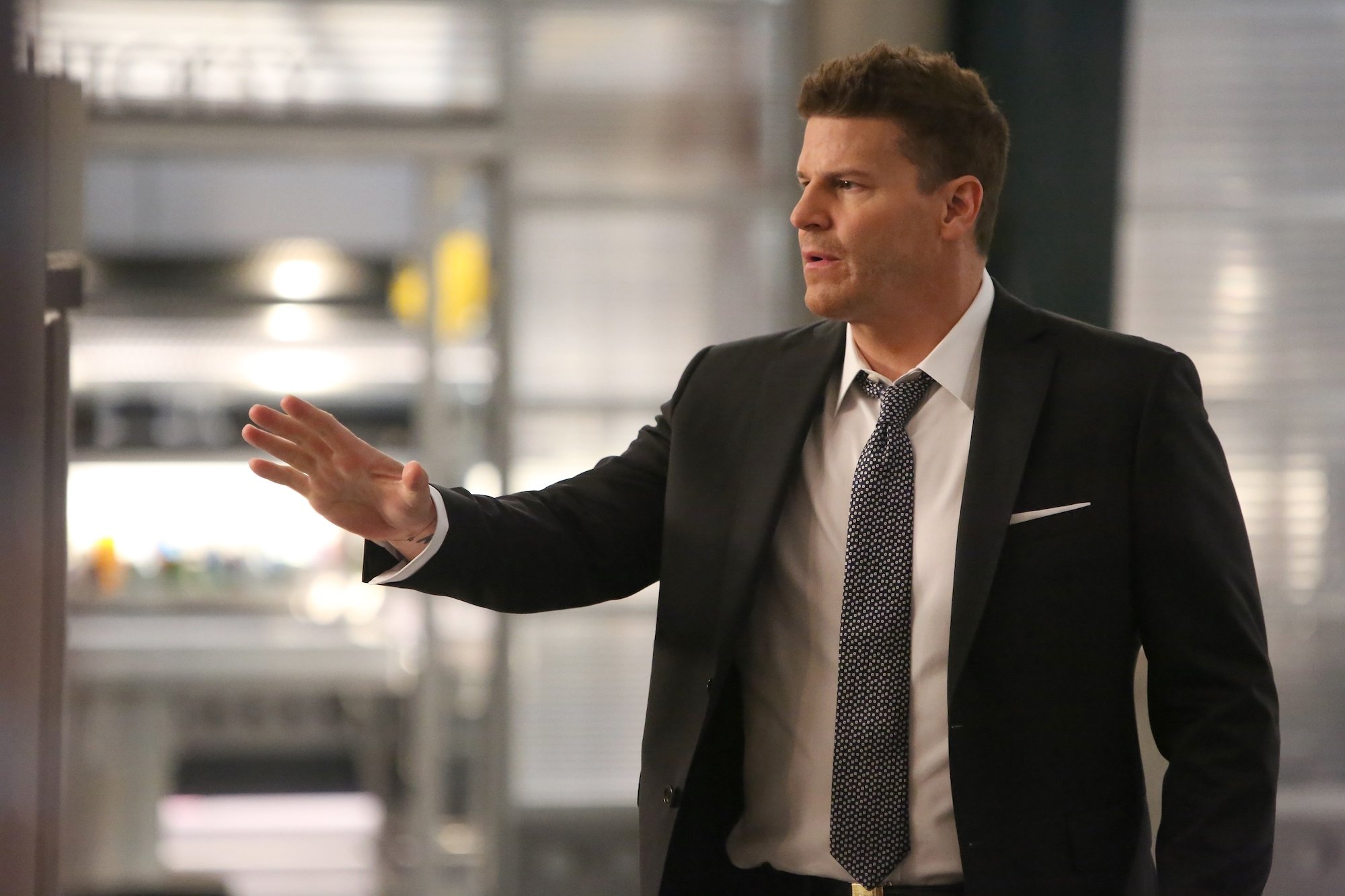 Bones certainly saw its share of hurdles to overcome during its run. Fox's ever-changing time slot for the show created serious challenges, just as it had for shows on the network before. In addition, it seemed for a while the cast and crew were continually enveloped in controversies that fans were worried would derail a great show.
Boreanaz was involved in his share of controversies in his personal life that threatened to spill over to the show. In 2009, during the 4th season of the show, Boreanaz was accused of sexual harassment by an extra, according to CNN. Allegedly the star had offered a quid pro quo arrangement, saying he had "the ability to make things happen for her." Though the case was settled out of court, the accusation was an embarrassing black eye for both the actor and the show.
Only a year later, the star caused another stir after publicly admitting to People that he had cheated on his wife of 20 years, former Playboy playmate, Jaime Bergman. While the old adage does say that "any publicity is good publicity," the drama around Boreanaz was building up. The most controversial incident, however, occurred during the show's eighth season when Boreanaz tweeted that the show would not be returning for next season, according to ScreenRant. Series creator Hart Hanson actually had to get on social media to reassure fans that they had a few seasons left at least, and Boreanaz was just plain wrong.
Boreanaz After 'Bones'
Though Boreanaz was exceptionally popular after Buffy, Bones certainly made him a much more household name and established him as a serious name in TV. After the show, Boreanaz quickly got to work on another project. He was cast as Master Chief Special Warfare Operator Jason Hayes in SEAL Team, the leader of Bravo team– a group of elite Navy SEALs taking on dangerous missions throughout the world.
The show was recently renewed for a fifth season, according to TV Insider. Though it originally aired on CBS, the show will be moving to Paramount+ for its latest installment. Ratings for the show have dropped from its original season, but it still shows strong performance and has a devoted fanbase.
Boreanaz is an executive producer for the new show and has even directed three episodes. It seems like his career is doing just fine after the end of Bones, but let's hope his greater involvement in this project may make him more reluctant to risk his success with hasty tweets in the future.
RELATED: Bones: Did Emily Deschanel and Co-star David Boreanaz Ever Date?