Why Bono Is 'Embarrassed' by Most of U2's Songs: 'I've Been the Color of, as We Say in Dublin, Scarlet'
Some musicians aren't completely satisfied with their music, but most of U2's songs embarrass Bono. Fans, who've seen the band perform and bought all their records, were probably not expecting that earth-shattering revelation. Still, they won't ever stop listening to U2's hits.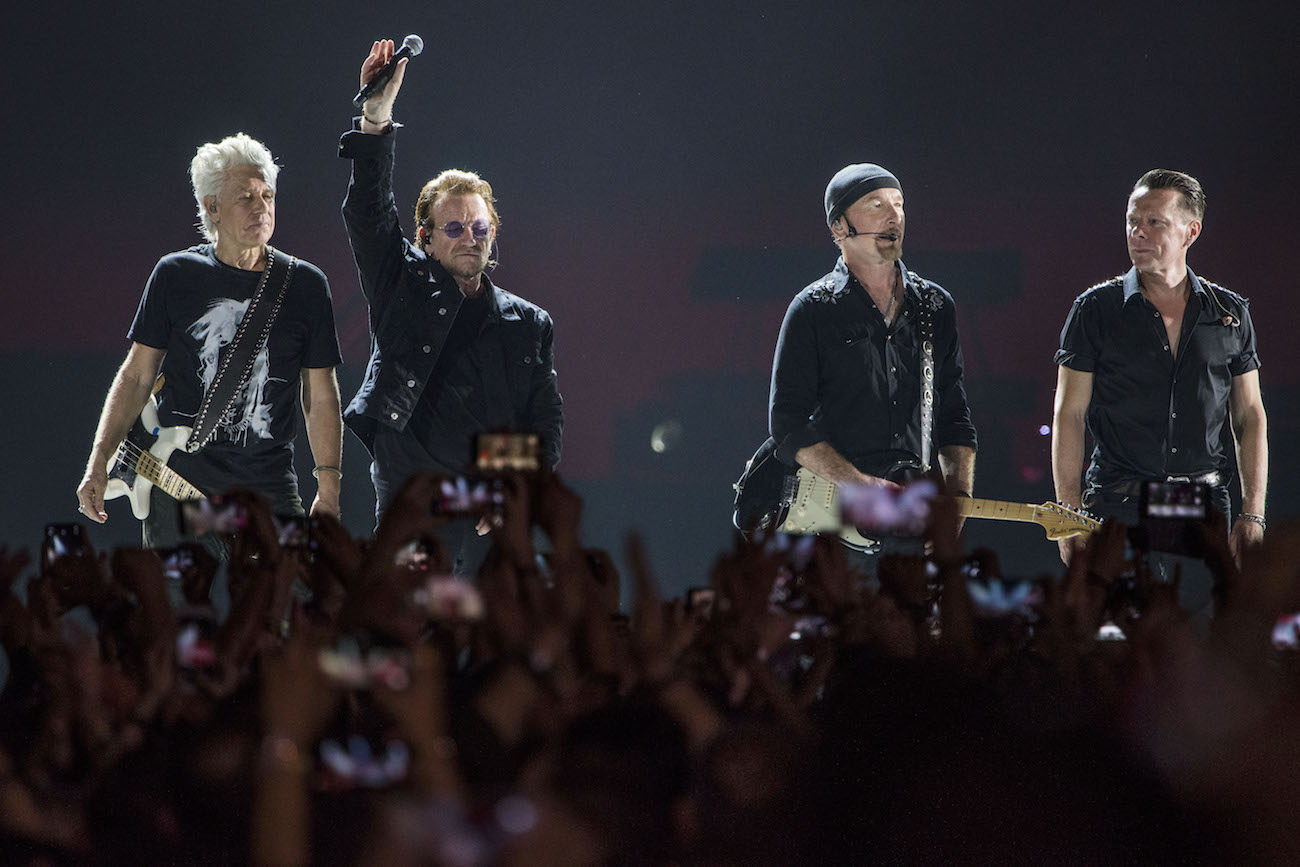 Most of U2's songs embarrass Bono
During an interview on The Hollywood Reporter's Awards Chatter podcast, Bono revealed that most of U2's songs embarrass him.
"I've been in the car when one of our songs has come on the radio and I've been the color of, as we say in Dublin, scarlet," Bono said (per Vanity Fair). "I'm just so embarrassed."
Bono, born Paul David Hewson, didn't elaborate on why he's embarrassed about his band's 400+ songs. However, Bono isn't only embarrassed by U2's work. He doesn't like how his voice sounds most of the time.
"I only became a singer, like, recently," he said. "Maybe it hasn't happened yet for some people's ears and I understand that."
Then, there was also the extremely embarrassing time Robert Palmer told U2's bassist Adam Clayton in the 1980s, "God, would you ever tell your singer to just take down the keys a little bit? He'd do himself a favor, his voice a favor, and he'd do us all a favor who have to listen to him."
Looking back, Bono said that assessment isn't entirely false. "I was thinking out of my body. I wasn't thinking about singing. I didn't really think about changing keys. Did we ever change a key?"
What U2 songs are Bono proud of?
Some loyal fans might be wondering how Bono could dislike some of U2's most iconic hits like "I Still Haven't Found What I'm Looking For" and "Where The Streets Have No Name." For now, we'll have to wait for that answer. The next question: is there any of the 400+ songs that he does like?
"The one that I can listen to the most is 'Miss Sarajevo' with Luciano Pavarotti," Bono said. "Genuine, most of the other ones make me cringe a little bit." Bono is also "probably proudest" of U2's 2004 hit, "Vertigo."
Still, the world liked "Vertigo" too. In the U.S., "Vertigo" peaked at number 31 on the Billboard Hot 100 and No.1 on the Alternative Songs chart. Following that, the song landed itself on the long list of U2's hits.
Bono doesn't like U2's name either
Apparently, Bono isn't happy about a lot concerning U2, including its name. Initially, Bono was against naming the band "U2." Looking back, he thinks it was a bad idea.
However, the band's first manager Paul McGuinness convinced Bono to keep it. McGuinness called it "great" and said "U2" would "look good on a t-shirt, a letter and a number." Then, there was no going back.
Bono still doesn't like the name, though. "I didn't realize that The Beatles was a bad pun, either," he said. "In our head, it was like the spy plane, U-boat. It was futuristic… It turned out to imply this kind of acquiescence—no, I don't like that name. I still don't really like the name.
"I do think U2 pushes out the boat on embarrassment quite a lot, and maybe that's the place to be as an artist—you know, right at the edge of your level of embarrassment."
Hopefully, Bono will come to like U2's catalog and name one day. For now, Bono has landed himself on the long list of artists who hate their work. Although, you'd think that Bono would take a look at all the thousands of people at his sold-out shows and realize that U2's songs aren't that bad.