'The Book of Boba Fett': When Do New Episodes Drop on Disney+? Episode 4 Release Date and Time
'The Book of Boba Fett' Episode 4 will likely see Temuera Morrison's character confronting the Pyke Syndicate. What's the release date for the next installment, and what can fans expect?
Now that its third episode has hit Disney+, it's safe to say The Book of Boba Fett is steadily chugging along — though the Star Wars series is certainly taking its time unraveling its plot. The latest installment brought Boba Fett (Temuera Morrison) new allies and new enemies to contend with. What is the release date for The Book of Boba Fett Episode 4, and how will these characters factor into the overall story?
Boba Fett gets new allies & enemies in 'The Book of Boba Fett' Episode 3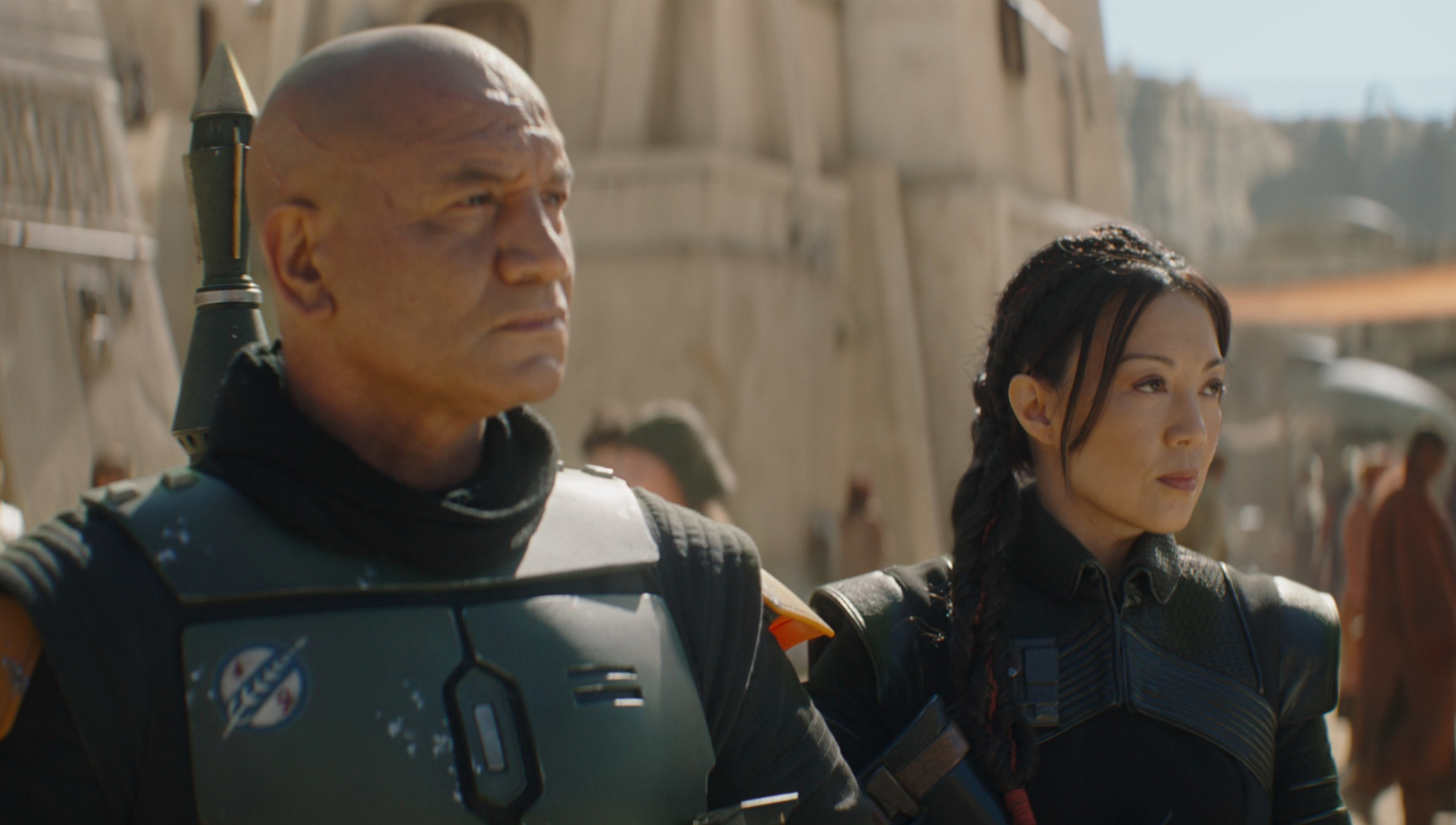 The Book of Boba Fett Episode 2 spent a lot of time on the former bounty hunter's backstory. Perhaps that's why most of episode 3's action takes place in the present-day storyline.
Following an attempt on Boba Fett's life, he and Fennec Shand (Ming-Na Wen) seek out who's behind the failed assassination. And although Mos Espa's mayor and Jabba the Hutt's cousins seemed like strong contenders for the show's Big Bad, this week's installment brings the Pyke Syndicate back into the mix.
Boba has a history with the Pyke Syndicate, and it isn't a pretty one. They're the same gang he stood up to on behalf of the Tusken Raiders during episode 2. And while there aren't as many flashbacks in episode 3, it's not completely devoid of them. In fact, one reveals the Pyke Syndicate eventually took revenge on the Tusken Raiders — resulting in the deaths of Boba's companions.
Hopefully, the character's present-day allies will fare better, as he picks up quite a few of them in "Chapter 3: The Streets of Mos Espa." He hires several young thieves to work for him, and they prove valuable assets when it comes to stopping a second attempt on Boba's life (this time courtesy of the Twins).
It's not clear if the Twins are working alongside the Pyke Syndicate, but they claim they're leaving Tatooine at the end of the episode. Either way, Boba and Fennec will have to address this new opponent to secure the planet's criminal underbelly for themselves.
The Book of Boba Fett Episode 4 should reveal more about what they're up against. When does it come out?
'The Book of Boba Fett' Episode 4 release date and time
Now that the Pyke Syndicate has been identified as the main obstacle to Boba Fett's throne, The Book of Boba Fett Episode 4 is poised to truly dig into the fight for Tatooine. The inevitable confrontation may be fueled further by Boba's history with the group. When will fans see how things play out?
New episodes of The Book of Boba Fett drop every Wednesday on Disney+, hitting the platform around 3 a.m. ET. Courtesy of CNET, here's the full schedule for the seven-episode Star Wars show:
Episode 1: Dec. 29, 2021
Episode 2: Jan. 5, 2022
Episode 3: Jan. 12, 2022
Episode 4: Jan. 19, 2022
Episode 5: Jan. 26, 2022
Episode 6: Feb. 2, 2022
Episode 7: Feb. 9, 2022
We're almost to the halfway point of Lucasfilm's new Disney+ series, so things should start heating up. What can fans expect when The Book of Boba Fett Episode 4 drops on Disney+?
What to expect when episode 4 drops on Disney+
Without a preview or synopsis to tease The Book of Boba Fett Episode 4, it's hard to say what fans are in for next week. However, they can count on one thing: some sort of showdown between Boba Fett and the Pyke Syndicate.
The trailer for the Disney+ series sees Temuera Morrison's character preaching about cooperation, so it's possible he'll try to strike a deal before embracing all-out war. The past actions of the Pyke Syndicate could muck things up, though (and there's also the fact that they've supposedly been trying to do away with him).
Only time will tell if Boba Fett uses his new followers — and his newly acquired Rancor — to fight for his place in Tatooine. While fans wait for answers, there's plenty to unpack in the first three episodes.
The Book of Boba Fett is currently streaming on Disney+.