'Borat 2': Which Scenes Are Real and Which Are Scripted?
Borat Sagdiyev — and by that, we really mean Sacha Baron Cohen — certainly knows how to make a splash. At a time when a deadly virus plagues the globe and a presidential election has been looming large, it's not easy to grab national headlines, but Cohen did exactly that.
Cohen, whose 2006 film Borat: Cultural Learnings of America for Make Benefit Glorious Nation of Kazakhstan made waves for its biting political satire and "gotcha" hijinks, released a sequel titled Borat Subsequent Moviefilm. Like its predecessor, the film features Cohen as Borat Sagdiyev and captures real-life political figures in tricky situations. 
Curious viewers who have decided to tune in now that the film has gotten so much attention may be wondering just how much of what they're watching is scripted.
'Borat' is a satirical character Sacha Baron Cohen has perfected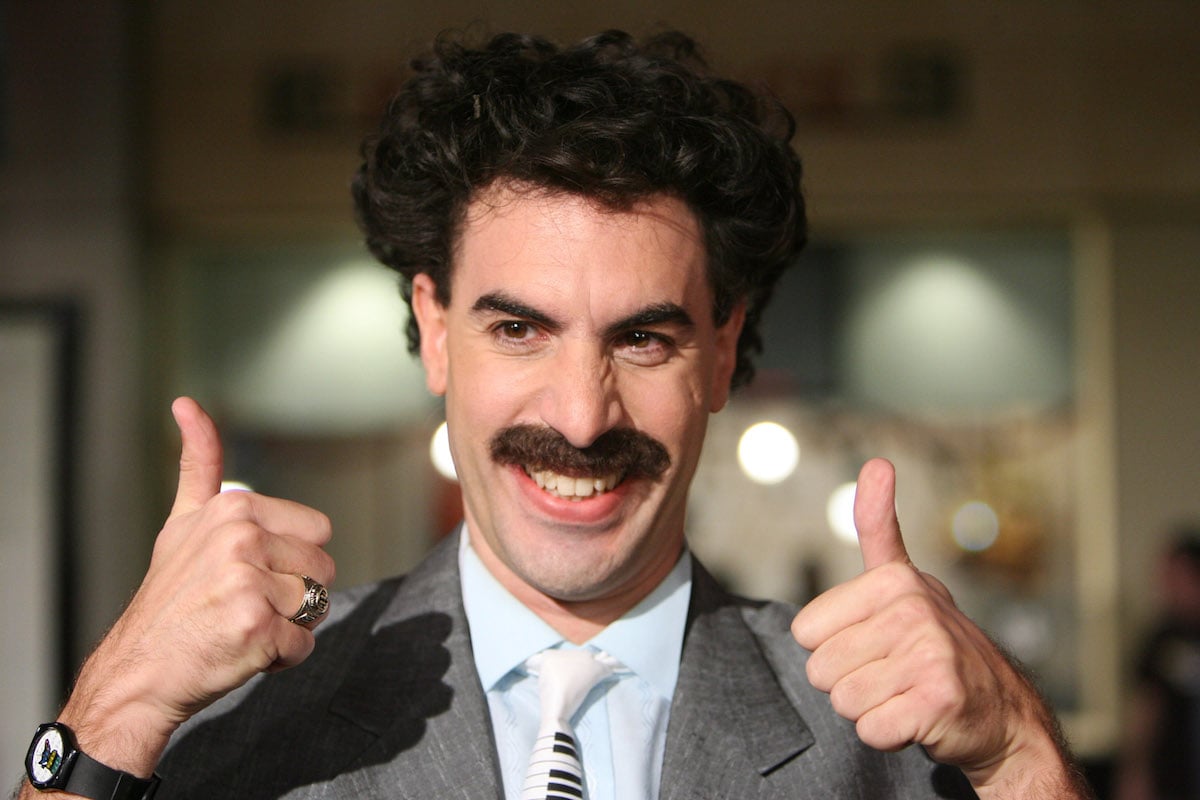 RELATED: 'Borat: Subsequent Moviefilm' Movie Review: Sacha Baron Cohen Borats Harder
Related post url: 
By this point, Borat is a character Cohen has been perfecting for more than a decade. The character first made his debut on Da Ali G Show, a satirical sketch comedy, which starred Cohen as aspiring rapper Ali G and ran for three seasons.
Borat, who is supposed to be a reporter from Kazakhstan, has definitely become the most famous character to come out of Cohen's considerable work within the satirical comedy genre. As ridiculous as Cohen's stunts are, he takes his work very seriously and even once stayed in character as Borat for a press conference.
"I have said before, I have no connection with Mr. Cohen and I fully support my government's decision to sue this Jew," Borat responded when asked about Cohen. 
In the first film, Borat came to America to report on the "greatest" country. On a cross-country trek sparked by his desire to wed Pamela Anderson after seeing Baywatch on television, Borat and his crew entangle with real-life Americans, and the results are both hilarious and revealing.
'Borat 2' has ruffled political feathers
Fans have been waiting for the sequel to the first film for a long time, but Cohen stayed busy in the meantime. He briefly returned to the sketch comedy format with Who Is America?, which ran for a single season. He also found some time to prank an alt-right rally — twice in the same day!
Without a doubt, though, it's the Borat sequel that has gotten Cohen the most attention lately. The film struggles with the character's own popularity, which means that Cohen has to go to greater and greater lengths to successfully pull off his pranks.
It also introduced actor Maria Bakalova into the fray. The 24-year-old Bulgarian actor portrays Borat's 15-year-old daughter: Tutar. Her performance definitely added to the film, and it has also been central to the most headline-grabbing moment. 
The film includes footage of Rudy Giuliani — former New York City mayor and a close personal adviser to Donald Trump. Back in June, Giuliani (who claimed to be a Cohen fan) bragged that he hadn't been tricked by the prankster.
The film shows a controversial clip of Giuliani. Bakalova, 24, portrays Borat's 15-year-old daughter and invites Giuliana to her bedroom for drinks after an interview, which Guiliani believed to be real, about the pandemic. The scene in question is when Guliani, who says he was tucking his shirt, appears to put his hands down his pants.
Giuliani said that the "Borat video is a complete fabrication" in a tweet last week.
"I was tucking in my shirt after taking off the recording equipment," Giuliani tweeted. "At no time before, during, or after the interview was I ever inappropriate. If Sacha Baron Cohen implies otherwise he is a stone-cold liar."
Baron Cohen responded to Guliani's tweets while appearing on Stephen Colbert's "The Late Show" on CBS. "Well, he said that he did nothing inappropriate and, you know, my feeling is, if he sees that as appropriate, then heaven knows what he's intended to do with other women in hotel rooms with a glass of whiskey in his hand," the comedian said.
"I mean, I don't want to ruin the movie for anyone, so I would just say, see it and make your own mind up," Baron Cohen added.
How much of 'Borat 2' is real?
With all of this attention to the film, viewers may be wondering where fact ends and fiction begins. As Cosmopolitan reports, much of the film is indeed very real.
For example, Cohen definitely did really break into the Conservative Political Action Conference dressed as Trump.
Another disturbing scene that featured a real person unknowingly sharing their views on-screen happens when Borat takes his teenage daughter Tutar to a crisis pregnancy center after she swallowed a plastic baby. As Boart explains that he — the teen's father — "put a baby inside" her, the Pastor leading the anti-abortion center ignores the confession of incest. 
Basically, it can be difficult to tell which scenes from the film are 100 percent real and unscripted, but the most cringe-worthy and headline-grabbing parts do seem to be with people who had no idea they were being caught on camera.