'Borderlands' Movie: Star-Studded Cast Includes Cate Blanchett as Lilith, Jack Black as Claptrap
Fans of Gearbox and 2K's looter-shooter game Borderlands will be excited to learn that the teased film will include a star-studded cast. In fact, Jamie Lee Curtis, who will be playing Tanner in the film, took to Instagram to post a photo of Cate Blanchett as Lilith. Here's what we know about the Borderlands movie cast and plot so far.
What is the 'Borderlands' movie plot?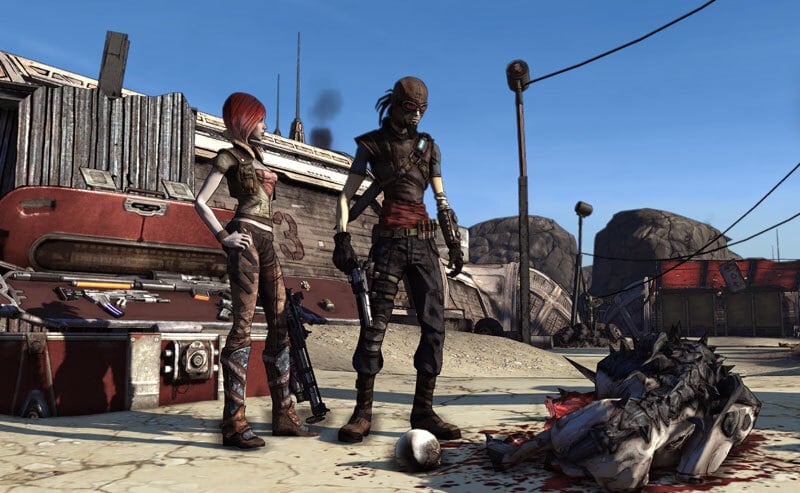 RELATED: 'Stardew Valley': Is Sebastian Modeled After ConcernedApe?
While the Borderlands movie does not have a release date yet, it is confirmed that the movie is currently in production in Hungary. The movie will be directed by Eli Roth, and will be focusing mostly on Lilith the Siren.
The plot involves Atlas and his daughter, as Lilith takes on a job to track her down. However, the plot synopsis does involve a rather cliche line that may leave some hopeful fans grimacing.
"Lilith (Blanchett), an infamous outlaw with a mysterious past, reluctantly returns to her home planet of Pandora to find the missing daughter of the universe's most powerful S.O.B., Atlas (Ramirez)," explains the plot synopsis.
"Lilith forms an alliance with an unexpected team— Roland (Kevin Hart), a former elite mercenary, now desperate for redemption; Tiny Tina (Ariana Greenblatt), a feral pre-teen demolitionist; Krieg (Florian Munteanu), Tina's musclebound, rhetorically challenged protector; Tannis (Jamie Lee Curtis), the scientist with a tenuous grip on sanity; and Claptrap (Jack Black), a persistently wisea** robot."
So far it sounds fairly standard for Borderlands. However, this is when the plot synopsis gets a little iffy.
"These unlikely heroes must battle alien monsters and dangerous bandits to find and protect the missing girl, who may hold the key to unimaginable power. The fate of the universe could be in their hands—but they'll be fighting for something more: each other."
Jamie Lee Curtis teases Cate Blanchett's Lilith
While there haven't been many details released about the Borderlands film just yet, Jamie Lee Curtis did tease a look at Cate Blanchett's Lilith on her Instagram.
Curtis shared a silhouette photo of Blanchett as the looter-shooter's Siren, and so far, it appears as if character design is staying true to the Borderlands standard.
"Welcome to BORDERLANDS and a secret BTS shot I took of Lilith, our legendary heroine, psycho blasting, vault hunting, vixen with a bad attitude and two Oscars to add to the badda**ery in her tool belt, the once and future Queen of EVERYTHING, #cateblanchett," wrote Curtis in the caption.
Maybe next week, if you're nice and let them know you want MORE and they don't fire me for posting this, I'll post other pictures," she teased in part, tagging her colleagues in their respective roles.
'Borderlands' film includes a star-studded cast
Jamie Lee Curtis and Cate Blanchett aren't the only stars adding their talent to the Borderlands film.
Black Jack will be appearing as Claptrap, Edgar Ramirez as Atlas, Kevin Hart as Roland, and Ariana Greenblatt as Tiny Tina, among a variety of other names.
A release date has not yet been set, and production has only recently begun, so it's not entirely clear when fans can expect to see the Borderlands movie, although IMDb has it slated for 2022.