'Bosch' Star Titus Welliver Once Shared the Devastating Reason He Connects With His 'Deeply Haunted' Character
Amazon Prime's longest-running series Bosch made Titus Welliver a household name. The star who plays Hollywood homicide detective Harry Bosch has appeared in dozens of projects over more than three decades in the industry. That said, Welliver can relate to his unbreakable character for the most heartbreaking reason.
Titus Welliver almost pursued art long before 'Bosch'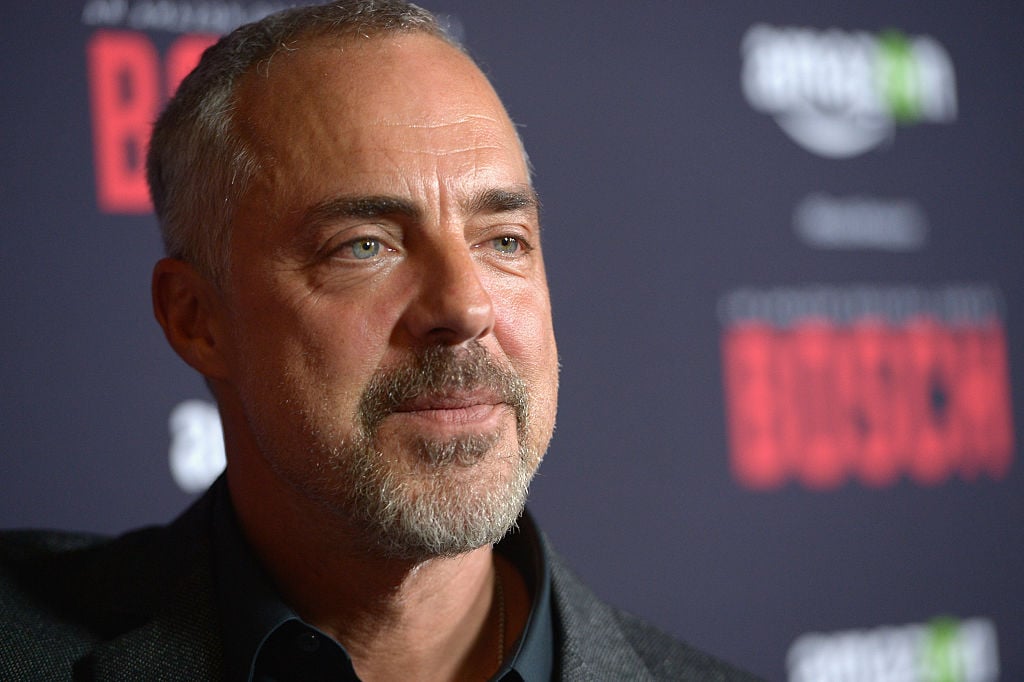 Titus Welliver tried to follow in his father Neil Welliver's footsteps, but art school didn't stick for the Bosch star.
"I became very disillusioned after a year of art school and my father said to me, 'If it's not what you love and want to do then don't do it.' He said, 'You've always loved the theater and acting why don't you consider that?' Welliver told the Toledo Blade in 2015.
"So I did. I kind of packed up my stuff in an Army duffle bag, my dad bought me a bus ticket back to New York, and it has been many years — it was not romantic and was hard work — but it sustained me and fulfilled me."
Welliver has a long list of credits
It eventually paid off in spades. As one of Amazon Prime Video's most successful projects to date, Bosch may not have necessarily put Welliver on the map, but it did put a name to his recognizable face. Since 1990, Welliver has starred in a plethora of projects including Deadwood, The Good Wife, Sons of Anarchy, and Lost.
Harry Bosch isn't Welliver's first law enforcement role, either. The veteran star has played some version of a cop or agent in many shows and films. NYPD Blue, Big Apple, Shaft (and more) showcase Welliver's talents in the crime drama sector. He's also played a number of senators in Red 2, White Collar, Kidnapped, and more.
Bosch is Welliver's longest role yet and arguably his most successful. As the lead homicide detective in Hollywood, Harry Bosch balances a traumatic past with solving some of the city's worst murders. Unfortunately, Welliver can relate to the darker parts of his character.
Why Welliver connects to Harry Bosch on a deep level
You can't tell by looking at Welliver but his life was filled with tragedy. To start, his baby sister died when he was a child and it only got worse from there.
"Seven months later my stepmother, who I loved dearly, and my younger brother, Eli, was killed in Thailand at the age of 21, and my older brother, Silas, died from a form of muscular dystrophy. He died at 45," he said. "When one sustains that kind of loss I think it's very difficult to trust happiness."
He continued: "So I think in many ways it formed not always the best parts of myself. I lost my wife a couple years ago who was the mother of my daughter, and I was married before and we had our two sons together," he said, referring to his wife Elizabeth Alexander who died of breast cancer in 2012.
Those losses, he said, prepared him for the role of Harry Bosch.
"There's an aspect of Bosch which is deeply appealing to me," he said. "He has a tremendous vulnerability. This is a guy who sustained a really traumatic childhood, we get glimpses into that in the pilot. And the readers of the books know his back-story is deeply painful."
He added: "But I think that anybody who has a job that faces the darkest parts of society and sadness can't go untouched by that. So there's that great righteousness that Harry has. Being the advocate, he speaks for the victim, and he's driven by that to seek that justice. But he's a deeply haunted character. He's seen too much."
Welliver finds 'light' in his children but struggles with faith
Despite the challenges, Welliver looks to his children for respite.
"To regain a sense of footing and trust and have your spouse die is devastating, to say the least. That being said, the births of my three children are the most magical and beautiful moments of my life."
The star now has four children saying, "I'm blessed to have such wonderful children and they made me very, very proud and I, in some way, define my success in life by my children. Because I look at them, I've had a tough go of it, but they are a source of light and love that is immeasurable."
However, his sense of faith was shaken by the loss of his baby sister.
"I thought if there is a God and we are led to believe by religious texts that God is here to protect us, why would you take a life of an infant child? It makes no sense," he said.
He continued adding "tragedy is tragedy" but there's a way to carry on through the darkness. It's something he and his character aim to do.
"We spend lives as human beings loving people we are close to and there is a chapter in which they depart. And it's completely unfair, but there's no way around it. You see the train coming, but you can't anticipate the impact."