Both of the Carter Brothers Have Been Arrested for the Same Reason
Everyone grows up, and, unsurprisingly, so have the teen idols from the 90s and early 2000s. Some pop stars from those days, such as Justin Timberlake, have done well for themselves, but others haven't been as successful. Many of those old pop stars have in fact gotten themselves into hot water with the law. That's particularly true for Aaron Carter and Nick Carter, two pop stars who were a bigger deal 10 or 15 years ago. Here's a look at the Carter brothers and that time they broke the same law.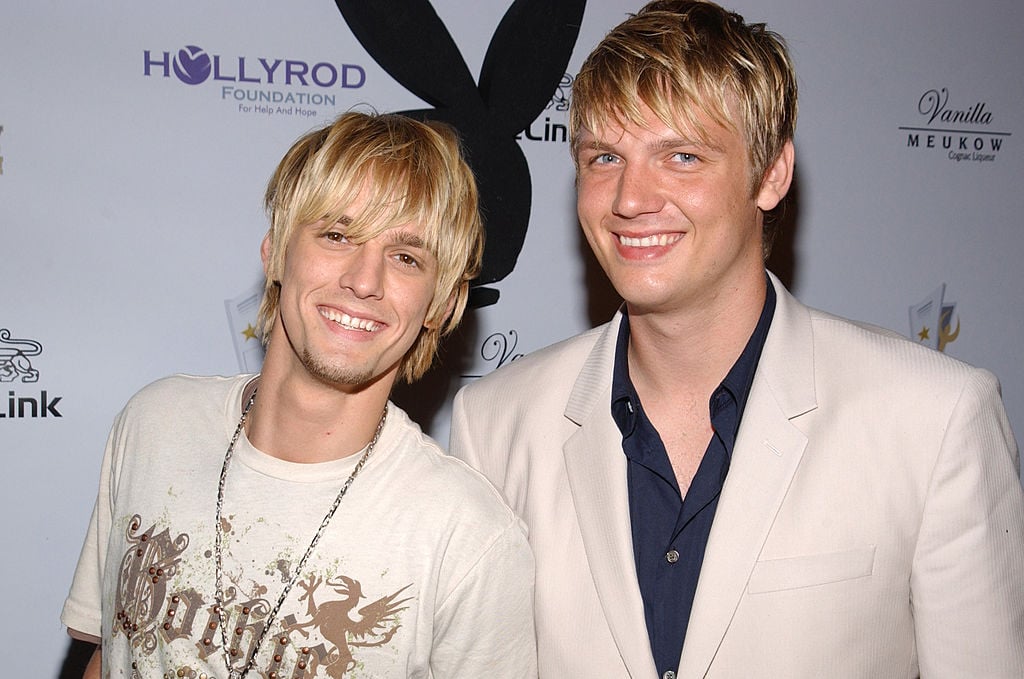 A brief look at the career of the Carter brothers
Nick Carter, who's 40 years old now, is, of course, a member of the Backstreet Boys. While his solo career hasn't been as successful as someone like Justin Timberlake, it's still active to this day. Aaron Carter is his younger brother, and he's 32 years old. Unlike his older brother, he's been a solo musician for the majority of his career. 
While Aaron Carter has been successful by himself, his fame and popularity was helped by the fact that he got to tour with the Backstreet Boys. And, while Nick Carter's career has largely been in the shadows lately, his younger brother is getting a lot of play in the press, usually for his antics. For example, very recently, Aaron Carter started an OnlyFans account, even though he doesn't really need the money.
The Carter brothers' DUIs
Drinking and driving isn't exactly rare, especially among the rich and famous. So, it's not too surprising that the two brothers have had a history of getting DUIs and committing other alcohol-related offenses. For example, Delish wrote that, back in 2005, Nick Carter was caught drunk driving after leaving a restaurant in California. He was arrested and released shortly after. 
Fast-forward 12 years and his baby brother got arrested for the same thing, according to Delish. In 2017, Aaron Carter got arrested in Georgia for drunk driving as well as possession of a small amount of marijuana. This wasn't actually the first time that he got arrested for having weed in his car, either. In 2008, in Texas, he was arrested for speeding and having a small amount of weed in his car. That said, at the very least, he wasn't drunk at the time. 
Outside of cars, his older brother has also had a criminal history related to alcohol abuse. For example, in 2016, Billboard reported that Nick Carter got arrested in Florida after he got into a bar fight. The reason why he was involved in that bar fight was because he was so drunk that the bar wanted him to leave, but he didn't want to leave. In any case, rather than bringing the family together, this shared history of substance abuse has helped tear the family apart.
Nick Carter's strained relationship with Aaron Carter
As Delish said, after his baby brother got arrested for drunk driving in 2017, Nick Carter tweeted about his unconditional support for his little brother. Aaron Carter didn't take his big brother's tweet well, though, as he would have preferred having a conversation with his brother, rather than a public tweet about it.
Things have only gotten worse between the two brothers since then. For example, in late 2019, Nick Carter got a restraining order against his brother after he made some threats against Nick Carter's wife. Then, Aaron Carter returned the favor and threatened to sue his older brother.
That said, one thing that will always remain constant is a family's bond with each other. While there are exceptions to that rule, it's entirely possible that the Carter family recovers from these tough times in the future.