'Boy Meets World': Are Ben Savage and Rider Strong Friends in Real Life?
The 90s were known for some great sitcoms, and many of them featured some legendary friendships. Cory Matthews (Ben Savage) and Shawn Hunter's (Rider Strong) friendship on Boy Meets World was among those and it ultimately became one of the most iconic in TV show history.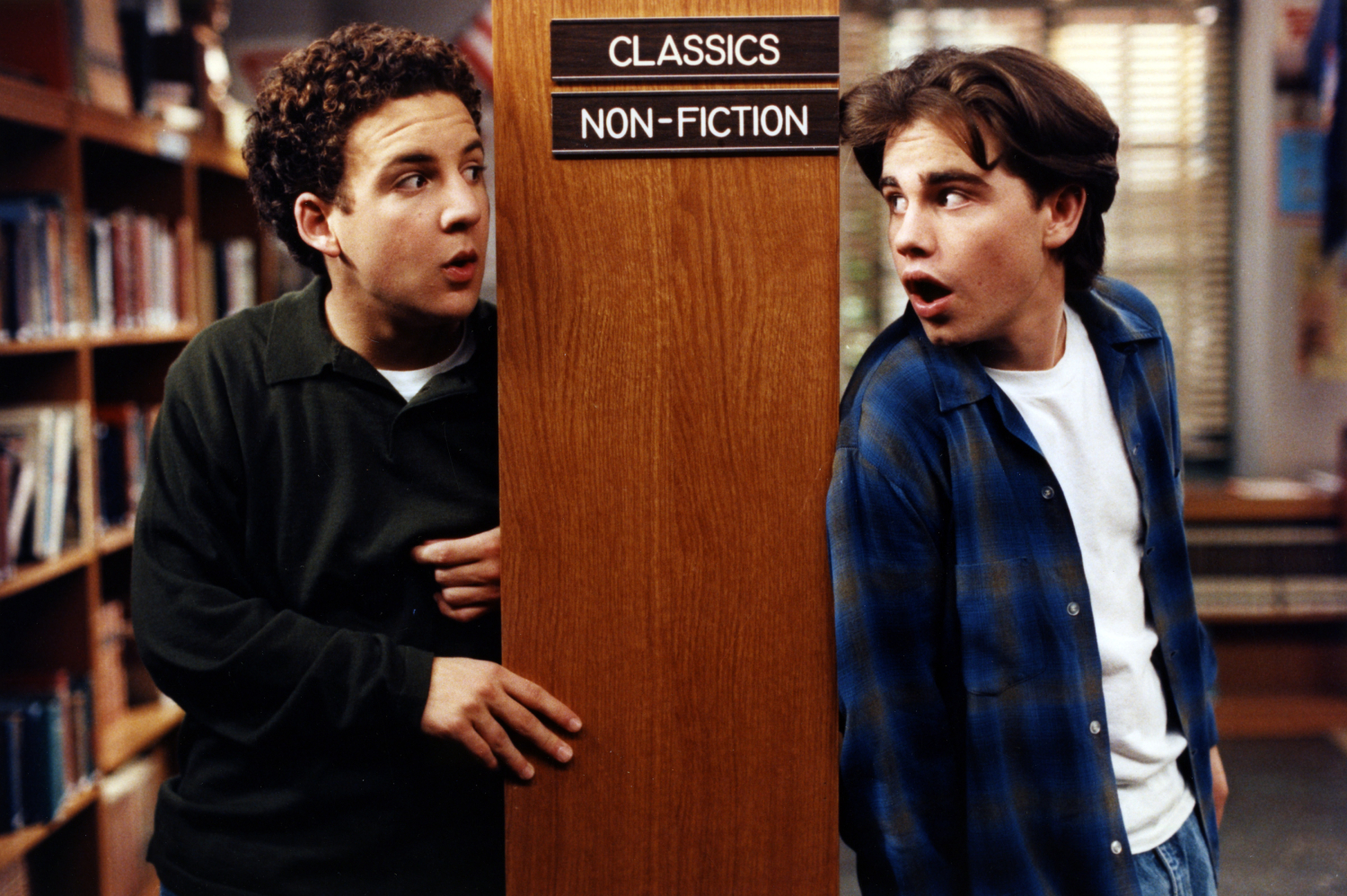 Viewers watched Cory and Shawn grow up on Boy Meets World, and, as they matured individually, their friendship did as well. So, what about their actors? Are Savage and Strong friends in real life, outside of Boy Meets World?
Ben Savage and Rider Strong starred as Cory and Shawn on 'Boy Meets World'
Boy Meets World began airing in 1993, and Savage was the star of the show from the very beginning as it followed Cory's life and everything that he had to deal with as a kid. Shawn was also a main star from the start. He was ultimately Cory's best friend who always seemed to be getting into trouble.
As the show went on, it continued to follow them while they grew up, and as the situations they dealt with matured, their characters did as well. The two then remained friends through the end of the show, and Cory ended up married to his lifelong girlfriend, Topanga Lawrence (Danielle Fishel).
Boy Meets World ran for seven seasons, according to IMDb, and it last aired in 2000.
Cory and Shawn's friendship later returned to television, though, when the spinoff, Girl Meets World, began airing in 2014. The show mainly followed Cory and Topanga's daughter, Riley, and her friends. It still, however, brought back some old characters from Boy Meets World, including Shawn.
Girl Meets World ran for three seasons and last aired in 2017, per IMDb.
They both have appeared on other TV shows
Savage also worked on some other shows in the 90s. According to IMDb, he appeared on The Wonder Years in 1990, which his brother Fred Savage starred on. He was also in a couple of episodes of Party of Five in 1996.
After Boy Meets World, Savage appeared on Still Standing and Phil of the Future in 2005, Without a Trace in 2008, and Bones in 2011. Additionally, while also recently starring on Girl Meets World, Savage appeared on Criminal Minds in 2015 and 2020, and on Homeland in 2020.
Strong also made appearances on several shows throughout the 90s. This includes Home Improvement in 1992 and Party of Five in 1996, according to IMDb. After Boy Meets World, Strong was the voice of Brick Flagg on multiple episodes of Kim Possible, and he also appeared on Law & Order: Criminal Intent in 2002. In addition to Girl Meets World, Strong has also recently been Tom's voice on Stars vs. the Forces of Evil.
Are Ben Savage and Rider Strong friends in real life off of 'Boy Meets World'?
While not all TV show friends are friends in their real lives, it appears that Savage and Strong are. However, Strong is actually best friends with the actor who played Cory's brother, Eric (Will Friedle).
"I moved to New York when the show (Boy Meets World) ended to go to school, but we all stayed in touch," Strong said to Cosmopolitan in 2013. "Will Friedle is my best friend, so we always talk, but the rest of us get together for dinner every six months — it's been wonderful."
Savage didn't, however, go to Strong's wedding, but Strong takes blame for that. It was actually the same weekend as Fishel's wedding.
RELATED: Where Is 'Boy Meets World' Star Danielle Fishel Now?
"That was my fault, I mixed up the dates," Strong said, according to Cosmopolitan. "My wife and I wanted to get married on a summer camp and they only had one date available, so we booked it. Then, two days later my wife called me to tell me that it was the same weekend as Danielle's. I felt horrible, but I knew Ben, the directors, and everyone had to be at her wedding — especially because I wanted ours to be small."
He did say, however, that Friedle went to his wedding.
More recently, since Girl Meets World, Savage made sure to wish Strong a happy birthday on Instagram. He also posted a picture of them hanging out with Fishel and Friedle in August 2019. 
So, while they might not be as close as Cory and Shawn were on Boy Meets World, everyone can rest easy knowing that Ben Savage and Rider Strong are, in fact, friends in real life.