'Boy Meets World': Cory and Topanga Reunite for Valentine's Day Commercial
From 1993 to 2000, viewers of Boy Meets World watched the romance of Cory Matthews (Ben Savage) and Topanga Lawrence (Danielle Fishel) go from sixth grade school chums to husband-and-wife college students. Fans of the family-friendly sitcom are still able to get their fix thanks to syndication and streaming services, as well as a recent commercial the two collaborated on specifically for Valentine's Day.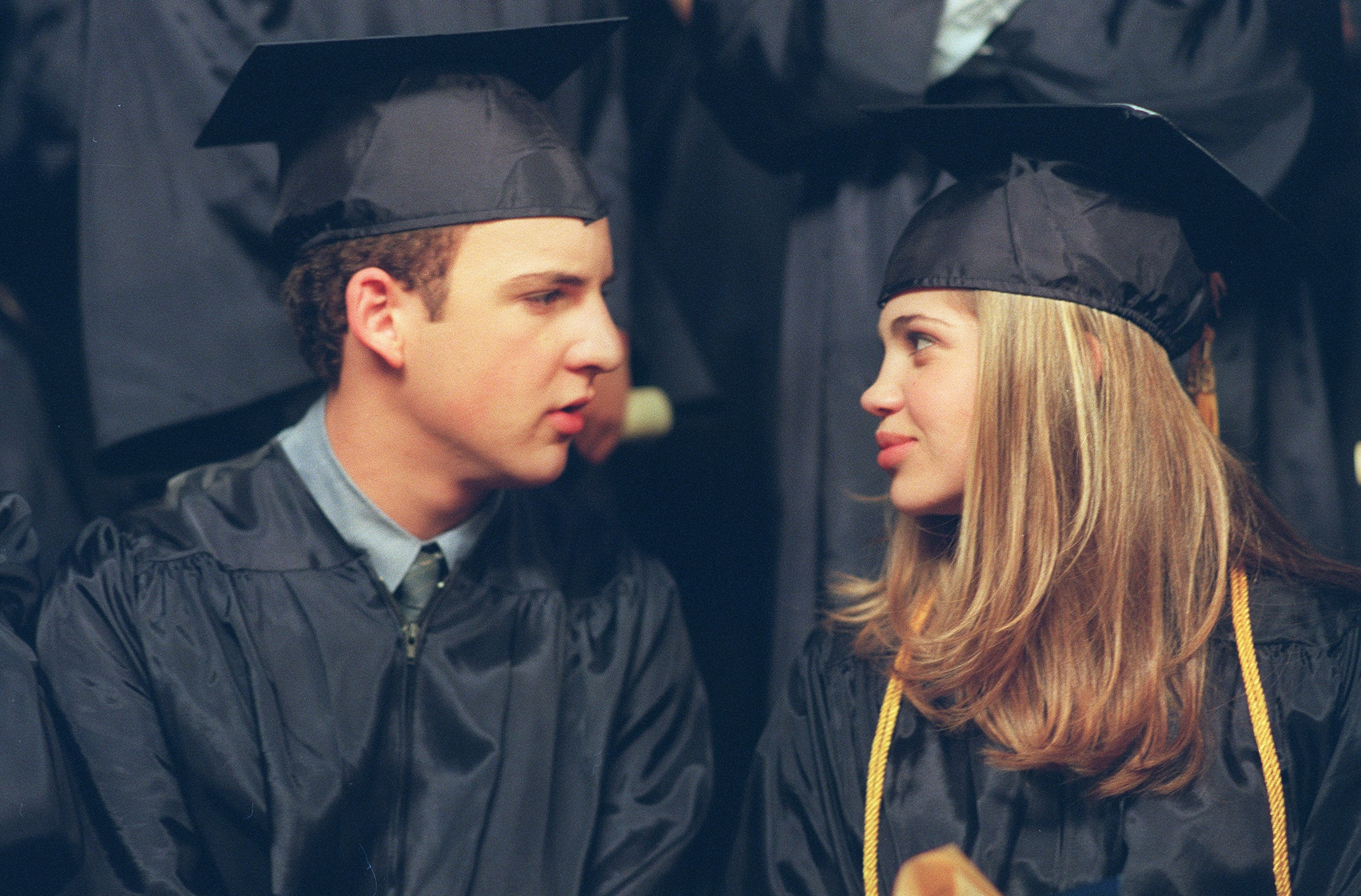 'Boy Meets World' alums Ben Savage and Danielle Fishel loved recreating a Cory and Topanga moment
The two Boy Meets World alums reunited for a Panera commercial with a Valentine's Day theme. The spot shows the two falling in love while eating Panera's Pepperoni Flatbread. Incorporating a plethora of 90s nostalgia, the commercial references iconic rom-coms including Sixteen Candles, Love Actually, Pretty Woman, and When Harry Met Sally.
Savage's brother Fred, who starred in The Wonder Years from 1988 to 1993, served as director. "That was also special for me," Savage told Us Weekly of working with his sibling.
Presented like a trailer for a romantic comedy entitled "Forever Flatbreads," the spot features classic slo-mos and montages of the two acting cheesier than the pizza. While the co-stars are never identified as their Boy Meets World characters, Cory and Topanga truly need no introduction.
Ben Savage called working with Danielle Fishel 'such a fun experience'
Though Savage and Fishel enjoyed their years together on Boy Meets World, they haven't had many opportunities to collaborate since their follow-up Disney Channel series Girl Meets World. Savage expressed his enthusiasm on teaming up his co-star again.
"It was so much fun," he raved. "We had such a nice time together. Danielle was a total pro, and obviously, we've grown up together, so it's always nice just getting the chance to reunite and work with someone that you've known since you were a kid."
The offer for the Panera spot was too good to pass up for the actors, where Savage commented on their mutual excitement to join forces again.
"It just sounded like such a fun opportunity and just such a fun experience," he remarked. "And so, I think Danielle and I both were like, 'Let's do it.' And we had a great time together, and I think it turned out pretty well."
Danielle Fishel called herself 'so lucky' to be known as Topanga
In a previous interview, Fishel shared her gratitude for the strong fan base of Boy Meets World.
"It's really special," she told TVInsider in May 2020. "The cast was just as lucky to be a part of that show, as the fans who are so appreciative of how it impacted their life. We're just as lucky. … It could have been anybody to have those experiences we got to have. I constantly think about how lucky we are."
Still identified as Topanga Lawrence, Fishel welcomes the recognition as her Boy Meets World persona.
"People ask me all the time if it bothers me that I'm only known for being Topanga," she revealed. "I think no, because it could have been so much worse. There are so many characters that would really bum me out to be known as when I look back at the course of TV. Topanga was so cool. I'm so lucky that's the character I'm known for."