Brad Pitt and Leonardo DiCaprio's Relationship Is the Bromance We Never Knew We Needed
Brad Pitt and Leonardo DiCaprio's collaboration in Quentin Tarantino's Once Upon a Time in Hollywood is about as good as it gets. Despite having two of the most successful careers in Hollywood, the movie was actually the first time Pitt and DiCaprio worked on the same film. While their chemistry on-screen was enough to give Pitt an Oscar, their friendship outside of Hollywood is just as golden. Here's a look at how Pitt and DiCaprio's relationship is the bromance we never knew we needed.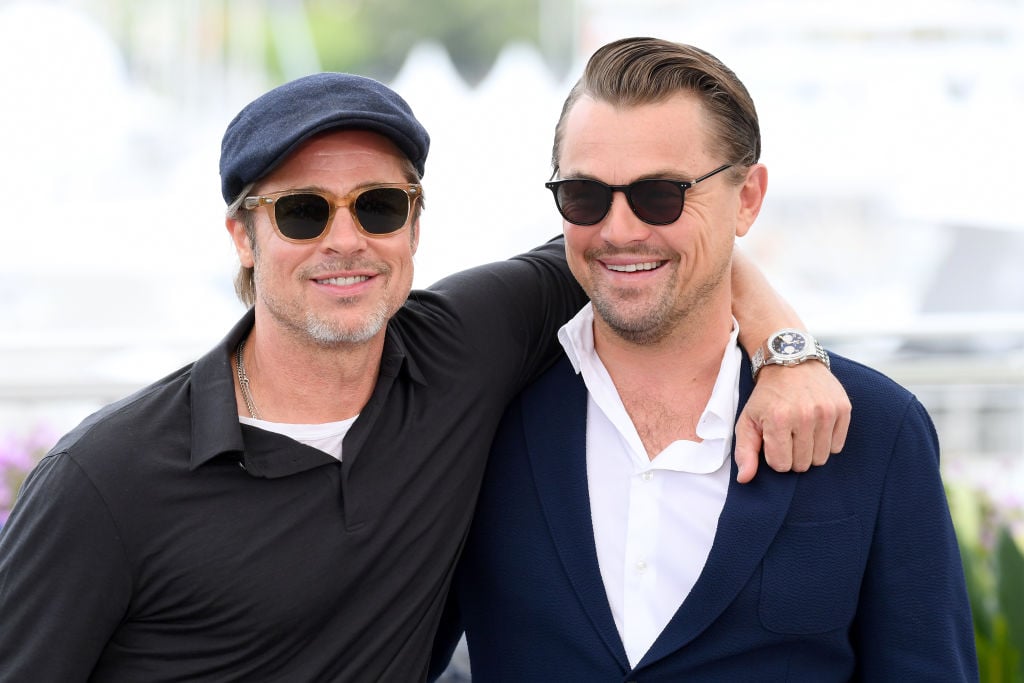 Brad Pitt and Leonardo DiCaprio join forces for the 2020 Oscars
Once Upon a Time in Hollywood won nominations at several award ceremonies this year, including the Golden Globes, the Oscars, and the SAG Awards. This meant that, for the first time in their illustrious careers, Pitt and DiCaprio hit the awards circuit together.
Both actors, of course, had worked on another project when they were both much younger. The two started their careers with minor roles on the show, Growing Pains, though they never shared a scene together.
"We did start on the same television show," Pitt shared last summer.
During the 92nd Academy Awards show in February, Pitt and DiCaprio were in contention for Oscars for their respective parts in Once Upon a Time in Hollywood. DiCaprio failed to go home with an award for Best Actor, losing out to Joaquin Phoenix (Joker), but Pitt did win Best Supporting Actor.
In his acceptance speech, Brad Pitt mentioned DiCaprio, saying, "Leo, I'll ride on your coattails any day, man. The view's fantastic." Although DiCaprio walked away empty-handed, it is clear that he developed a close bond with Pitt on the set of the film.
DiCaprio gushes over Pitt
Last May, Pitt and DiCaprio showed up together for the premiere of Once Upon a Time in Hollywood at the Cannes Film Festival in France.
During a press conference, DiCaprio couldn't help but compliment Pitt's work on the project. According to Time, the actor revealed that it was very easy working with a veteran actor like Pitt, who provided plenty of relief on the set.
"I have to say it was incredibly easy — incredibly easy working with Brad," he shared. "And I think we together forged, hopefully, a great cinematic bond in a film about our industry together."
Brad Pitt returned the compliment when he won an award for Best Supporting Actor at the Golden Globes. Taking the stage to accept his award, Pitt credited DiCaprio for the win and thanked him for being such a good co-star.
He also added that he would have definitely "shared the raft" with DiCaprio, which was a joke about his character's death at the end of Titanic.
Inside Brad Pitt and Leonardo DiCaprio's close bond
During Pitt's acceptance speech at the Golden Globes, he revealed that he and DiCaprio have some adorable nicknames. The Ad Astra star simply calls DiCaprio, LDC, while DiCaprio refers to Pitt as Lover.
"Lover. He calls me lover," Brad Pitt stated. "It's a bit confusing, but I roll with it."
We have no idea where DiCaprio came up with that nickname, but it is pretty amazing.
Pitt, of course, has also teased DiCaprio about the final scene in Titanic. Back in July, Pitt and DiCaprio did a promotional interview with their co-star, Margot Robbie, where they were asked if there was enough room on the raft for DiCaprio's character.
DiCaprio refused to comment, though Pitt and Robbie could not resist taking a few playful jabs at their co-star. "Could you, could you have squeezed in there? You could've, couldn't you?" Brad Pitt hilariously inquired.
Why are Pitt and DiCaprio so close?
Based on all the interviews they've done and Pitt's acceptance speeches, it is clear that Pitt and DiCaprio developed a close bond on the set of Once Upon a Time in Hollywood. While there are probably many reasons why they work so well together, Pitt believes that similar experiences brought them together quickly.
"We have kind of the same reference points, we came on at the same time, have similar experiences to laugh about and I hope we get to do it again, it was great fun," he explained.
As previously mentioned, Pitt and DiCaprio had early roles on the same sitcom, Growing Pains. Pitt had brief appearances in 1987 and 1989, while DiCaprio was a cast member in 1991.
The two, of course, have also experienced what it's like being a hot commodity in Hollywood, though things have admittedly died down for DiCaprio, who tends to stay out of the spotlight.
Prior to his win at the 2020 Academy Awards, Brad Pitt previously won an Oscar for 12 Years a Slave. DiCaprio, meanwhile, won an Academy Award for Best Actor for the 2016 film, The Revenant. Although Once Upon a Time in Hollywood was their first collaboration, hopefully, it won't be their last.