Brad Pitt Bonded With An Unlikely Co-Star On the Set of 'Once Upon A Time In Hollywood'
Who would have thought that Brad Pitt is such a huge dog lover? The actor, who won an Oscar for his performance in Once Upon a Time in Hollywood, bonded on the set of the Quentin Tarantino film with an unlikely co-star: a pit bull named Sayuri. Here's a look at Pitt's adorable relationship with the pooch, who got along great with everyone on set.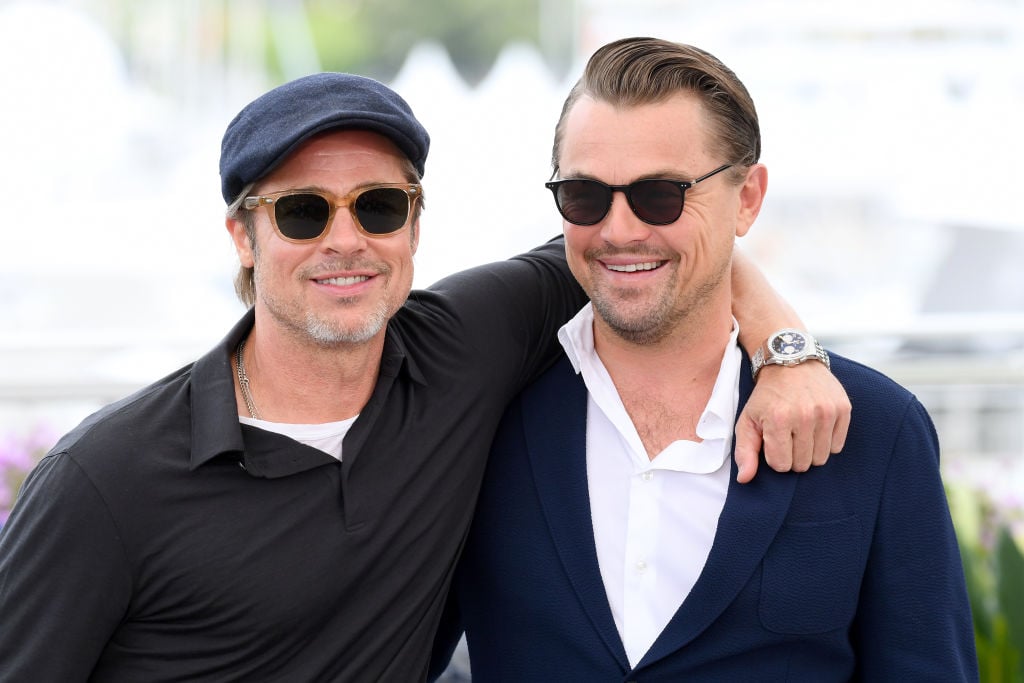 Brad Pitt takes home an Oscar for 'Once Upon a Time in Hollywood'
Pitt played the part of a stuntman named Cliff Booth in Once Upon a Time In Hollywood, starring opposite of Leonardo DiCaprio. The film was nominated for several Academy Awards with Pitt taking home an Oscar for Best Supporting Actor.
Although Pitt was very proud of the award, he wasn't the only star of the film that was recognized for their performance.
A few months ago, Sayuri won the Palm Dog Award during the Cannes Film Festival in France. Sayuri was Cliff's companion throughout the film, and the movie's director accepted the award on the dog's behalf.
"I have to say, I am so honored to have this," Tarantino shared. "I want to dedicate this to my wonderful actress Brandy. She has brought the Palm Dog home to America."
Tarantino went on to praise Sayuri for being a "great actress." The director revealed that he started noticing her facial expressions in the editing room, which pushed her performance to the next level.
Pitt and Sayuri bond on the set
Apart from Sayuri's performance in front of the cameras, she also developed an adorable bond with Brad Pitt. According to Us Magazine, Sayuri's trainers, Matt and Monique Klosowski, revealed that Pitt and Sayuri were very close on the set of Once Upon a Time in Hollywood.
"They did develop a bond, absolutely," they explained.
Pitt, of course, is a dog lover and once owned a bulldog called Jacques. We do not know if Pitt still owns the dog, but he did as recently as the summer of 2017. Based on how the actor bonded with Sayuri on set, it is clear that he has a fondness for dogs.
The trainers added that Sayuri took a lot of obedience lessons to prepare for the movie, and some of these sessions included Brad Pitt. She also had a stunt double for the flick named Cerberus.
Apart from Pitt, everyone on the set got along with Sayuri, and it sounds like the dog was an absolute blast to work with.
Inside Brad Pitt's bromance with DiCaprio
Sayuri wasn't the only cast member who bonded with Pitt on the set of Once Upon a Time in Hollywood. Pitt and DiCaprio also established a relationship working with each other on the project.
When accepting his award at the Academy Awards, Pitt mentioned his bond with DiCaprio and revealed that he was super easy to work with.
"It was great fun," Pitt stated. "He's pretty easy to work with, I've gotta say."
DiCaprio was in the running for an Oscar for Best Actor but came up short to Joaquin Phoenix, who took home the top prize for his part in Joker. DiCaprio previously won an Academy Award for his part in The Revenant.
Once Upon a Time in Hollywood was the first time Pitt and DiCaprio have worked on the same project. The two had minor roles in the television show Growing Pains back in the day, but they did not share any scenes.
DiCaprio returns the compliment
DiCaprio also complimented Brad Pitt during his appearance on the red carpet. The actor revealed that he immediately hit it off with Pitt because of their shared experience in Hollywood.
"Brad and I kinda came up in this industry at the same time," he stated. "As soon as Brad and I met, we knew who these guys were. … We fit into those shoes immediately."
The two also partook in interviews during the SAG Awards. During one of their chats, Pitt revealed that he calls DiCaprio "LDC." DiCaprio, of course, also has a nicknamed for his Once Upon a Time in Hollywood co-star. But instead of using Pitt's initials, he simply refers to him as "lover."
While the film was the first time Pitt and DiCaprio have collaborated on a project, we can only hope that they will team up on more movies in the near future. After all, it's hard to beat their chemistry on the set.
Brad Pitt has not commented on the reports surrounding his close bond with Sayuri. The actor has quite a few projects lined up for 2020, including Kajillionaire, Minari, Irresistible, and Blonde, all of which he is acting as a producer.