Brad Pitt Jokes About His Disastrous Personal Life As Jennifer Aniston Reunion Rumors Gain Steam
Who said Brad Pitt does not have a sense of humor. Following his hilarious speech at the Golden Globes, Pitt once again poked fun at his personal life during a podcast with Marc Maron. While Pitt seems perfectly at ease making jokes about his love life, the rumors that he and Jennifer Aniston are rekindling their romance continue to gain steam.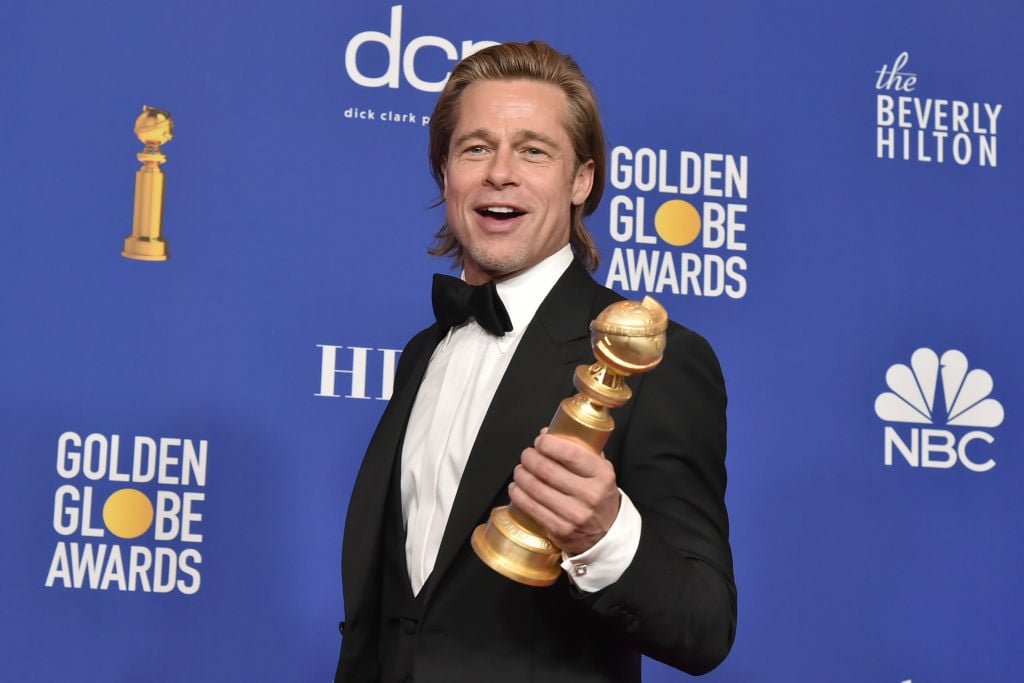 Brad Pitt jokes about his personal life
Pitt, who took home a Golden Globe for his part in Once Upon a Time in Hollywood, recently joined Leonardo DiCaprio for the WTF with Marc Maron podcast. At one point during their discussion, Pitt and DiCaprio were asked about when they first realized they had made it in Hollywood.
For DiCaprio, his big league moment came after The Titanic when he caught the paparazzi following him in black SUVs.
After DiCaprio admitted that he no longer gets followed around town, a surprised Brad Pitt opened up about his own struggles with the media.
"I'm a little disgruntled with you," Pitt shared. "I'm just like, trash mag fodder. I don't know… because of my disaster of a personal life, probably."
Ever since his divorce from Angelina Jolie in the fall of 2016, Pitt has faced numerous rumors related to his love life. The Ad Astra star has been linked to a number of different celebrities, though fans are pushing hard for him and Aniston to rekindle things.
Pitt and Aniston were married for five years until their divorce in 2005. Despite how their marriage ended, the two have remained friends over the years – something that has not quelled the rumors.
Inside Pitt's Golden Globes appearance
This is not the first time Brad Pitt has made fun of his personal life. While accepting his award at the Golden Globes, Pitt joked that he almost asked his mom to be his plus-one at the ceremony.
But he decided against it because he knew the media would start speculating that she was his date.
"I wanted to bring my mom but I couldn't, because anyone I stand next to, they say I'm dating," Pitt told the crowd. "And that would just be awkward."
Aniston, who was also at the event, laughed along with the rest of the audience at Brad Pitt's joke. Although Pitt and Aniston did not pose together on the red carpet, the actor later revealed that they will probably meet each other at an after-party.
He also joked that their meeting is Aniston's second-most important reunion of the year, alluding to her Friends reunion. Although the pair has not said anything about the after-party, an inside source revealed exactly what happened between Pitt and Aniston following the Golden Globes.
Did Brad Pitt and Jennifer Aniston hang out after the Golden Globes?
We can confirm that Pitt and Aniston showed up at the CAA after-party. An inside source claims that the two met up at the private party and were very careful about being seen together.
"They said hello very quickly," the insider dished. "Jen arrived after Brad. It was brief, but [they] were very cordial and friendly and seemed happy to be there. They approached each other once they saw each other inside and looked happy as they started to hug and say hello."
The source added that Jennifer Aniston whispered something in Brad Pitt's ear, but it did not look like it was anything affectionate.
Pitt and Aniston also tried to make their appearance together as low-key as possible, likely in light of the recent rumors. The insider noted that Pitt did not stick around long and left shortly after saying hello to Aniston.
At this point, we do not know if Brad Pitt and Jennifer Aniston are anything more than friends. But considering how Pitt was at her 50th birthday party in February and her Christmas bash last month, you never know where things might lead.
What about Pitt's children?
While fans were concentrating on Pitt and Aniston, there was one thing about his speech at the Golden Globes that many fans overlooked.
In accepting his award for Best Supporting Actor, Brad Pitt thanked everyone involved in the project. But what was interesting about his speech is that he did not mention any of his six children.
That might seem strange on the surface, but an inside source claims that Pitt never mentions his family in public to protect their privacy.
Pitt shares six children with Jolie, including Maddox, Pax, Zahara, Shiloh, Vivienne, and Knox. Although he and Jolie have ironed out a temporary custody agreement, his relationship with his oldest children remains strained.
Brad Pitt also has yet to finalize his divorce from Jolie, though they were both granted "single" status by a judge last year.