Brad Pitt on 'Celebrity IOU' Broke Records for HGTV and Reminded Everyone Just How Likable He Really Is
Brad Pitt's cameo set a new record on HGTV, and it also cemented his win in the PR war with Angelina Jolie.
Brad Pitt is taking HGTV to new heights. The Once Upon a Time in Hollywood star enjoyed a surprise cameo on the network's hit series, Celebrity IOU, sending ratings through the roof. While Pitt's cameo set a new record on HGTV, it also cemented his win in the PR war with Angelina Jolie.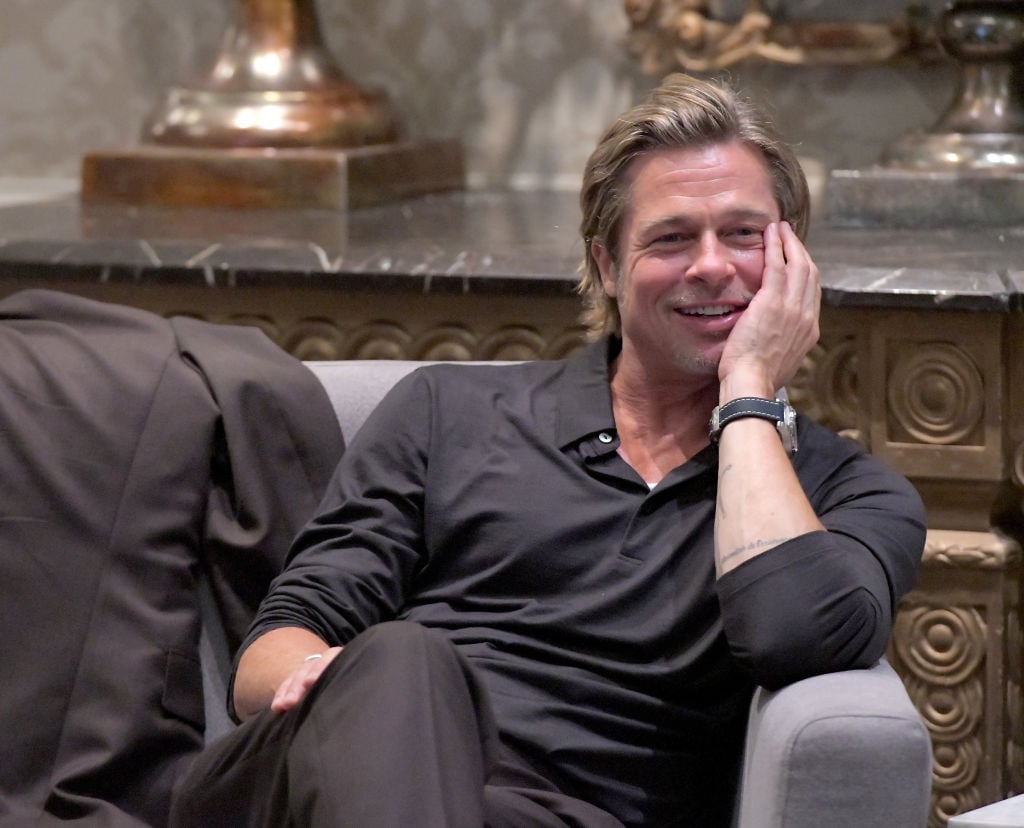 Brad Pitt's cameo on 'Celebrity IOU' breaks records
Pitt appeared on the series premiere of Celebrity IOU, a move that proved to be a huge success for the network. According to Yahoo, the episode attracted 2.6 million viewers, making it the second most-watched unscripted original that night.
In the digital world, the premiere was the most-streamed installment on HGTV GO on April 13. It was also insanely popular on social media, raking in over one million views on Facebook, Twitter, and Instagram.
The show is hosted by real estate developers Drew and Jonathan Scott, who rose to fame on HGTV's Property Brothers.
Celebrity IOU follows different celebrities as they help renovate the properties of people who are influential in their lives. Apart from Pitt, other celebrities this season include Jeremy Renner, Melissa McCarthy, Michael Bublé, Viola Davis, and Rebel Wilson.
Pitt sheds tears on HGTV
In the premiere, Pitt helped the Scott brothers renovate a guest house for his good friend and longtime makeup artist, Jean Black. Instead of standing back and watching the hosts do all the work, Pitt jumped in and immediately got to work.
One of the scenes showed Brad Pitt tearing down some walls with a hammer, proving that he was just as invested in the project as anyone else.
When the hosts revealed the final product to Black, Pitt could not help but get a little emotional. After watching all of his hard work pay off, Pitt shed a few tears for his good friend and gave her a big hug.
Scott brothers impressed by Brad Pitt's "down-to-earth" nature
While fans obviously loved seeing Pitt on the show, the Scott brothers later admitted that they were both "blown away" by Pitt's down-to-earth attitude on the set.
According to Yahoo, the Celebrity IOU hosts revealed that Pitt was very kind to everyone on the show and really put effort into getting to know the crew. By the time filming had finished, Pitt knew everyone's name and made sure they knew he was grateful for their help.
"He wanted everybody to feel like he was spending some time getting to know them," Jonathan Scott shared. "And at the very end he remembered every single person's name on the production crew and on the construction crew. He remembered everybody and wanted to make sure that they knew how grateful he was for what was happening. He was a true gentleman in every sense of the word."
Pitt's involvement in the series also goes to show just how much he is willing to go out of his way to help his friends. It also added another layer to the argument that he has won his ongoing PR war with Angelina Jolie, which started as soon as she filed for divorce in 2016.
This is how Pitt won his PR war with Angelina Jolie
Brad Pitt's willingness to be himself in public has turned the tide of public opinion in his favor. Before his emotional episode of Celebrity IOU, Pitt gave several self-deprecating speeches that made him instantly likable.
During the Screen Actors Guild Awards, for example, Pitt joked that he needs to "add this to my Tinder profile" after accepting a win for Once Upon a Time in Hollywood.
"Let's be honest, it was a difficult part," he added. "A guy who gets high, takes his shirt off and doesn't get on with his wife. It's a big stretch"
Jolie, on the other hand, has remained largely silent in public since filing for divorce. But behind the scenes, she has mounted a PR war against Pitt in a bid to gain full custody over their six children.
In the weeks after their split, reports surfaced that Pitt had physically abused his oldest son, Maddox, on board a private plane. Child services and the FBI later cleared Pitt of all wrongdoing, but that did not stop Jolie's whisper campaign.
In 2018, the actress drug Pitt's name through the mud once again by claiming he was not paying child support. Brad Pitt's lawyers answered by revealing he had given Jolie over $9 million in two years, which did not go over well in Jolie's camp.