Brad Pitt Reveals How He Confronted Harvey Weinstein for Gwyneth Paltrow
In 2018, Gwyneth Paltrow opened up to Howard Stern about a time her then-boyfriend, Brad Pitt, confronted Harvey Weinstein after the movie mogul allegedly harassed her in 1995. At the time, the Fury actor did not comment on the remarks, but now he's finally opening up.
In a new interview with CNN, Pitt spoke more on why he confronted the now-disgraced Hollywood executive and how he did it.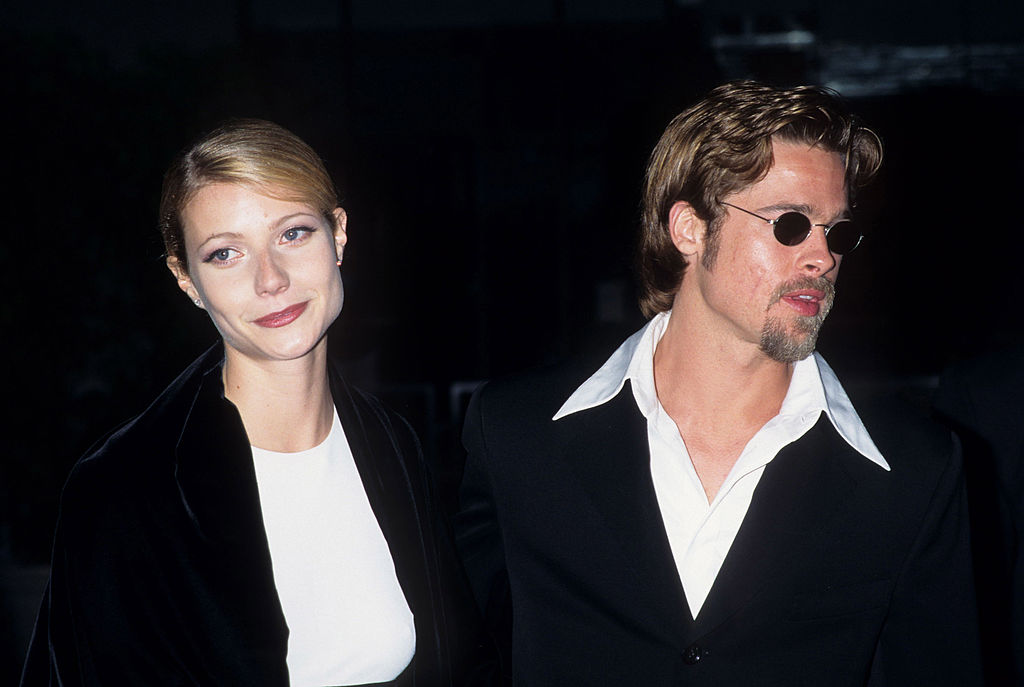 A recap of the alleged incident between Paltrow and Weinstein
The actress told Stern that Weinstein allegedly sexually harassed her in a hotel room, asking for a massage. The moment happened after she landed the lead role in his production of Emma at the age of 22.
"I told him [Pitt] right away, and I was very shaken by the whole thing," she said of the incident. "And I had two movies, I signed up to do two movies with him. I was afraid [the movies would be canceled]. And Brad Pitt, we were at the opening of Hamlet on Broadway…and Harvey was there, and Brad Pitt, it was like the equivalent of throwing him against the wall, you know, energetically. … He came back and told me exactly what he said [to Weinstein]. He said, 'If you ever make her feel uncomfortable again, I'll kill you,' or something like that."
Pitt echoed her version of events
Pitt discussed confronting Weinstein to CNN in an interview published on Sept. 18, saying, "At that moment, I was just a boy from the Ozarks on the playground, and that's … and that's how we confronted with things. I just wanted to make sure nothing was going to happen further, because [Paltrow] was going to do two films."
He continued, "I think the interesting thing is that we, Hollywood specifically, but the workplace, men and women's dynamics is being recalibrated. Recalibrated in a very good way that is long overdue. And I think that's an important story to tell."
In the days that have followed since that alleged incident, more than 80 women have accused Weinstein of sexual assault, harassment, and other forms of misconduct. Many of the allegations were published in a 2017 story by The New York Times, which triggered Weinstein's downfall.
He is currently awaiting trail for sexual assault. He has pleaded not guilty, and his lawyers have claimed that the acts were consensual.
A brief history of Paltrow and Pitt's relationship
These two began dating in 1994 after meeting on the set of 1995's Seven. By 1996, they were engaged. But the following year, the actors called it quits.
Paltrow opened up to Stern about their failed romance in 2015, explaining, "I was such a kid, I was 22 when we met. It's taken me until 40 to get my head out of my a**. You can't make that decision when you're 22 years old… I wasn't ready, and he was too good for me."
She went on to discuss her tendency to "f*ck up" relationships in a 2017 episode of the Girlboss podcast, saying, "I've f*cked up so many relationships. I'm a pretty good friend and sister and daughter, but I am at my potentially most vulnerable and f*cked up in the romantic slice of the pie."
When the host mentioned Pitt, Paltrow replied, "I f*cked that up, Brad!"
But it seems like there's no love lost. The actress also raved to Stern about her ex in 2018, saying, "He's the best."