Brad Pitt Was the Only Person Billy Beane Thought Could Play Him in 'Moneyball'
While filming 'Moneyball', Brad Pitt had the challenge of portraying a living person. Luckily the man he was playing didn't want anyone else for the role.
Brad Pitt has played his share of compelling characters. One of his most compelling was the dramatization of a real person — Oakland A's general manager Billy Beane in the film Moneyball. Pitt's depiction drew critical and audience acclaim, as the film was successful in all aspects. If you ask Beane, no one else but Pitt could have played him. 
The story of 'Moneyball'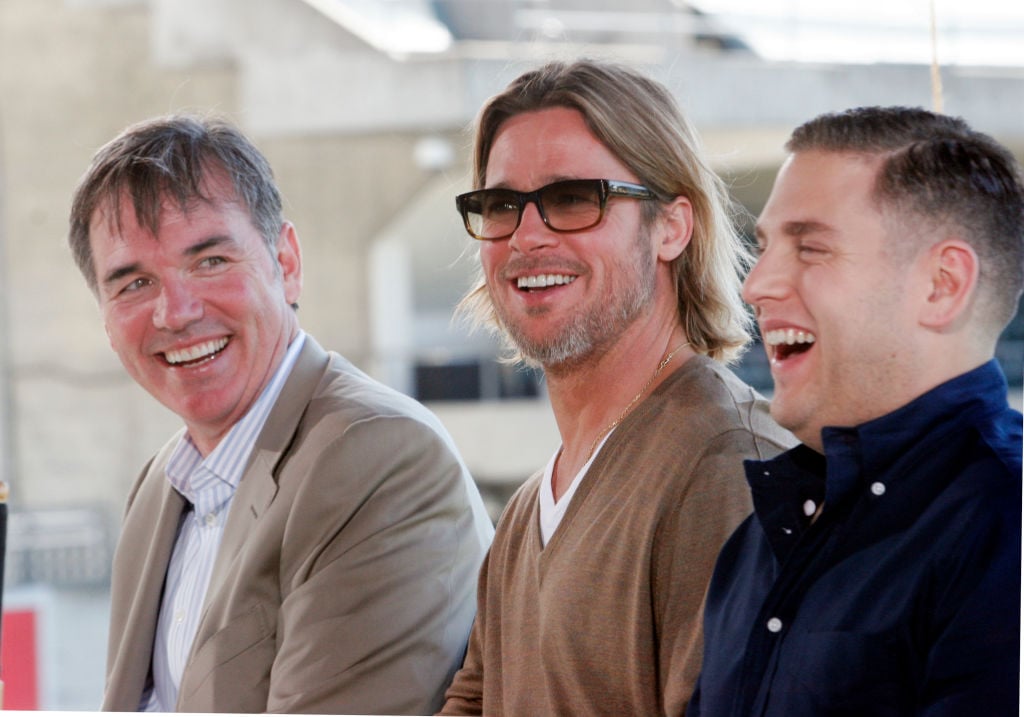 Before it was made into a feature-length film, Moneyball was a non-fiction book written by acclaimed author Michael Lewis. In the book, Lewis profiled Beane and how he ran the Oakland A's.
Seeing how Oakland was at a disadvantage due to salary constraints, the book details how Beane decided to pursue undervalued assets to level the playing field. If he wasn't able to re-sign his big stars like Jason Giambi, he'd pursue players that weren't expensive but provided plenty of value. The value, in Beane's case, came in the form of on-base percentage.
Beane built a strategy based on filling the base paths. By acquiring players who were adept at getting on-base (like Scott Hatteberg, highlighted in the book), they increased their chances of scoring more runs. Beane also emphasized not taking unnecessary risks (i.e. not stealing bases). 
The book was incredibly controversial, as it challenged many preconceptions in the sport around talent evaluation. Beane helped lead the A's to the playoffs multiple times, and the Boston Red Sox won a world championship in 2004 following many of Beane's principles. 
How the film 'Moneyball' got made
As with many successful books, producers eventually optioned Moneyball into a movie. According to IMDb, it was released in 2011. The film saw Pitt play Beane with fellow master thespian Philip Seymour Hoffman cast as A's manager Art Howe. Jonah Hill starred in a supporting role as Peter Brand, Beane's front office assistant. The character was an amalgam of a few characters created specifically for the film and not based on a real person. 
Made on a budget of $50 million, the film made over $110 million at the box office worldwide. Aaron Sorkin, the creator of The West Wing and The Newsroom and screenwriter for The Social Network, wrote the film. 
The film took many artistic licenses. For example, the film portrayed Beane as a lonely divorcee. While Beane was divorced, in real life he had already remarried when the events of the film took place. 
Why Brad Pitt was the only person Billy Beane thought could play him
In a joint interview with both Beane and Pitt, Pitt talked about the challenge of playing someone still living, noting in that interview that it can be "terribly uncomfortable for someone to make a film about you…there's 100 ways you can go wrong." 
Beane expressed his satisfaction with Pitt's performance. Beane knew that whoever played him had to look convincing in a major league clubhouse, and Pitt had no problem there.
He said in the interview that "from the first minute he walked into the locker room…he fit right in." According to Beane, "within five minutes" Pitt was welcomed in as part of the A's clubhouse. He said that Pitt was comfortable in the locker room setting, which was full of highly competitive alpha males.
He also noted that what pleased him most about the film was how it captured his relationship with his daughter. He added that each time he watched it, it caused him to choke up. While the film did take several liberties, Beane felt this part was accurate. 
Moneyball seems like the perfect confluence of subject and star. Beane is a fascinating personality. Pitt is an incredibly talented leading man with the range to play a diverse array of characters. Taking a book about analyzing baseball statistics and making it into a captivating feature film is quite a challenge. With Pitt as the driving force, he was able to bring Beane and his story to life.